Guest Blogger and WWEnd Member, Charles Dee Mitchell, has contributed a great many book reviews to WWEnd including his blog series Philip K. Dickathon and The Horror! The Horror! He can also be found on his own blog www.potatoweather.blogspot.com. This is Dee's fifth GMRC review to feature in our blog.
---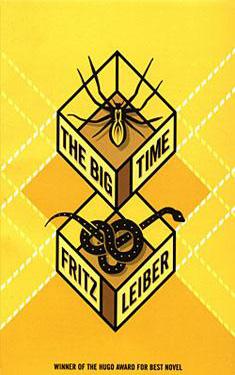 The universe is at war. Leiber's short novel is set, on one level, in the later part of the 20th century, but it seems that war has been going of forever. Here is how Greta Forzane, our narrator, states things.
"This war is the Change War, a war of time travelers – in fact, our private name for being in the war is being on the Big Time. Our soldiers fight by going back to change the past, or even ahead to change the future, in ways to help our side win the final victory a billion years or more from now. A long, killing business, believe me."
Greta is an entertainer at The Place, a self-enclosed environment outside space and time. Solders fresh from battle follow the change winds and arrive for medical assistance and some R&R. Picture a USO with freer alcohol and relaxed sexual attitudes. Advanced technology provides state-of-the art medical treatment and sex partners to suit every fancy. If a visiting soldier does not take to one of the on-staff entertainers, or if his alien anatomy causes complications, he can always choose from the hundreds of ghost girls kept folded into envelopes in the storage area. (It would slow things down at this point to attempt an explanation of ghost girls.)
Life at The Place doesn't seem all that bad, although it could get a bit boring since it goes on more or less forever. But those who run the place see old friends returning from battle on a regular basis, and they stay occupied with their own intrigues and affairs. They have only to wait for their maintainer, the device that keeps The Place intact outside of space and time, to start flashing its blue lights. That's the sign that the change door is about to open and new arrivals or possibly old friends will come crashing through.