Rhonda Knight is a frequent contributor to WWEnd through her many reviews and her excellent blog series Automata 101 and Outside the Norm. This is Rhonda's seventh featured review for the Grand Master Reading Challenge. She won the GMRC Review of the Month for March for her review of The Word for World is Forest by Ursula K. Le Guin.
---
Poul Anderson's Hrolf Kraki's Saga is a retelling of the Icelandic saga by the same name. Scholars believe the Icelandic saga was composed between the mid-eleventh and the mid-thirteenth centuries. Most of the Icelandic sagas written during this time record the history of the settlement of Iceland (beginning in the late 800s) or the rise of the first families of Iceland. Famous examples of such are Erik the Red's Saga and Njal's Saga. Hrolf's is different from these family sagas, as they are usually called. It is a legendary saga, set in a long ago and far away Denmark. Scholars date the events occurring in Hrolf's Saga to the late fifth and early sixth centuries. Interestingly, Hrolf's ancestors, who figure prominently in the saga, are probably the same historical figures who appear in the Anglo-Saxon epic Beowulf. The Scylding clan found in Beowulf is called the Sköldings in Hrolf's: the Hrolf figure is Hrothulf in Beowulf; his grandfather is Halfdan/Healfdane; his father is Helgi/Halga; and his uncle is Hroar/Hrothgar.
Anderson was, of course, aware of Hrolf's origins and connections. With these in mind, he created a tale that stays very close to its origins, yet expands to encompass the saga's connections to other legends and stories. Anderson incorporates bits from other sources, such as Saxo Grammaticus's Gesta Danorum and Snorri Sturlusson's Poetic Edda to fill in the saga's gaps In constructing his tale, Anderson thinks about the multiple paths that this legend might have taken as an oral tale. Clearly, one of those paths led from Denmark through many countries and centuries until it reached medieval Iceland where it was written down, but there are multiple paths of transmission for any oral tale. In his intro, he writes:
I feel obliged to give you some idea of how those lives and that society worked. Yet my aim was not at a hypothetical historical reality, but a myth. Therefore I have put the narrative in the mouth of a person in tenth-century England, when the cycle would have reached its full development—a woman, who would be less likely than a man to use the spare saga style. Of course, she brings in not just the supernatural, but also numerous anachronisms. The Scandinavia she describes is, in most respects, the one she herself knows. (ix)
This narrator, Gunnvor, is the wife of Eyvind the Red, a soldier to the English king Æthelstan. Eyvind's father, Svein Kolbeinsson, was a Danish trader who settled in the English Danelaw. On a trading trip back to Denmark with his father, Eyvind meets and marries Gunnvor. Eyvind and Gunnvor settle in the English court, where she becomes so famous for her stories that the king invites her to entertain him with one of her tales. This frame narrative that Anderson creates allows him to develop characters, explain their actions and motivations as well as providing cultural background in some very fluid prose. My translation of the saga by Gwyn Jones is not quite a hundred pages, while Anderson's retelling is 260 pages. He uses this saga as an outline for development and remains true to the plot and its rhythms.
Even though Hrolf is the titular hero of both the saga and Anderson's tale, his story begins long before his birth. In the first third of the book, we learn of King Halfdan and his evil brother Frodhi; of their battle; of Halfdan's sons, Hroar and Helgi, who must hide until they are old enough to avenge their father's murder and take back the throne. We learn of Hroar's calm and just demeanor and Helgi's stubbornness and restlessness; of Queen Olof's rape by Helgi and Yrsa's subsequent birth; of Yrsa's sad fate; of Helgi's night with an elven woman and his breaking of an oath; and finally of Helgi's despair and fall. All this happens before Hrolf grows up and is declared King of the Danes, yet the actions of his relatives mark his fate.
The second third of the story tells how Hrolf's two greatest warriors, Svipdag, a Swede, and Bjarki, a Norseman, sought out the lordship of this Danish king. Their separate tales are full of evil queens, shape-changers, ill-fated loves and high-minded heroics. Finally as they all assemble together, Hrolf can boast of twelve champions who support their king and protect those weaker than they are. In this section one can see how Hrolf's Saga might have influenced the later Arthurian stories of the Round Table. In the final section, this connection is even more obvious when Hrolf and his champions meet their doom in a battle with Hrolf's half sister, the evil witch Skuld.
Style
Anderson brings imaginative writing and scholarly research to the spare plot and sparse prose of the original saga, yet he does so in a way that his tale still feels old and about an entirely different world. He avoids the trap of using a late medieval (or high fantasy) style that would lessen the story and make it seem like any old swords and sorcery book. Anderson finds a way to use archaic language from Norse and Germanic origins without making his style seem hokey or forced. As a medievalist, I hate pseudo-medieval vocabulary and syntax (á la Jack Vance) that kill the flow of any good dialog. Instead, Anderson's use of a selection of archaic words ("hight" for "am named/named," "leman" for "lover," "rede" for "advice/advise," "scot" for "tribute" and "scathe" for "harm" or "shame") add depth to the tale.
As he says in his introduction, he wants to show his readers how his characters lived; therefore, he pays close attention to customs and the rhythms of the seasons. He offers a beautiful passage from the perspective of young Yrsa about the changing of the seasons, but it is too long to quote here ("The Tale of the Brothers," end of chapter 4, if you are interested). Instead, I offer this passage about the Blessing Festival (May Day?) when the wagon of Frey rolls forth to give fertility to the land:
Song lilted through the lusty mirth of swains; snow-water gurgled in every ditch; trees lifted branches across which a goddess had strewn the first frail green, into heaven of slanting sunbeams and towering clouds; cattle stood rust-red in the mists that steamed off paddocks; a breeze blew cool and damp, swollen by the smells of growth.

Coalsack nights and huddling indoors were ended. Day had come again. New life was on its way; one could all but hear how the soil stirred. Let joy rise with the rising sap. Let man rise too, and plow his woman over and over, so that Frey and the land-elves would not fail to make fruitful our mother the earth! After the god's wagon had gone from Roskilde to carry him around the shire, there was a feast. As ever, folk left early, hand in hand, not only the young ones but the gravest of householders and wives. (92-93)
Another passage that I found particularly enlightening was Anderson's description of the architecture of Danish halls. Gunnvor says: "When the English first came hither, their great men doubtless built halls like those in the Northlands. They do no more. Let me therefore tell about such a house." (23) She goes on to describe the way meals are conducted, the rarity of privacy, and the sleeping arrangements of the king and his retinue. I think I will use this passage next time I try to explain Hrothgar's Heorot to my students reading Beowulf.
Bear Heroes
While Gunnvor's description is not of Heorot, that hall and Beowulf do make a cameo appearance in Anderson's version. He allows Gunnvor to insert her interpretation of the difference between the Scandinavian stories and the English ones. She tells Æthelstan that while Helgi was away raiding, Hroar built a house called Hart, but "[u]pon this house came grief" (64). Grendel, the son of outcast Hermodh and a troll-wife, began attacking Hart and eating its inhabitants. She says "In England, they say that this went on for twelve years. The Danes call that unlikely. Would not a warrior like Helgi rid his brother of woe?" (65) She goes on to explain how Hroar probably lived in Hart nine happy years before the arrival of Grendel, which coincided with Helgi's long (three year) absence trading and raiding. Bjovulf of Götaland, known as Beowulf in England, arrives and kills Grendel and his mother. After this first mention of Bjovulf and his feats, Gunnvor continues to remark upon his life events in reference to the lives of Hroar and Hrolf, but Bjovulf never appears as a character.
This insertion that Anderson makes is interesting, especially since his research would have revealed that a manifestation of the Beowulf folk-hero type plays a prominent role in the saga in the character Bothvar Bjarki. The etymology of Beowulf's name is generally accepted to be "Bee-wolf," meaning "bear." Bjarki, whose name means "little bear," is the son of Björn ("Bear") and Bera (Bear). He gets the forename Bothvar, "battle," at Hrolf's court. Because Björn will not accept the advances of his evil stepmother, she turns him into a were-bear: he is a bear during the day and a man at night. He and Bera conceive triplets (sons), and each inherits some sort of animal characteristic that shapes his destiny. There are many other similarities between the stories of Bjarki and Beowulf, showing that they both participate in the Northern tradition of bear heroes. This is my favorite section of Hrolf's Saga, but I will resist spoilers and leave you to learn about Bjarki and his brothers for yourself.
Narration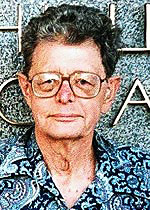 My main criticism of the book is that Anderson does not close the frame narrative that he creates. In addition, he stops inserting Gunnvor's voice later the tale. It seems as if he forgets about her by the end and it is a shame. He did such hard work in the beginning to create her and her situation; therefore, the readers should see some closure for her character.
Gunnvor's Beowulf interpretation is not the only one that appears. She often asks questions about what a character might be feeling or says that she does not know what happened but will tell the king what she hoped occurred. For example, when she tells of Bjorn and Bera's life together, she asks:
Did she ride gleeful on his back, like the lassie she had been not many summers ago? Did he raid the bees and bring her honeycomb as overflowing as his love, and did she weave wreaths to hang around his neck? Did he take her along when he sought out the elven folk? . . . Did she sit at the feet of a dwarf, old and twisty and tough as her oak trees, to hear his riddles and remembrances? (152-53)
As a narrator, she is enthusiastic and brings the kind of freshness and life to the dry saga. This is what Anderson hoped for in his introduction. Unfortunately, as the book progresses, her personality diminishes in the narrative.
Anderson's interpretation of Hrolf Kraki's Saga finds a perfect middle ground between slavishly rewriting the source saga and creating a fanciful narrative that erases the saga's qualities. He finds successful ways to fill in the saga's gaps and create an authentically medieval voice as narrator. The only mistake that Anderson made was leaving behind the narrative voice that began the tale so strongly.