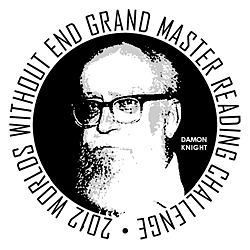 The July GMRC Review Poll is now closed and the winner, for the second straight month, is Emil Jung (Emil) for his review of Hothouse by Brian Aldiss. This is Emil's third GMRC win. Well done, Sir!
Emil will receive a T-shirt, a GMRC button and a set of commemorative WWEnd Hugo Award bookmarks, last year's and this year's,  as well as his choice of another book from the WWEnd bookshelf. All runners-up will be getting a button and a set of bookmarks for their efforts. Thanks to all our reviewers!
The GMRC is still going strong as evidenced by the current numbers. 157 participants, 510 books read and 171 total reviews. We've finally left our 150 participant goal in the rear-view!
Editor's note: This is a bit overdue because I was off on vacation last week.  Sorry for the delay.