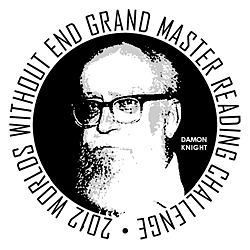 July was a banner month for the GMRC and for Arthur C. Clarke who has 3 different titles in the most frequently read stats! We featured 9 reviews in the blog, with another first time reviewer in the list, and now it's time to read the reviews and cast your vote for the best.
You don't have to be a GMRC participant to vote so jump in and make your opinion count! The poll is open until August 15th so you have plenty of time to read all the reviews.
As always, RhondaK101, has provided the updated stats.
Authors with the most books read:
Authors with the most different titles read:
Books most frequently read:
Winner will receive the following:
GMRC T-shirt – your choice of colors so long as it's black
GMRC button – you can never have too much flair
Set of WWEnd Hugo Award bookmarks – I'll be honest, we over-bought these for WorldCon so we need to unload some but they're still pretty cool and they will, in fact, hold your place in any paper book.
Book of your choice from the WWEnd bookshelf – the winner will get a list of a dozen titles to pick from
Everlasting Glory – So you'll have that goin' for ya. Which is nice.
Runners-up will get a GMRC button and a set of bookmarks.