Well, it's Halloween and our second annual WWEnd Month of Horrors has come to an end. I think it's been a pretty good month for horror on the site with many great reviews and some huge updates. Since this is our last post of the month, I thought I'd sum up how things went.
Jonathan kicked things off with a nice Month of Horrors 2012 introduction where he talked about the human need to explore fear through fiction, and mentioned some of our goals for the MoH.  We followed that up with our first big enhancement: inclusion of The Shirley Jackson Award which was "established for outstanding achievement in the literature of psychological suspense, horror, and the dark fantastic."  This is our second horror award after The Bram Stoker Award which we added during last year's MoH.
This year we posted  a bunch of horror book reviews from many of the WWEnd regulars:
Add to those reviews excellent posts on the origins of some seminal horror works:
I did a post about some of the Horror Magazines that are out there for your spine tingling pleasure including a brand new one that launched on October 1st called Nightmare Magazine.  Speaking of which, we contacted the publishers at Nightmare and talked them into helping us develop a new horror list for the site which resulted in the Nightmare Magazine's Top 100 Horror Books list.
And finally, we end the month with another new award for the site.  We've been having a great time with the Grand Master Reading Challenge all year, and when we realized there was a Grand Master award for horror we knew we had to add that as well.
The World Horror Convention Grand Master Award is a yearly distinction given to an author who has contributed greatly to the field of horror literature.  Nominees must be alive at the time of voting, and cannot have previously won the award. The award is given at the annual World Horror Convention.  Even though the MoH is over, we'll still be adding new books by these authors as well as others, so you can keep finding all the thrills you crave right here on WWEnd.
Well, that's it.  I hope you've enjoyed the series and the improvements to the site.  I'd like to thank everyone for pitching in to help us pull this off so handsomely.  It was a lot of fun.  The Month of Horrors will be back again next year, same bat-time, same bat-channel!

"The doorway was even now opening to pleasures no more than a handful of humans had ever known existed, much less tasted—pleasures which would redefine the parameters of sensation, which would release him from the dull round of desire, seduction and disappointment that had dogged him from late adolescence."
It's not often one picks up a modern splatterpunk book and finds within it a morality tale, especially a tale so opposed to the moral atmosphere of the day. At least, I assume this doesn't happen often, since The Hellbound Heart is the only splatterpunk story I can ever remember reading. The quote above is about the novella's antagonist Frank, a hedonist who has spent all of his adult life in search of the most extreme pleasures. One can only enjoy so many drugs and prostitutes before the pleasure becomes dull and repetitive, so Frank seeks out new avenues through the occult. He hears of the Lament Configuration, a puzzle box which, if opened, will open a door to the world of the Cenobites, a perverse religious order dedicated to unworldly pleasure. After performing numerous favors for unsavory individuals, he finally gains possession of the box, and brings it home to England to open it. Unfortunately for Frank, when the Cenobites finally appear, their mutilated bodies indicate that their "pleasure" is actually found in pain, that they are demonic sadomasochists who intend to subject Frank to an eternity of flesh-destroying fun. The rest of the story follows his brother's family and social circle as Frank attempts to return to Earth by corrupting those he left behind.

On his blog Stainless Steel Droppings blogger Carl V. Anderson reviews SF/F books and movies, conducts author interviews and even hosts his own reading challenge: The 2012 Science Fiction Experience. This is Carl's fourth GMRC review.
---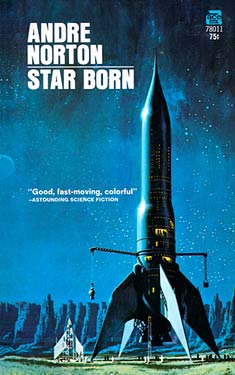 Star Born packs quite a lot of storytelling punch in its brief 187 pages. Andre Norton's 1957 story examines such issues as slavery, racial prejudice, apocalyptic warfare and governmental oppression and wraps it all up in the kind of adventure-filled story that was a pleasure to read as an adult and would have had me gazing heavenward as a child. Star Born is an example of fine world-building and classic space adventure that remains accessible and surprisingly relevant 55 years after its release.
At the beginning of Norton's novel we are introduced to Dalgard, the progeny of members of a generation ship who escaped an oppressive government on Earth (Terra) and fled to the planet Astra in hopes to make a new start. Dalgard is traveling with Sssuri, a member of a sea-born race affectionately referred to as mermen, and merwomen. Dalgard and Sssuri are traveling together, examining the ruins of a race of beings who at one time brought destructive warfare to Astra and who are rumored to be returning to reclaim the advanced technology that would once again make them a formidable enemy. Through the buddy story of Dalgard and Sssuri the reader learns much of the history of both Terra and Astra as well as learning about the culture of the people indigenous to Astra and that of the colonists who long ago landed there.

Scott Lazerus came to Worlds Without End looking for a good list of books. He found David Pringle's Best 100 Science Fiction Novels to his liking and is currently working his way through the list. He has posted a bunch of reviews for WWEnd including several for the GMRC. Be sure to check out Scott's excellent blog series Forays into Fantasy too!
---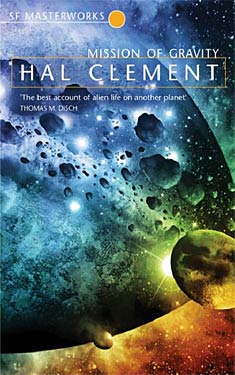 Hal Clement's Mission of Gravity (1954) is a love letter to science. Serialized in Astounding in 1953, it's often pointed to as a prototypical "hard" science fiction novel of the '50s, with the story driven more by the solution of scientific problems and the achievement of scientific discovery than by character or plot. Clement, a science teacher, specialized in this sort of science fiction, which may be why he seems to be one of the more neglected of the Grand Masters from the perspective of modern SF fans. But Clement's third novel is a cut above much of the hard SF of the time, which has a tendency to become dated as science advances, because of the way Clement melds the scientific explanations with the characters' motivations, which in turn drive the plot and create suspense and interest in the story.
Another way Clement infuses his narrative with science is by making the exploration of the setting a major source of interest for the reader, as well as the source of the obstacles that must be overcome in order for the plot to advance and the characters to achieve their goals. The protagonists' quest involves overcoming the environmental difficulties created by the setting itself. That setting is the planet Mesklin, a disc-shaped world with an intense gravity field. The gravity ranges from three times that of Earth's along the equator (the "rim") to seven-hundred times at the poles. Intelligent life, capable of living under the extreme gravity, has developed there. The Mesklinites are hydogen-breathing, chitin-shelled, caterpillar-like creatures fifteen inches long and two inches in diameter, with "dozens of suckerlike feet," and pincers functioning as hands. The point-of-view of the novel is that of Barlennan, a merchant trader and leader of a Mesklinite crew that sails the methane oceans of the storm-tossed planet in search of profit.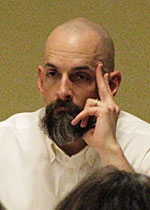 OffWorld is a new science fiction reading group sponsored by WordSpace, a literary organization based in Dallas, Texas. Rather than taking the traditional book club route and reading a single book per month, we are choosing an author to read and discuss over a four-month period.  We'll be meeting as a group locally for discussion, to watch author videos and, from time to time, we'll bring in outside speakers in addition to holding forum discussions here on WWEnd. If you are in the Dallas area, we would love to have you join in our regular meetings, but it's with these forum discussions that we hope to bring in as many different voices and opinions as possible.
Our first author is Neal Stephenson. We are setting up discussions on the books we know members are reading, but feel free to request that we add any book that you have read and would like to discuss. You can also follow our postings on the WordSpace Blog. There we will have links to Neal Stephenson material on the web as well as updates about events in Dallas. Search for OffWorld in the list of topics for all related postings.

Guest Blogger, Allie McCarn, reviews science fiction and fantasy books on her blog Tethyan Books. She has contributed many great book reviews to WWEnd and has generously volunteered to write some periodic reviews for our blog.
---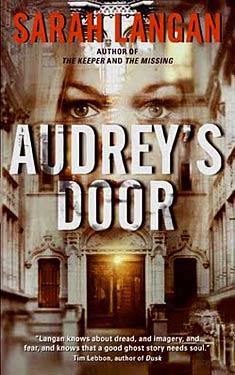 Audrey's Door by Sarah Langan
Published: Harper & Row, 2009
Awards Won: 2009 Stoker Award
The Book:
"Built on the Upper West Side, the elegant Breviary claims a regal history. But despite 14B's astonishingly low rental price, the recent tragedy within its walls has frightened away all potential tenants . . . except for Audrey Lucas.
No stranger to tragedy at thirty-two-a survivor of a fatherless childhood and a mother's hopeless dementia, Audrey is obsessively determined to make her own way in a city that often strangles the weak. But is it something otherworldly or Audrey's own increasing instability that's to blame for the dark visions that haunt her . . . and for the voice that demands that she build a door? A door it would be true madness to open . . ." ~WWEnd.com
It's October again, and that means I'm branching out, once again, to horror!  Audrey's Door is the October reading selection for Calico Reaction's Theme Park book club, so it seemed like a good choice for a Halloween-themed review.

Scott Lazerus is a Professor of Economics at Western State Colorado University in Gunnison, Colorado, and has been a science fiction fan since the 1970s. The Forays into Fantasy series is an exploration of the various threads of fantastic literature that have led to the wide variety of fantasy found today, from the perspective of an SF fan newly exploring the fantasy landscape. FiF will examine some of the most interesting landmark books of the past, along with a few of today's most acclaimed fantasies, building up an understanding of the connections between fantasy's origins, its touchstones, and its many strands of influence.
---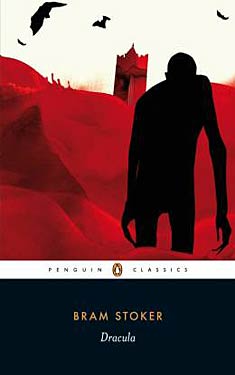 In Greek mythology, the Lamia was a Libyan queen who was transformed into an unclean child-eating demon. The story later became part of European folklore—a story told to frighten misbehaving children. In many versions, the Lamia became a serpentine monster who seductively lured men to their doom, in order to drink their blood. According to Brian Stableford in The Encylopedia of Fantasy, this legend, combined with "Eastern European superstitions regarding cannibalistically inclined reanimated corpses," were the roots of the literary vampire, although the latter type of story seemed to be more closely related to the modern zombie.
In 1819, John Polidori, formerly Lord Byron's physician, took a fragmentary story of Byron's and expanded it into The Vampyre: A Tale, whose vampire protagonist, Lord Ruthven, was seen from the time of the book's publication to be a thinly disguised portrayal of Byron himself—a character that became the initial template for the modern vampire in horror fiction. Ruthven was "the satanic, world-weary aristocrat whose eyes have a hypnotic effect, especially upon women, and in whom vampirism and seduction are a part of the same process. The languor of the Byronic vampire is a pose, [however,] for his energy is infernal" (John Clute, also from The Encylopedia). See the blog post on Frankenstein's Forefathers for more on the story of the intertwined origins of the two best-known monsters in horror fiction, involving Byron, Polidori, and Mary Shelley, during the summer of 1816.

Guest Blogger and WWEnd Member, Charles Dee Mitchell, has contributed a great many book reviews to WWEnd including his blog series Philip K. Dickathon and The Horror! The Horror! He can also be found on his own blog www.potatoweather.blogspot.com.
---
Let's see… What would be a really terrible idea for a book?
I've got it! How about a novel about werewolves written in blank verse?
But wait, Toby Barlow has already done that with Sharp Teeth, and everything about it is amazing and excellent.
This novel satisfies on so many levels. For those who have always suspected Los Angeles of harboring rival packs of lycanthropes, here is your proof. For those who treasure the thought that true love knows no bounds, including species — again, here is your proof. For those who like complex noirish thrillers about drug lords and shape shifters, let's face it, it is not going to get any better than this.
I confess, I wasn't giving Barlow's novel credit for how complex his tale would be until I realized I needed to back up and figure out just who was who, what pack they ran with, where the bad blood came from, and why those two lycanthropes were playing in a bridge tournament in Pasadena. (When they realize the two sweet old ladies beating them are cheating, one places a phone call to sweet old lady number one and says, "Keep it up and I will chew the flesh off your fingers." You gotta love these guys.)
But what's up with the blank verse? Truth be told, after a few pages I couldn't imagine the story written any other way. Barlow's verse is straighforward and flourish-free, but if you try printing out some pages as prose you will see it's not just Raymond Chandler with line breaks. One blurb compares Barlow to Ovid, and I did get the impression that I could be reading a free translation from an ancient writer that stayed true to the spirit of the original. And that original could be very funny, very brutal, and towards the end kind of sad.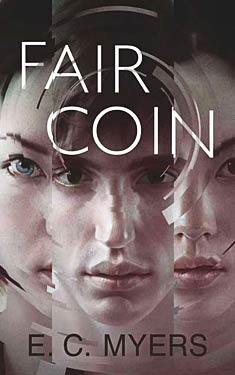 Fair Coin by E.C. Myers
Published in 2012 by Pyr
Hardcover – 285 pages
"911, what is your emergency?"
"My mother took some pills."
Fair Coin begins with Ephraim finding his mother after what appears to be a suicide attempt.  Why?  Earlier that day she'd identified his dead body at the hospital and she even had his personal effects that she'd taken home with her, his wallet and library card (both of which he still had in his pocket) and a very strange coin.
When he learns from an anonymous note in his locker that the coin has the ability to grant wishes, Ephraim wastes no time using it to help his alcoholic Mother.  But he also approaches the coin with a caution and disbelief that has you thinking he's read this book before.  He suspects all the likely problems and ethical issues.  He doubts the intentions of the note writer.
As you might expect, that doesn't stop him from continuing to use the coin for the less-than-noble purposes of positioning himself and his best friend Nathan in the good graces of the girls of their respective dreams, among other private benefits (BTW, where were all the cute teenage librarians when I was in high school?!).  When successive coin flips begin to change his world in unpredictable and undesirable ways, Ephraim gets really, really cold feet.

Guest Blogger, Allie McCarn, reviews science fiction and fantasy books on her blog Tethyan Books. She has contributed many great book reviews to WWEnd and has generously volunteered to write some periodic reviews for our blog.
---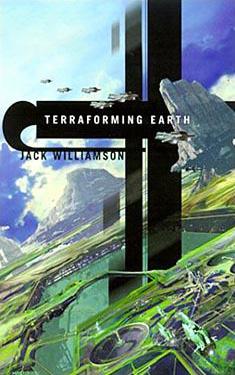 Terraforming Earth by Jack Williamson
Published: Tor, 2001
Awards Won: 2002 John W. Campbell Memorial Award
The Book:
"There is a chance, however remote, that an asteroid might collide catastrophically with the Earth and destroy humanity.  With that in mind, Calvin DeFort planned a moon base to preserve the genetic material of Earth against future disasters.  He couldn't know how soon that base would be needed.
The base is unfinished when the collision occurs, and few make it off of the Earth in those last hours.  Those eight survivors are fated to spend the rest of their life in the moon base, within sight of their dead home planet.  Thousands of years and many cloned generations of the original survivors will pass before the Earth is once again habitable.  Raised by robots, and indoctrinated into the roles of their forebears, each new clone generation carries the responsibility of the future of the human race." ~Allie
This is my 10th novel for WWEnd's Grand Master Reading Challenge.  Jack Williamson was the second author awarded the Grand Master title (after Heinlein), but this is the first of his work that I've ever read. He wrote many novels and short stories in his long career, which spanned from 1928 to just before his death in 2006.  Serialized in "Analog" and "Science Fiction Age", and published in 2001, Terraforming Earth is one of his later works.