On his blog Stainless Steel Droppings blogger Carl V. Anderson reviews SF/F books and movies, conducts author interviews and even hosts his own reading challenge: The 2012 Science Fiction Experience. This is Carl's fifth GMRC review to feature in our blog.
---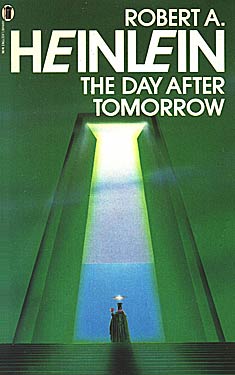 6 Men–against 400,000,000
So the dramatic language of the back cover states, a battle against impossible odds, "the adventures of a handful of soldiers of the future, fighting to save America from a deadly invasion".
Major Ardmore has just arrived at the secret location of a small scientific enclave as the news is broken that the United States has been summarily defeated by a combined Japanese/Chinese force referred to in this undisclosed future as the PanAsians. In an effort to stay protected from the spread of communism in Russia the United States had spent decades essentially ignoring the world outside its borders only to see Europe fall and the red menace coalesce the Asian and Indian continents into a juggernaut of world power. The PanAsians look upon the Americans as a lower species and with superior forces occupy and enslave the American people, creating a system in which the citizens of the United States are by and large an impotent and cowed populace.
Ardmore arrives to find that this group of scientists has discovered, through an accident of testing, a weapon that may provide the key to the return of freedom to the nation. That is, if Major Ardmore can marshal this 6-person team into a strategic force to infiltrate and reclaim America.
Seems like there has been a lot of negative talk about this film. I suppose anytime you have re-shoots and revisions and you miss your opening date you're going to get a lot of haters but the trailer looks pretty cool. The zombies are OMG fast and they swarm over each other like ants which is really terrifying to think about. I mean, damn! I've been ready for the slow zombie apocalypse for years but I doubt my preparations are enough to handle that!
What do you think?  Have you read World War Z by Max Brooks?  Does the trailer look like the book at all?  It's been tagged as read 39 times and has garnered a sold 4 star average from 24 ratings here on WWEnd.  Are you concerned that Hollywood has screwed the pooch again?
Glenn Hough (gallyangel) is a nonpracticing futurist, an anime and manga otaku, and is almost obsessive about finishing several of the lists tracked on WWEnd. This is the first of Glenn's new series on SF Manga where he'll provide an overview of the medium and the place of science fiction in it.
---
Hi.  How are you?  Welcome.  Glad to see you.  Welcome.  Please, sit anywhere.  Splendid.  Splendid.
A bit ago one of our fearless leaders at WWEnd asked me if I'd like to do a blog concerning SF Manga.  I guess he rather liked the short summaries I'd been doing over in the forum section, so why not expand things a bit for a blog?  Sure, why not.
My hope is that as we all get more familiar with SF Manga that some of you will will soon have a copy of Nausicaa next to your copy of Dune.  Or on your shelf will be The Demolished Man, next to Dying Inside, next to Akira.  Or even, on the shelf next to that 1st Pantasia Press hardcover of Neuromancer (you lucky sod) will be a first run flipped and censored edition of Ghost in the Shell, followed by a second run unfliped uncensored edition of Ghost in the Shell.  And hopefully each and every title I'll be blogging about will gain a few more fans from my humble efforts.
But first I think we need an intro to help lay out the landscape we're going to be traversing together.  This is the common starting point, just in case someone is coming to all of this totally cold as I'm sure some of you are.
Manga is the Japanese word for comic book or comic strip.  It's used in America to denote comics specifically from Japan.  It also denotes an artistic style.  There is a very different visual style between Japanese and American comics.
Tired of waiting months – or years – to hear about the next exciting space mission?  Did the August 2012 media coverage of Curiosity make you curious, then leave you with a feeling that could be called Space Withdrawal Sickness?  Are you now thinking of telling someone that you have SWS?  Well, if you have answered "yes" to any of these questions, then the National Space Society of North Texas (NSS-NT) just might be the place for you.
WWEnd has invited NSS-NT to post a new space article each month on the blog, and here we are with our first post.  All of WWEnd's space enthusiasts can rest assured that NSS-NT is keeping apprised of the latest and greatest news in space travel and space development. NSS-NT is the Dallas/Ft. Worth metro area – and beyond – chapter of the National Space Society (NSS).  Both the Chapter and the HQ are celebrating 25th anniversaries in 2012.  We are here to stay.

So, Mr. Space Guy, nothing has happened in space recently, except the MSL/Curiosity landing on Mars in August and the SpaceX Mission in October, right?  WRONG!  At this moment, NASA has dozens of active missions studying the Sun, four of our solar system's planets, our Moon, a variety of space telescopes, and Expedition 33 aboard the International Space Station (ISS).  Also, there are other NASA Missions currently en route to our solar system's largest planet, to the largest asteroid, to a famously-demoted former planet and its neighbors, and two other NASA missions en route to being the first of humankind's creations to leave our solar system.  I won't even mention all the successful completed missions!
What do you mean, dozens of Missions? The only space news I've seen all year has been the Curiosity landing, two SpaceX missions, and shuttles going to museums!  The news media covers what is believed to be of interest to the majority of the public.  However, NSS-NT presents what matters to "space enthusiasts". There is a great deal of current space news, and there is much more to come.
Want, or need, more info?  Go to http://www.nssofnt.org/, contact nssofnt@yahoo.com, and of course check here for the next monthly post. Also, on the second Sunday of each month in the DFW metro area, NSS-NT has a presentation of new information from NASA, commercial spaceflight (including SpaceX), NSS, and/or related organizations, and visitor admission is free. Our November meeting speaker is a former NASA engineer! Thanks for your attention, and we look forward to hearing from you.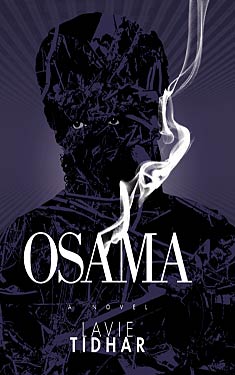 The 2012 World Fantasy Award winners were announced tonight at the World Fantasy Convention in Toronto, Canada. The winner for best novel is:
Osama, Lavie Tidhar (PS Publishing)
The other nominees in the novel category were:
See the complete list of winners in all categories.
Congrats to Lavie Tidhar for the win! Osama was also nominated for the 2011 BSFA and the 2012 Campbell awards. What do you think of the result? Were you expecting it to go to one of the other noms? Among Others had to be the favorite after bringing home the Hugo, Nebula and BFS.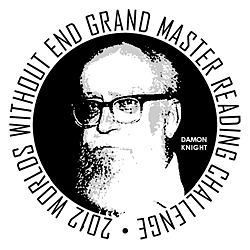 We featured 5 GMRC reviews in the blog for October and it's time to cast your vote for the best.
You don't have to be a GMRC participant to vote and the poll will remain open until November 15th so you have plenty of time to read the ones you missed.
Winner gets the following:
GMRC T-shirt – your choice of colors so long as it's black
GMRC button – you can never have too much flair
Set of WWEnd Hugo Award bookmarks guaranteed to hold your place in any paper book.
Book of your choice from the WWEnd bookshelf – winner gets a list of titles to pick from
Everlasting Glory – So you'll have that goin' for ya. Which is nice.
Runners up will get a GMRC button and a set of bookmarks. Thanks to all our reviewers and good luck!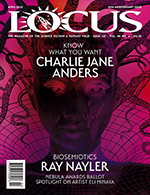 With Americans soon going to the polls in a close and pivotal election, another poll with long-lasting ramifications is taking place. Locus Magazine has launched a new "All-Centuries Poll" of the best science fiction and fantasy from 1900-2010!
Of the lists featured on Worlds Without End based on fan popularity, I see the Locus All-Time Best Poll as being the most authoritative and interesting, since the voters in the Locus poll tend toward the industry professionals, writers, and serious fans that read the magazine. The most recent all-time poll was taken in 1998, and was restricted to books published through 1990. Leaving more recent books out of such a poll helps keep the focus on those that have stood the test of time. The number one novel in the 1998 poll (as well as in a couple of previous all-time polls) was Frank Herbert's Dune, followed by The Moon Is a Harsh Mistress, The Left Hand of Darkness, The Foundation Trilogy, and Stranger in a Strange Land.
The question now is where these novels will fall in the poll now being conducted at Locus Online, fourteen years later. The ballot is now available. Unlike the annual "best of the year" polls conducted by Locus, in which the votes of Locus subscribers are weighted more strongly than non-subscribers, this will be a popular poll with no weightings. Anyone can participate, and WWEnd members have a rare opportunity to add their opinions to the creation of one of the lists featured on the site.
There are ten categories in the poll: five each covering the best of the twentieth century and the best of the twenty-first century (2001-2010). For each of the two periods, poll participants can list their top ten in five categories: science fiction novel, fantasy novel, science fiction/fantasy novella, science fiction/fantasy novelette, and science fiction/fantasy short story. For those wanting to participate in all categories, then, up to one-hundred pieces of fiction can be listed! In order to make the process a little less daunting, Locus has made available long lists of award-winning, critically-acclaimed, and popular 20th century novels, 20th century short fiction, 21st century novels, and 21st century short fiction. Poll participants can use these lists (or not) to jog memories and help put together their top tens in the various categories, but participants are welcome to vote for works that are not on these lists.
Along with other list-lovers, I'll be fascinated to see how this turns out. There is always a danger with popular internet polls that there will be organized attempts at "ballot-box stuffing," though this seems much less likely to affect the twentieth century poll than the twenty-first century poll. It will be interesting to see whether Dune and the other favorites of past generations of fans remain as popular, and which more recent books appear for the first time or move up the list. Let the speculation begin! (Listen to the October 27 Coode Street podcast for some thoughts on possible outcomes by Jonathan Strahan and Gary K. Wolfe.)  It will take some work, but I'm glad to have an excuse to make all those top-ten lists, and will post them in the forum at some point. I'd also be glad to see what other WWEnders list as their favorites, and hope you'll make your voices heard in the poll! (And if you're in the U.S., don't forget to go to the polls!)