Guest Blogger, Allie McCarn, reviews science fiction and fantasy books on her blog Tethyan Books. She has contributed many great book reviews to WWEnd including several Grand Master reviews featured in our blog.

---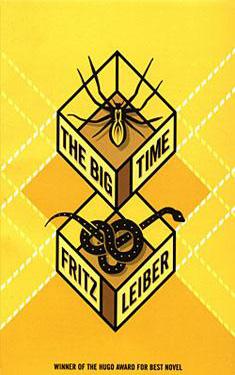 The Big Time by Fritz Leiber
Published: Galaxy Science Fiction, 1957
Awards Won: Hugo Award
The Book:
"Have you ever worried about your memory, because it doesn't seem to recall exactly the same past from one day to the next? Have you ever thought that the whole universe might be a crazy, mixed-up dream? If you have, then you've had hints of the Change War.
It's been going on for a billion years and it will last another billion or so. Up and down the timeline, the two sides–"Spiders" and "Snakes"–battle endlessly to change the future and the past. Our lives, our memories, are their battleground. And in the midst of the war is the Place, outside space and time, where Greta Forzane and the other Entertainers provide solace and r-&-r for tired time warriors." ~WWend.com
This is my second-to-last novel for WWEnd's 2012 Grand Master Reading Challenge. Fritz Leiber was an author with a wide-ranging imagination, who applied his skill to many kinds of speculative fiction. He wrote a number of Hugo award-winning science fiction stories (including this one), but he was also the author of many acclaimed works in horror and fantasy. Last year, I reviewed his horror/urban fantasy novel Conjure Wife, which may soon get its 4th film adaptation. The styles of Conjure Wife and The Big Time are so different that they seem almost written by different people. I think that Conjure Wife was written more for wide appeal, which could be one of the reasons why it has been adapted to film so often. The Big Time, on the other hand, is a very unusual book, and one that I could see having a smaller audience through the years.