Guest Blogger and WWEnd member, valashain, reviews science fiction and fantasy books on his blog Val's Random Comments which we featured in a previous post: Five SF/F Book Blogs Worth Reading. Val has posted many great reviews to WWEnd and this is his tenth for the GMRC. Be sure to visit his site and let him know you found him here.
---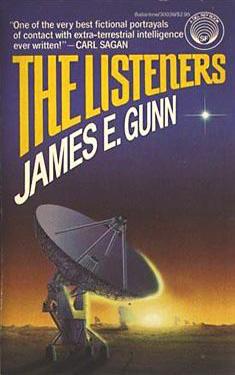 I haven't been very adventurous in my reading for the Damon Knight Grand Master reading challenge. Seven of the ten books I've read so far have been by authors I have read other works of, while two others were acknowledged science fiction classics. For the eleventh read I decided to pick a book by someone I knew very little of. James Gunn doesn't have as long a bibliography as some of his contemporaries and quite a lot is short fiction. He made quite an impact on the genre nevertheless. Besides writing, Gunn is a noted critic and teacher as well as the director of the Center for the Study of Science Fiction. The Listeners (1972) is a fix-up novel, various parts of it appeared in Galaxy Magazine and Fantasy and Science Fiction between 1968 and 1972. It is probably his best known novel, but apparently not one instantly recognized as a masterwork. Gunn missed out on all awards and nominations save one for the Campbell award in 1973. There have been a whole bunch of editions of this book with different forewords, introductions and afterwords. The copy I've read is a 2004 edition which features an introduction by H. Paul Shuch, an American physicist heavily involved with SETI, a foreword by Thomas Pierson, founder of the SETI Institute, and and afterword by the late Freeman J. Dyson, British-American mathematician and physicist. I guess this book is still well loved in scientific circles.
In 2028, the SETI's search for extraterrestrial life is still ongoing without ever having picked up a single signal that indicates intelligent life. Director Robert McDonald, a staunch believer in the project, is facing ever more difficulties keeping SETI funded. McDonald himself is beginning to wonder if the project is worth the personal sacrifices he has to make. Then, a signal is received that is unmistakably of alien origin. A broadcast is received from a the direction of the star Capella, 45 light years distant. It changes everything. The project, the world, our place in the universe. Humanity is about to enter into a conversation with a ninety year time lag.