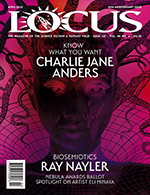 With Americans soon going to the polls in a close and pivotal election, another poll with long-lasting ramifications is taking place. Locus Magazine has launched a new "All-Centuries Poll" of the best science fiction and fantasy from 1900-2010!
Of the lists featured on Worlds Without End based on fan popularity, I see the Locus All-Time Best Poll as being the most authoritative and interesting, since the voters in the Locus poll tend toward the industry professionals, writers, and serious fans that read the magazine. The most recent all-time poll was taken in 1998, and was restricted to books published through 1990. Leaving more recent books out of such a poll helps keep the focus on those that have stood the test of time. The number one novel in the 1998 poll (as well as in a couple of previous all-time polls) was Frank Herbert's Dune, followed by The Moon Is a Harsh Mistress, The Left Hand of Darkness, The Foundation Trilogy, and Stranger in a Strange Land.
The question now is where these novels will fall in the poll now being conducted at Locus Online, fourteen years later. The ballot is now available. Unlike the annual "best of the year" polls conducted by Locus, in which the votes of Locus subscribers are weighted more strongly than non-subscribers, this will be a popular poll with no weightings. Anyone can participate, and WWEnd members have a rare opportunity to add their opinions to the creation of one of the lists featured on the site.
There are ten categories in the poll: five each covering the best of the twentieth century and the best of the twenty-first century (2001-2010). For each of the two periods, poll participants can list their top ten in five categories: science fiction novel, fantasy novel, science fiction/fantasy novella, science fiction/fantasy novelette, and science fiction/fantasy short story. For those wanting to participate in all categories, then, up to one-hundred pieces of fiction can be listed! In order to make the process a little less daunting, Locus has made available long lists of award-winning, critically-acclaimed, and popular 20th century novels, 20th century short fiction, 21st century novels, and 21st century short fiction. Poll participants can use these lists (or not) to jog memories and help put together their top tens in the various categories, but participants are welcome to vote for works that are not on these lists.
Along with other list-lovers, I'll be fascinated to see how this turns out. There is always a danger with popular internet polls that there will be organized attempts at "ballot-box stuffing," though this seems much less likely to affect the twentieth century poll than the twenty-first century poll. It will be interesting to see whether Dune and the other favorites of past generations of fans remain as popular, and which more recent books appear for the first time or move up the list. Let the speculation begin! (Listen to the October 27 Coode Street podcast for some thoughts on possible outcomes by Jonathan Strahan and Gary K. Wolfe.)  It will take some work, but I'm glad to have an excuse to make all those top-ten lists, and will post them in the forum at some point. I'd also be glad to see what other WWEnders list as their favorites, and hope you'll make your voices heard in the poll! (And if you're in the U.S., don't forget to go to the polls!)