Guest Blogger and WWEnd Member, Charles Dee Mitchell, has contributed a great many book reviews to WWEnd including his blog series Philip K. Dickathon and The Horror! The Horror! He can also be found on his own blog www.potatoweather.blogspot.com. This is Dee's ninth GMRC review to feature in our blog and the second this month.
---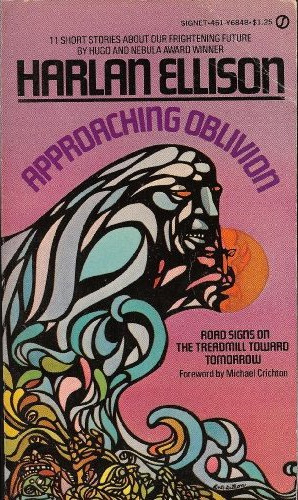 This was my first and is likely to be my only encounter with the writing of Harlan Ellison. It's not as though I didn't know what I was letting myself in for. Ellison's reputation as an old crank, which he wears as a badge of honor, precedes him. I have watched Dreams with Sharp Teeth, the 2008 documentary on him and actually rather enjoyed it. (It might have been very late at night.) But this anthology dates from the mid-1970's, so he was at most a forty-year-old crank. Old cranks can have undeniable charm and even a sense of gravitas about them. In his forties, Ellison comes off as an over-aged college student with a weighty chip on his shoulder who has just discovered that the world is neither fair nor very nice and goddammit he's going to tell it like it fucking is.
I dislike so much about this book I hardly now where to begin, although the title, the subtitle, and the jacket copy seem like a good place. (I read a book club hardback edition.) A book published today with the title Approaching Oblivion could be a screed by Glenn Beck or any number of right wing hand wringers who lament the disappearance of an America they think existed sometime sixty years ago. Hyperbole swings both ways. Ellison caps it off with a subtitle, Road Signs on the Treadmill Toward Tomorrow, a phrase that evokes a self-pitying Jeremiah. Then there is the predictably slavish praise of the promotional copy on the book's inside flaps. Apparently the New York Times once described Ellison as "relentlessly honest," a fact relentlessly repeated in almost everything you read about him. Buried on the back flap is this irrelevant and irritating nugget. "[Ellsion} created a series called Starlost and walked away from $93,000 in profits when the producers departed from his original concept." Mr. Ellison, you are a pillar of integrity. I assume he did accept payment for the episode of The Flying Nun he wrote in 1968. It actually sounds pretty good, a kinky mix that has Sister Bertrille crash-landing on a desert island and patching up the relationship between the shipwrecked lovers she finds there.