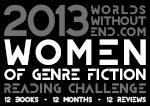 Stephanie (Rhetori_Cat), became a fan of science fiction and fantasy when she convinced her dad to hand over his copy of Ender's Game by creepily reading over his shoulder until he couldn't stand it anymore. Since then, she's turned her love into a research interest as she works on her PhD in Rhetoric and Composition (don't worry, nobody knows what that means). Her blog, Speculative Rhetoric, focuses on the relationships between speculative fiction and theories of gender, language, communication, and rhetoric.
---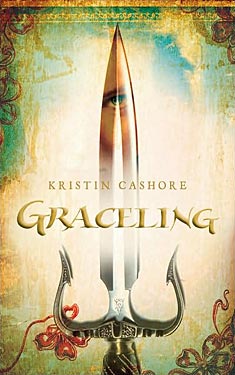 Kristin Cashore's debut novel Graceling was published in 2008, about two and a half weeks after Suzanne Collins' The Hunger Games. I make a point of saying this if only to remind myself that there is very, very little possibility that the novels are actually in conversation with each other, and instead they are perhaps reflecting larger cultural shifts. I read Graceling as part of the Worlds Without End Women of Genre Fiction Reading Challenge (henceforth the WoGF) since Cashore had been on my radar for a while, but I hadn't actually read any of her work. I pretty much inhaled the novel; I read about half of it last night while I should have been reading for class, but no regrets.
The Plot: Katsa is the orphaned niece of King Randa and his number one thug. Possessing superhuman abilities, called her Grace, Katsa can kill pretty much anyone or anything with ease; unfortunately, she discovers her power by inadvertently killing an adult cousin when she was six years old because she did not want the man to touch her. Disgusted by her role as Randa's enforcer throughout the seven kingdoms, Katsa organizes the Council, a group of individuals from lords down to servants who seek to protect citizens in all kingdoms from the power-hunger of their kings. Through her work for the Council, Katsa meets Po, a Graced fighting prince from the peaceful island of Lienid who searches for his kidnapped grandfather. After refusing to do Randa's dirty work any longer, Katsa removes herself from the court and travels with Po as he seeks more information about his grandfather's disappearance. What they discover is the underhanded work of the supposedly kind and beneficent King Leck of Monsea, who is himself Graced with the ability to fog people's mind with his words and make them remember events as he chooses. Po and Katsa's goal becomes saving Leck's daughter Bitterblue from her sick, twisted, perverted, evil father.