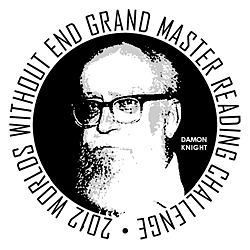 Well, would you believe it? The Grand Master Reading Challenge has finally come to a close and this is the very last GMRC review poll! For December we featured 9 GMRC reviews in the blog and it's time to cast your vote one last time for the best reviews.
Remember, you don't have to be a GMRC participant to vote and the poll will remain open until January 15th so you have plenty of time to read any reviews you missed.
Winner gets the following:
GMRC T-shirt – your choice of colors so long as it's black
GMRC button – you can never have too much flair
Set of WWEnd Hugo Award bookmarks guaranteed to hold your place in any paper book.
Book of your choice from the WWEnd bookshelf – winner gets a list of titles to pick from
Everlasting Glory – So you'll have that goin' for ya. Which is nice.
Runners up will get a GMRC button and a set of bookmarks. Thanks to all our reviewers and good luck!
And now for some final stats from RhondaK101:
Top Ten Books
Top Ten Authors
Authors with Ten or More Titles Read
We'll be back again with the poll results and a final GMRC wrap up. Thanks to everyone who participated for making it such a great reading challenge!