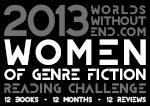 Emily Sandoval (ersandoval) is a bookaholic, whose poison of choice is fantasy and science fiction. At her day job, she's an engineer working on satellites, and in her spare time she writes epic fantasy novels. She blogs irregularly about writing and the genre, and joined the Women of Genre Fiction Reading Challenge to force herself to slow down between books and write the occasional review.
---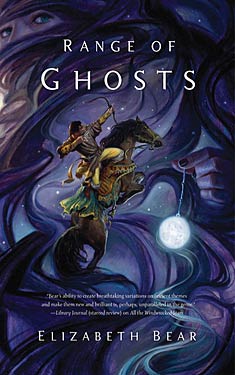 Range of Ghosts by Elizabeth Bear is the story of an empire falling apart. The Old Khagan is dead, and his nephew Temur is left for dead on the battlefield. However, in a land where each of the Khagan's living heirs has his own moon in the sky, his survival is no secret, and his uncle is determined to hunt him down. His first instinct is merely to get away, but when an enemy sends the ghosts of his people to capture his bedmate, he sets out on a quest to reclaim her. Along the way, he joins with the wizard and once-princess Samarkar to stand against a hidden cult that seeks to play Temur and his uncle against each other and conquer their people.
The language in this book was beautiful. Not overly showy, but fluid and graceful, effortlessly leading me through the story. The love scene early on is one of the most poetic I've ever read.
Lots of great female characters: wizards, warriors, horsewomen, grandmothers, princesses, an even a female king. And horses; Temur's mare Bansh truly was a character in her own right. I always love seeing a range of strengths. Looking back on it now, this book was actually very heavily populated with women. Given that a lot of the men all killed each other off before the story started, that makes a lot of sense.