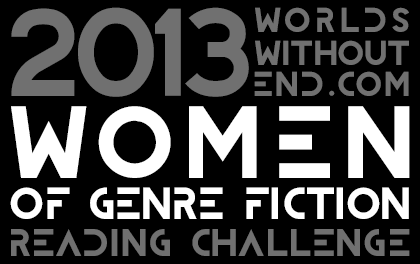 After 2 months the Women of Genre Fiction Reaching Challenge is starting to pick up steam! We featured 19 reviews in the blog last month including a big rush right there at the end. I've learned that if I get behind on posting these as they come in I'm going to be screwed in the last week so I'm going to be more vigilant in future.
You've certainly made the voting difficult for yourselves this time. So many great reviews and its very nice to see some new reviewers in the mix.
The poll is open now so be sure to vote for your favorites in the forum and remember, there are three prizes up for grabs each month. The poll will be open until March 20th to give everyone extra time to read all the reviews and cast their votes.  Good luck to all our reviewers!
And lastly, The Amazing Rhonda Knight™ has the stats for us again this month:
General Stats for 2 Months
Participants: 193
Books Read: 247
Books Reviewed: 139
Genre
General Fantasy – 71
Contemporary Fantasy – 38
Soft SF – 32
Alt. History/Time Travel – 24
Horror – 14
Hard SF – 14
Steampunk – 10
Urban Fantasy – 10
Military SF – 8
Pulp/Space Opera – 6
Cyberpunk – 6
Other – 6
Authors
Books