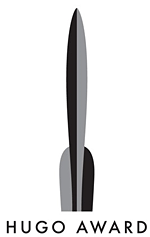 The 2013 Hugo Voters Packet is now available for members of LoneStarCon 3, the 71st annual Worldcon convention.  The packet is "an electronic package of nominated works graciously made available to voters by nominees and their publishers."
From the LoneStarCon website:
The 2013 Hugo Voter Packet is available to Supporting, Attending, Military and Young Adult members of LoneStarCon 3 to help inform them about the works under consideration before voting. The packet will remain available until voting closes on Wednesday, July 31, 2013 at 11:59pm CDT.

Members can login here. You will need your name (as recorded in the LoneStarCon 3 membership database) and your unique Hugo PIN to access the Hugo Voter Packet content. PIN reminders will be sent out at regular intervals during the final ballot period. Instructions on how to recover lost or forgotten PINs can be found on the download page.
Not going to attend Worldcon?  No problem, you can still get in on the action.  You can sign up as a Supporting Member for $60 and get the packet – valued way more than $60 by the way – and you'll be eligible to vote.  That's a pretty damn good deal and less than you would have to pay for just the novels alone.
Get to reading and get to voting!