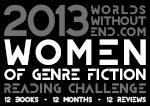 The Women of Genre Fiction Reading Challenge April review poll is now closed and we have three new winners this month including a tie for second place.  Instead of trying to find a tie breaker we decided to just split the 2nd and 3rd place prizes in half and call it a draw.
Our winners will find an Amazon gift card, $25, $12.50 and $12.50 respectively, waiting for them in their email inbox. We hope they'll use them to buy books and regale us with more great reviews!
April WoGF Review Poll Winners:
Congrats to Allie, Rhonda and Alexandra and thanks to everyone who participated in the poll. There are more prizes up for grabs each month so if you didn't win this time you still have plenty more chances.