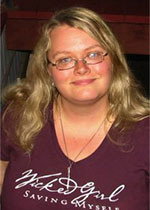 Last month, we launched an exciting new monthly feature: an series interview with some of the most celebrated authors in the SF/F/H genres, that started with N. K. Jemisin. The questions came from you, the WWEnd reader. We are now ready to announce that our next author will be Seanan McGuire, the urban fantasy writer, who may be better known to some WWEnders as Mira Grant, the merciless author of the Newsflesh trilogy (nominated for both the Shirley Jackson  and Philip K. Dick awards, and thrice nominated for Hugos) as well as the nascent Parasitology series.
A key component of the interview series is the Urtak poll, embedded at the top of this post.  Just read the questions and tell us whether you want each one to be asked.  To vote, click "Yes" if you would like to see her answer the question or "No" if you don't care (please don't select "I don't care," though. I'm told it messes up our metrics. If you don't care, then answer "no").  When you have voted on all submitted questions, you will be able to add your own questions.  You may also click on the green "Ask" button at the top of the Urtak survey, but please do all of the voting first, in case someone else has already asked your question. It need not be a yes/no question. It's just that WWEnders will then vote yes/no on whether they like the question.
The most popular questions will be asked first, so don't split your vote by asking the same question twice!