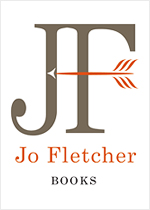 Thanks to the good people at Jo Fletcher Books we have 5 autographed copies of Stephanie Saulter's debut book Gemsigns to give away.  For your chance to win all you have to do is re-tweet our tweet, share our FB post, or leave a comment below!  Do all three and triple your chances.  The contest is open to all and will last until next Monday when we'll draw 5 names from the hat.
Jo Fletcher Books, an imprint of Quercus Publishing,  is a specialist science fiction, fantasy and horror imprint in the UK with plans to come stateside.  Jo Fletcher's own personal tastes in fiction have always been wonderfully eclectic and JFB is dedicated to being as broad a church as possible, hopefully publishing something for everyone.  WWEnd has the complete JFB catalog in our database so check out the selection on the JFB publisher page.
---
For years the human race was under attack from a deadly Syndrome, but when a cure was found – in the form of genetically engineered human beings, Gems – the line between survival and ethics was radically altered.
Now the Gems are fighting for their freedom, from the oppression of the companies which created them, and against the Norms, who have always seen them as slaves. The conference at which Dr Eli Walker has been commissioned to present his findings on the Gems is the key to that freedom.
But with the Gemtech companies fighting to keep the Gems enslaved, and the horrifying godgangs determined to rid the earth of these 'unholy' creations, the Gems are up against forces that might just be too powerful to oppose.
---
From the publisher:
Gemsigns is a fast-paced and exciting story, full of engaging, memorable characters. It's old-fashioned storytelling in that there is a clear sense of what is at stake, who is on which side, and that the threat is huge and horrifying; but it's unusual and quite modern in that it leaves it up to the reader to decide what they think is the right answer to the central moral question. There are characters you will probably like but not necessarily agree with, and characters you might find appalling, but think are actually in the right. And the ending is a real shocker – almost no one who's read it sees what's coming. Will you?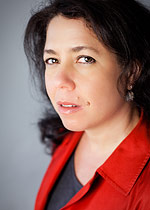 About the Author:
Stephanie Saulter has been a real estate developer, restaurant manager, corporate executive, public policy wonk, management consultant and founder of the Scriptopus interactive website for writing short fiction. She doesn't have a poor attention span; on the contrary she finds lots of things interesting, and figures you learn more by doing. Few of her jobs would appear to have any relationship to her combined degree in literature and anthropology from MIT, but she would disagree. She's finally settled down to writing more-or-less full time, which lets her continue to explore lots of different lives without actually having to leave the house. Born in the Caribbean, she now lives in Devon.
For those of you participating in the Women of Genre Fiction Reading Challenge, Mz. Saulter would be an excellent choice for a new author since this is her first book or even to satisfy the 1 random author requirement.  I'm looking forward to seeing some reviews for this one.  Good luck to all!
Edit: We just added an excerpt for Gensigns so you can get a little taste.