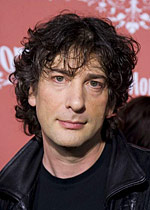 Neil Gaiman is about to launch what is billed as his last US signing tour:
I think the OCEAN AT THE END OF THE LANE tour will be the last actual signing tour I ever do. They're exhausting, on a level that's hard to believe. I love meeting people, but the sixth hour of signing, for people who have been standing in a line for seven hours, is no fun for anybody. (The last proper US signing I did, it lasted over 7 hours and I signed for over 1000 people. I'd suspect a lot of the signings on this tour will be like that, or bigger.)
Boy, Mr. Gaiman, you sure do make your signings sound appealing!
I for one, hope this isn't the last.  Just in case, however, we at WWEnd will be in line when you arrive in Dallas.  For the rest of you, here is our last chance to meet Neil Gaiman in the flesh in your town:
| | | |
| --- | --- | --- |
| 21 Jun | Washington, DC | The Last US Signing Tour: Mr. Gaiman Goes to Washington [SOLD OUT] |
| 22 Jun | Decatur, GA | The Last US Signing Tour: Gaiman on My Mind [SOLD OUT] |
| 23 Jun | Coral Gables, FL | The Last US Signing Tour: Coral (signing) Line |
| 24 Jun | Dallas, TX | The Last US Signing Tour: Fright-Hair on Elm Street |
| 25 Jun | Denver, CO | The Last US Signing Tour: Under Cover Gaiman |
| 26 Jun | Phoenix, AZ | The Last US Signing Tour: Changesgaiman [SOLD OUT] |
| 27 Jun | Los Angeles, CA | The Last US Signing Tour: Visitations and Angels |
| 28 Jun | San Francisco, CA | Last US Signing Tour: Mr. Gaiman, w/the book, in the Conservatory [SOLD OUT] |
| 29 Jun | Portland, OR | The Last US Signing Tour: City of Books [SOLD OUT] |
| 02 Jul | Seattle, WA | The Last US Signing Tour: Call of Clarion [SOLD OUT] |
| 06 Jul | Santa Rosa, CA | The Last US Signing Tour: When We Walk in Fields of Copper [SOLD OUT] |
| 07 Jul | Ann Arbor, MI | The Last US Signing Tour: A Man, A Book, A Theater, Ann Arbor |
| 08 Jul | Bloomington, MN | The Last US Signing Tour: Rock 'n' Roll High School |
| 09 Jul | Chicago, IL | The Last US Signing Tour: Gaiman Unabridged [SOLD OUT] |
| 10 Jul | Nashville, TN | The Last US Signing Tour: Of Course You Know This Means War Memorial |
| 11 Jul | Lexington, KY | The Last US Signing Tour: Manchester Reservation [SOLD OUT] |
| 13 Jul | Cambridge, MA | The Last US Signing Tour: The Parish at the End of the Tour |
| 06 Aug | Toronto, ON | An Evening with Neil Gaiman |
| 07 Aug | Montreal, QC | An Evening with Neil Gaiman |
| 08 Aug | Vancouver, BC | An Evening with Neil Gaiman |
| 18 Aug | Portsmouth, UK | An Evening with Neil Gaiman |
| 20 Aug | Cambridgeshire | Neil Gaiman at Ely Cathedral |
| 21 Aug | Oxford, UK | Neil Gaiman in conversation with Philip Pullman [SOLD OUT] |
| 22 Aug | Birmingham, UK | Neil Gaiman at Waterstone's Birmingham New Street |
| 28 Aug | Dundee, UK | Neil Gaiman at Waterstone's Dundee |
| 28 Aug | Inverness, UK | Neil Gaiman at the Ironworks Inverness |
| 01 Oct | Lewisburg, PA | Bucknell University Forum: tech/no |