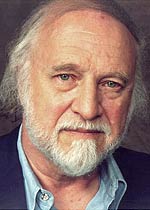 You may or may not know Richard Matheson by name, but it's likely that you know his work. His 1954 novel, I Am Legend, has been adapted to film three different times, and was the precursor to the earliest zombie films (it was the inspiration for Night of the Living Dead).  I Am Legend appears on some of the most prestigious lists that WWEnd covers, including those of the Guardian, NPR and SF Masterworks.  Another novel, The Shrinking Man, appears on five such lists, and was also a blockbuster in 1957.  His horror novel, Hell House, is one of the top 100 in its field according to Nightmare Magazine, and also made it to the silver screen.  Matheson's psychic thriller, A Stir of Echoes, was adapted to film twice, and his super romantic time-travel novel, Bid Time Return, may be better known to you as that Christopher Reeves/Jane Seymour 1980 classic Somewhere in Time.
Mr. Matheson's influence was far bigger than just genre fiction.  He made his mark on the culture at large, and that is a rare accomplishment.
He died Sunday, at age 87.