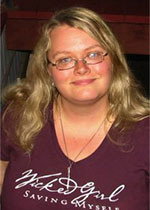 This is the second in our Ask an Author Anything interview series and this time we have multiple Hugo nominated author Seanan McGuire (AKA Mira Grant). The way it works, as you may recall from our first post, is that we get questions from our members and visitors who then vote on their own questions. We take the most popular questions asked and send them off to the author.
We arranged this interview through Seanan's, or perhaps I should say Mira Grant's, publicist at Orbit who again has sent along some books for us to give away. Check out the details at the end of the interview for your chance to win! In addition to this interview Seanan did a guest blog post with us where she tried mightily to gross us out about parasites the subject of her newest book as Mira Grant, Parasite, coming out from Orbit at the end of October.  You don't want to miss that post… or maybe you do.  Now, on to the interview!
---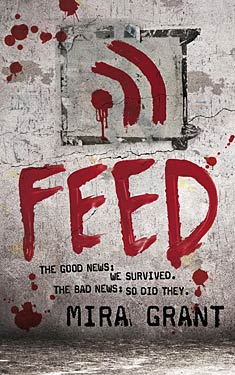 WWEnd:  Your Newsflesh series have received nominations for the Hugo, Philip K. Dick, and Shirley Jackson awards. You don't normally see that combination of awards given for the same book. Which nomination meant the most to you personally?
SMG: The Hugo, definitely. The Philip K. Dick and Shirley Jackson awards are incredible honors, and I squealed when I was notified of the nominations, but I've been dreaming of the Hugo since I was a little girl watching Ray Bradbury Presents in my grandmother's living room. Having a rocket for fiction of my very own would mean the absolute world to me.
WWEnd: It was reported last year that you had optioned film rights for Feed. Are we any closer to seeing your story on the silver screen? If you had the opportunity, would you want to write the screenplay?
SMG: This is a question I get a lot, and it makes me cringe, because people never seem to want to believe the honest answer. Here is the honest answer: If I knew anything that I was allowed to tell you, it would have been announced already. That doesn't mean I know things I can't tell you. I may know nothing at all. I may not even know whose shoes these are. But I am very vocal about the things that I'm allowed to say, and I'm incredibly scrupulous about not saying things I'm not supposed to. As to whether I'd write the screenplay, no, I would not. That's not my art form, and I'm too close to the material to clearly see what needs to be cut in order to make the jump to another medium.
WWEnd: Zombies are a big part of the zeitgeist, with movies, television series, comics, videos games, etc. being dedicated to the idea of the dead rising in a surly manner. What in particular attracted you to put your own spin on the zombie "mythos"?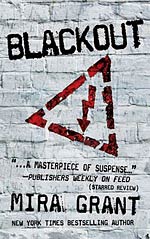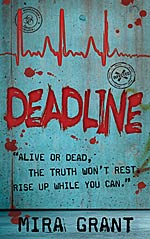 SMG: I got really annoyed at the zombie books and zombie movies that posited a world exactly like ours except for the part where apparently they had never created modern zombie cinema. So they were all totally stunned when the dead got up and walked, whereas my friends and I would be screaming "don't get bit" and "aim for the head" within fifteen minutes. That made me want to come to the party.
WWEnd: What are some of the books and movies from your younger years that have inspired the way you write?
SMG: Chris Claremont's run on the X-Men; Peter Beagle's The Last Unicorn; the short stories of Ray Bradbury; the complete works of Stephen King; and the cartoon My Little Pony and Friends.
WWEnd: You write urban fantasy as Seanan McGuire and horror thrillers as Mira Grant. Any plans to create a third pen name to accommodate yet another subgenre?
SMG: Not at this time.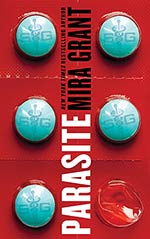 WWEnd: Recently you were kind enough to disgust everyone here at WWEnd with a short essay about the wonders of parasites. We may never eat sushi again. Anything else you care to ruin for us?
SMG: Oh, I'm a spoiler. I enjoy spoiling things in the literal "you will never enjoy this again" sense. Like, ask me about the maintenance at your average traveling carnival sometime. Better yet, ask me when we're actually on the Ferris wheel. You'll be unhappy that you did!
WWEnd: Did you always mean for the Sparrow Hill Road stories to be set in the same universe as InCryptid, or was that a happy coincidence?
SMG: Yes, that was always the intention. Sparrow Hill Road actually managed to pre-date InCryptid slightly, in terms of publication order, and there are references to the Healy family and "mice in the walls" in those stories.
WWEnd: In the Newsflesh series, you wrote an amazingly independent, strong female character with Georgia, and then juxtaposed that with her co-dependent relationship with Shaun. What was your thinking in mashing those two opposite ends of the spectrum together?
SMG: My thinking was that no single person is a single thing. We're all perfect and flawed and weak and strong and human. We have to be human if we're going to matter. For me, that means not making anyone so untouchable that they cease to be relateable.
WWEnd: When you write in third-person POV instead of first-person, does it affect your writing process in any particular way?
SMG: No. My process remains exactly the same, but the stories I tell tend to change.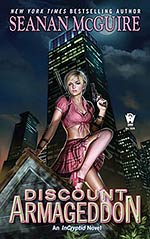 WWEnd: Having finished Newsflesh and all the novellas, I find myself at a loss as to what to read next. What are your top five book recommendations?
SMG: See, this question is problematic, because I don't know you. I can't recommend the same five books to everyone and expect them to be happy. So these are the five books I would recommend to myself, if I needed something to read that would make me happy:
---
Our thanks to Seanan McGuire for taking time out of her busy schedule to answer our questions. I hope you all enjoyed the interview. We'll be doing another one soon(ish) so keep an eye out for the open question post.
The Contest!
The prizes for the contest are 2 signed copies of Mira Grant's awesome Newsflesh series! That's right, the whole trilogy, all 3 books signed, sealed and delivered. All you have to do for your chance to win is re-tweet our tweet announcing this interview to get your name into the hat. We'll let it run until next Monday when we'll draw 2 names from the list of re-tweeters. Oh, the contest is world-wide too, so re-tweet away!