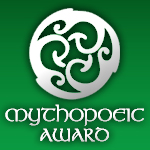 Today we're happy to announce the addition of the Mythopoeic Award to the Worlds Without End database! The award is administered by the Mythopoeic Society, and organization dedicated to the study, discussion, and enjoyment of fantastic and mythopoeic literature.  Here's the award description from their website:
The Mythopoeic Fantasy Award for Adult Literature is given to the fantasy novel, multi-volume novel, or single-author story collection for adults published during the previous year that best exemplifies "the spirit of the Inklings". Books not selected as finalists in the year after publication are eligible for a second year. Books from a series are eligible if they stand on their own; otherwise, the series becomes eligible the year its final volume appears.
Of all the awards we could have added this one, by far, garnered the most interest and support from our members. Once you take a look at it, especially with the cover image gallery, you'll see why. There are more classics and fan favorites than you can shake a stick at. You'll find Richard Adam's classic Watership Down, John Gardner's masterwork Grendel as well as a handful of Earthsea books from the incomparable Ursula K. Le Guin – just to name a few of the 191 books on the list.
It's been a long time coming but it has certainly been worth the wait.  Let us know what you think of this new addition and don't forget to check your reading stats page to see how you fare for this award.  We just got the last hundred or so books for the award added to the site so you may have some tagging to do.  My record is not worth mentioning so it's highly likely that yours is far better.  Let us know much better in the comments below.  Enjoy!