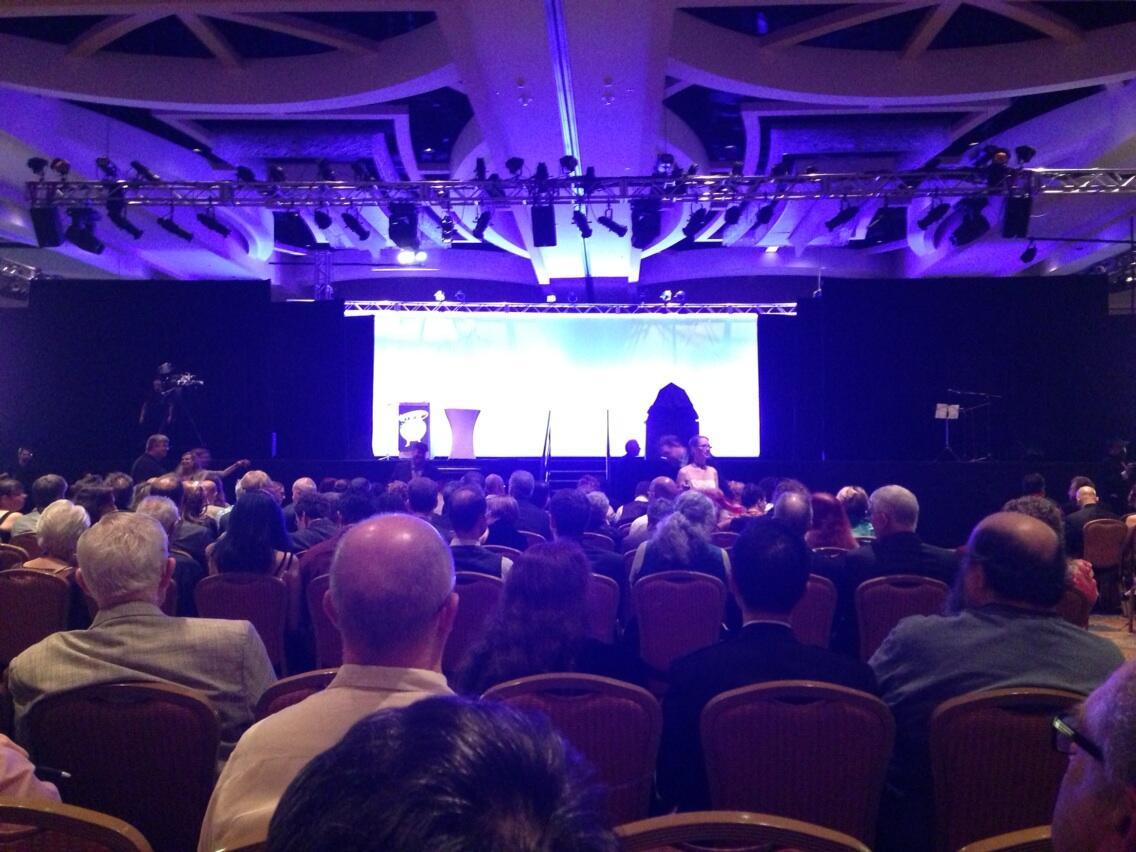 We are live at the 2013 Hugo Award ceremony, where the committee are reporting a solid ballot turnout. The Grand Ballroom here in the Rivercenter at San Antonio is so full, even nominees are being forced to <gasp> sit next to someone! We're live blogging the results, so refresh this post to get fresher and fresher results…that is, unless you decide to watch Breaking Bad and then get your results in one fell swoop, later.  I know I was torn between those options, and I'm at the con!
Better yet, watch the ceremony on U-Stream.
8:22: The Big Heart Award, presented by the impressive superfan David Kyle, went to Tom Veal, who promptly pointed out that he had been given the wrong plaque.  This, of course, proves Tom's worthiness.  Congrats to him, and thanks for all the hard work!
8:33: A rarely given Chairman's Special Award was presented by astronaut Katie Coleman is describing her time in space.  She's here to announce the rarely given special committee award, which went to Stanley Schmidt for his work on Analog Magazine.  Money quote: "He kept the science in sci-fi"
8:40: The Seiun Awards, established in 1970, is the Japanese Hugo.  It literally means "nebula".  The award for best translated short story went to Paolo Bacigalupi, for "Pocketful of Dharma".  The best translated novel award went to John Sclazi's The Android's Dream (it was his second Seiun Award).
8:46: The Hugo ceremony's tradition of listing fans, authors, publishers and artists who are no longer with us is unfortunately long.
8:54:  "I think the Campbell Award doth protest too much," says MC Paul Cornell, about how everyone points out that the Campbell is not a Hugo.  I usually find myself pointing out that it is not the same as the John W. Campbell Memorial Award.
8:58: The winner of the Campbell Award for Best New Writer goes to Mur Lafferty, who graciously pointed out that past Campbell nominees (such as George RR Martin and Lauren Beukes) went on to careers just as illustrious as the winners.
9:03:  The Hugo trophy base has been unveiled:
Vincent Villafranca, the base designer, is on stage to explain the concept.  I love this base.  I think it might be my favorite.  "It depicts an astronaut and some aliens sitting around reading some books "  They are hand-cast in bronze.
9:10: "We now come…to the Hugo Awards themselves."
9:12: The Best Fan Artist Award goes to Galen Dara.
9:15:  The Best Fan Writer Award goes to Tansy Rayner Roberts, who was unavailable ot accept in person.
9:19:  The Best Fancast Award goes to SF Squeecast, xurprising precisely nobody.  Seanan McGuire: "I attended my first Worldcon when I was fourteen," and "this is an in-your-face for all those people I went to high school with."
9:23:  SF Squeecast has officially withdrawn themselves from consideration of future awards.
9:26:  The Award for Best Fanzine goes to SF Signal.  Congrats, guys! "I'm totally tweeting this."  They, too are recusing themselves from future awards in this category.
9:32:  "There's a reason why semiprozine sounds like Semiprozine sounds like something you'd ask your doctor for"
9:34:  The award for Best Semiprozine goes to Clarkesworld.
9:40: The winner for Best Professional Artist is John Picacio. His response?  "Well, hello, Texas."  He ended his speech with with a political statement about the status of women in Texas.  I assume he means HB2.
9:48:  The Best Editor, Long Form Award goes to Patrick Nielsen Hayden.
9:50:  The Best Editor, Short Form Award goes to Stanley Schmidt, who is having an extraordinarily good night.  "Copy and paste the acknowledgements from previous speech."
9:53:  "We now come to The Best Doctor — I mean, Best Dramatic Presentation, Short Form."
9:55:  We now get to see all of the nominated clips, which, of course, is a Whofest.
9:59: And the winner is Game of Thrones, ending the Whovian monopoly!  Also, has George R. R. Martin lost weight?
10:04: Paul Cornell just confessed that he voted for Hugo last year, so that Hugo could win a Hugo, thus creating a singularity.
10:10: The winner for Best Presentation, Long Form, is The Avengers.  Stephen H. Silver is accepting for Joss Whedon.
10:11: Oh, boy, Silverberg is hitting the stage.  That means you won't be hearing new news for a few minutes, now…
10:17:  This year's stall tactic consisted of Silverberg reading a transcript of the first schtick he did in 1965.  Brilliant.
10:20: The Best Graphic Story Award goes to Saga, Volume One, written by Brian K. Vaughn, illustrated by Fiona Staples (Image Comics).
10:24: The Best Related Work Award goes to Writing Excuses Season Seven, Brandon Sanderson, Dan Wells, Mary Robinette Kowal, Howard Tayler and Jordan Sanderson.  "You're out of excuses.  Now, go write."

10:27: "Kij [Johnson], you and George R. R. Martin should really make some television together.  It'd solve the population crisis."
10:28: The Best Short Story Award goes to "Mono no Aware", by Ken Liu (The Future is Japanese, VIZ Media LLC)
10:31: The award for Best Novelette goes to "The Girl-Thing Who Went Out for Sushi", by Pat Cadigan (Edge of Infinity, Solaris).  She stood behind the podium for a while, expecting to wake up in her bed at any moment.
10:36: The Best Novella Award goes to Brandon Sanderson, for The Emperor's Soul  (Tachyon Publications).
10:42: And Best Novel goes to….John Scalzi, for Redshirts!  Congrats to him, and to all of the folks at Tor.
10:45: "I'm at the convention of misfit toys." – Scalzi
10:46: On the heft of the trophy: "It's very heavy, but also light on my heart." – Scalzi