After a long – and unintended – hiatus,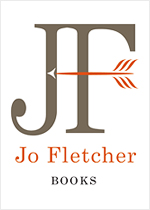 Jo Fletcher Fridays is back – and back with a bang!  This week we have what looks like a wicked good dystopian novel from debut author Peter Liney called The Detainee.  This is the first book in a new trilogy that came out in July in the UK but won't be available in the US until March of next year so this is a great chance to get it early in the states.  We've got 1 hardcover and 3 trade paperbacks to give out so you have 4 chances to win.
You know the drill:  re-tweet this tweet, share it on Facebook or comment here in the blog to enter the contest. Do all three and triple your chances! We'll have a drawing and announce the winners next Monday so tweet away.  First name out of the bag will get the hardcover edition.
---
When the fog comes down and the drums start to beat, the inhabitants of the island tremble: for the punishment satellites – which keep the tyrannical Wastelords at bay – are blind in the darkness, and the islanders become prey.
The inhabitants are the old, the sick, the poor: the detritus of Society, dumped on the island with the rest of Society's waste. There is no point trying to escape, for the satellites – the invisible eyes of the law – mete out instant judgement from the sky.
The island is the end of all hope – until 'Big Guy' Clancy finds a blind woman living in a secret underground warren, and discovers a reason to fight.
---
What people are saying:
"An impressively dark, dystopian piece with much to say about capitalism's tendency to treat human beings as commodities, disposable when no longer useful." – Financial Times.
"I am impressed with the high impact story that Peter Liney has managed to create in The Detainee, it's unique concept and excellent writing will leave this story in the back of my mind for a long time." – The Book Plank
We've got a book trailer and an excerpt to give you a taste of what Liney has cooked up for us so click the cover image to visit the novel page. It's a brutal future world but there is always hope. Keep that in mind when you read the excerpt. This one is on my list for sure. Let us know what you think in the comments and good luck in the contest. Check back Monday for the results.