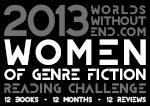 The Women of Genre Fiction Reading Challenge August review poll is now closed and we have our three winners! We let this one run to the end of September because we got a wicked late start after WorldCon.
August WoGF Review Poll Winners:
Congrats to Rob, Nadine and Pat and thanks to everyone who participated in the poll. Our winners will find an Amazon gift card, $25, $15 and $10 respectively, waiting for them in their email inbox.
There are still 4 more months of prizes to be awarded so if you didn't win this time there are still more chances.