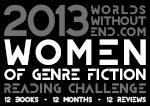 Allie McCarn (Allie), reviews science fiction and fantasy books on her blog Tethyan Books. She has contributed many great book reviews to WWEnd including several Grand Master reviews featured in our blog. Allie has just kicked off a new blog series for WWEnd called New Voices where she'll be reviewing the debut novels of relatively new authors in the field.
---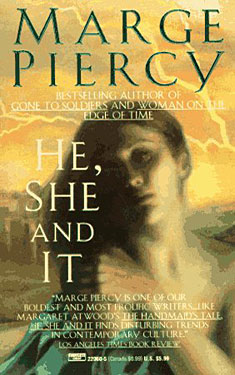 He, She and It by Marge Piercy
Published: Random House Publishing Group (1993)
Awards Won: 1993 Arthur C. Clarke Award
The Book:
"In the 21st century, the Earth is very nearly ruined. People live within domes or wraps, and most wear protective clothing to brave the toxic wasteland that the world has become. Most power resides with massive corporations, "multis," who expect the indentured employees within their domes to shape their bodies, minds, and cultures to the company ideal. A small fraction of the Earth's population are able to live in independent "free towns", through selling their skills and products to multis, instead of themselves. The unlucky rest of humanity lives in the violent, poisonous "Glop".
Shira Shipman has never embodied the physical or cultural ideal of her multi, and when custody of her young son is given to her ex-husband, she decides her future lies elsewhere. She returns to her childhood home of Tikva, a Jewish free town, where she has a new job aiding in the development of an illegal cyborg protector, Yod. As Yod struggles to understand his role in the world, he finds insight in a story of Prague's Jewish ghetto in 1600, about a famous kabbalist who once created a golem protector." ~Allie
Marge Piercy's He, She and It is my final novel for WWEnd's Women of Genre Fiction Reading Challenge. Marge Piercy is a poet and a novelist, and her works range from science fiction to other genres. I have read that her novels tend to focus on women's lives, and He, She and It (also published as Body of Glass) is no exception.