There are Pretenders among us, geniuses with the ability to become anyone they want to be. In 1983 a corporation known as The Centre isolated a young Pretender named Jarod and exploited his genius for their research. Then, one day, their Pretender ran away…
That's the opening setup for one of the best shows to come out of 90′s television. Responding to the demands of an extremely loyal worldwide fan base, creators Steven Long Mitchell and Craig Van Sickle are bringing the 90′s hit NBC TV series, The Pretender, back in a series of original novels beginning with the release of book one; Rebirth. In addition to their Pretender novels, the duo will be releasing a series of graphic novels and numerous other types of fiction all inspired by The Pretender mythology.
In addition, Mitchell and Van Sickle are looking to expand the universe into a possible spinoff series and three feature films. They've just launched the official website: ThePretenderLives.com, which contains information about the upcoming books and their first graphic novel series that will give fans a look at the origin of The Centre.
As part of their marketing campaign, the folks at The Centre Universe, the publishing house established by the authors for the series, have given us 5 autographed trade paperback copies of Rebirth to give away.
You know the drill: re-tweet this tweet or comment here in the blog to enter the contest – easy peasy. Do both and double your chances! We'll have a random drawing and announce the winners next Monday so tweet away and don't forget to tell your friends.
---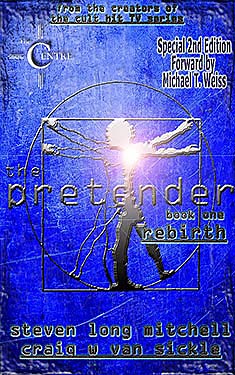 The Pretender: Rebirth
by Steven Long Mitchell & Craig W. Van Sickle
Written by the creators of the cult-hit TV show The Pretender – Rebirth is a slick mystery thriller about a brilliant human chameleon named Jarod who after escaping from the notorious Centre, plunges headlong into his newfound freedom. While also discovering the joys and intricacies of everyday life with the pure wonderment of the man/child he is, Jarod uses his unequaled abilities to literally become anyone he wants to be (a surgeon, a pilot, a physicist, etc.) as well as his dazzling mind over muscle vigilante-like skills to bring down the powerful and corrupt and protect those who can't defend themselves.
All the while he must stay a step ahead of his relentless pursuers from The Centre.
First and foremost is the sexiest woman on the planet, the complex, bitch-on-wheels, Miss Parker who wants him recaptured at any cost – alive – preferably. Parker is a deliciously cunning woman Jarod has known since childhood and theirs is a truly multifaceted cat and mouse relationship – one driven by Jarod who holds the key to the emotional secrets at her very core, secrets that fuel her relentless drive to recapture him.
Then there is Sydney, Jarod's surrogate father figure and psychologist who raised and nurtured his genius for The Centre's disreputable purposes. To Jarod, Syd is both friend and foe, confidante and captor, counselor and betrayer. But Syd's calm paternal connection to Jarod remains strong, often in conflict with The Centre agenda.
Jarod senses Sydney holds the emotional keys to his core – the truth about his past and the identity of the parents he was stolen from and whom he longs to reunite with.
In Rebirth, Jarod employs multiple sophisticated pretends in his quest to save one missing boy and hundreds of other innocent lives hanging in the balance at the hands of multi-national corporate terrorists and mercenaries.
Rebirth is at once an enthralling tale of one man's exploration of life around him, intricate suspenseful mystery and intense edge-of-your-seat thrill ride – that captures and reignites the cult hit TV series for both loyal fans of the show and new readers alike.
There are Pretenders among us…
---
I can't tell you how excited I am to find out that there are new stories in the Pretenderverse! I loved it when it first aired and I've been back to re-visit The Centre this last week in what ended up becoming a Pretender Marathon over Thanksgiving. It's been great to re-discover the show again after 12 years (thanks, Mallory!) and I'm happy to report that it has held up extremely well: Jarod is still awesome, Sydney is still brilliant, Broots is still under-appreciated and Miss Parker is still driven by her inner demons. I had almost forgotten how wicked short her mini-skirts were!
If you've never seen The Pretender, or you just want to see it again, you can watch the whole first season for free on Hulu. I've ordered the second season on DVD and I plan to work my way through the whole series and the movies. Once I'm done catching up I'm going to dive into these books!
Our thanks to Steven and Craig and everyone at The Centre Universe for the opportunity to bring this new chapter to our fans!