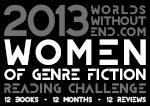 Just in the nick of time for Christmas here are the Women of Genre Fiction Reading Challenge November review poll winners! We had a tie for second place so we're just going to split the 2nd and 3rd place prizes.
November WoGF Review Poll Winners:
Congrats to Stephen, Rob and Carl and thanks to everyone who participated in the poll. Our winners will find an Amazon gift card, $25, $12.50 and $12.50 respectively, waiting for them in their email inbox.
There is only one more month to go for the WoGF review polls. Good luck next month to everyone.