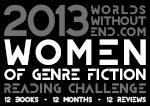 For the very last time here are the winners for the Women of Genre Fiction Reading Challenge December review poll!
December WoGF Review Poll Winners:
Congrats to Alix, Megan and Scott and thanks to everyone who participated in the poll. Our winners will find an Amazon gift card, $25, $15.00 and $10.00 respectively, waiting for them in their email inbox.
An thus the 2013 Women of Genre Fiction Reading Challenge comes to an official end. It was a great challenge and we want to say thanks to everyone for all the great reviews. Of course the Roll-Your-Own Reading Challenge is underway for 2014 and it includes the 2014 WoGF along with 19 other challenges so there's more reviews coming and more chances to win prizes. If you haven't joined a challenge for the new year, what are you waiting for? Take your pick from the 20 member created challenges already on offer or roll-your-own!