Whenever we get a chance to do another book giveaway we jump at it.  Especially if it's from the good folks at Solaris who seem to be putting out some of the most exciting books these days.  The book for this giveaway is no exception.  We have three copies of Jonathan Strahan's latest installment in his Infinities anthology series:  Reach for Infinity!  This one comes out in stores on May 27th so this is your chance to win it before you can buy it.
Take a look at the list of authors in this book.  It's a who's who of awesome authors that you probably already want to read.  For your chance to win all you have to do is re-tweet this tweet:
RT to win a copy of @SolarisBooks's Reach for Infinity: http://t.co/eb1dMtH4Dn Comment on blog to double your odds. pic.twitter.com/rSfC2Oyln9

— Worlds Without End (@WWEnd) May 19, 2014
…or comment here in the blog. Do both and double your chances! How easy is that? We'll have a random drawing from our re-tweeter pool and announce our three winners next Monday so tweet away and don't forget to tell your friends.
---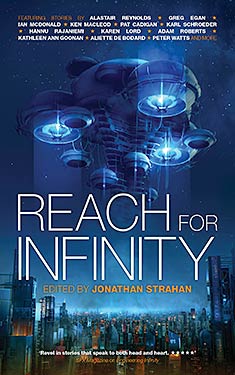 Reach for Infinity
Edited by Jonathan Strahan
An original collection of new short science fiction from the biggest and most exciting names in the genre. The latest in the Infinities collections edited and comissioned by multiple award-winning anthologist Jonathan Strahan.
What happens when humanity reaches out into the vastness of space? The brightest names in SF contribute new orginal fiction to this amazing anothology from master editor Jonathan Strahan. Including new work by Alastair Reynolds,Greg Egan,Ian McDonald, Ken Macleod, Pat Cadigan, Karl Schroeder, Hannu Rajaniemi, Karen Lord, Adam Roberts, Kathleen Ann Goonan, Aliette de Bodard Peter Watts, and others!
Table of Contents
"Report Concerning The Presence of Seahorses On Mars", Pat Cadigan
"The Dust Queen", Aliette de Bodard
"Break My Fall", Greg Egan
"Wilder Still, the Stars", Kathleen Ann Goonan
"Amicae Aeternum", Ellen Klages
"Hiraeth: a tragedy in four acts", Karen Lord
"The Entire Immense Superstructure': An Installation", Ken Macleod
"The Fifth Dragon", Ian McDonald
"Attitude", Linda Nagata
"Invisible Planets", Hannu Rajaniemi
"In Babelsberg", Alastair Reynolds
"Trademark Bugs: A Legal History", Adam Roberts
"Kheldyu", Karl Schroeder
"Hotshot", Peter Watts
---
Our thanks to Solaris and Jonathan Strahan for the excellent prizes and best of luck to everyone. Help us spread the word and be sure to come back next Monday to see if you've won!