There are Pretenders among us, geniuses with the ability to become anyone they want to be. In 1983 a corporation known as The Centre isolated a young Pretender named Jarod and exploited his genius for their research. Then, one day, their Pretender ran away…
Steven Long Mitchell and Craig Van Sickle, the duo behind the 90's hit NBC TV series, The Pretender, are back again with the second installment of the new Pretender book series.  The Pretender: Saving Luke is the sequel to the critically acclaimed first book, Rebirth and picks up right where that book left off with more Jarod being awesome and Miss Parker being hot — and hot on his heels. Throw a little Sydney and Broots in there for some existential angst and charming confusion respectively and you've got another winner on your hands.
The good folks at The Centre Universe have come back to us to help them spread the word and we have 5 autographed trade paperback copies of Saving Luke to give away.
You know the drill: re-tweet this tweet:
The Pretender: Saving Luke Giveaway: http://t.co/174R0cPsmD pic.twitter.com/oJPhCSv9GZ

— Worlds Without End (@WWEnd) July 1, 2014
or comment here in the blog to enter the contest – easy peasy. Do both and double your chances! We'll have a random drawing and announce the winners next Monday so tweet away and don't forget to tell your friends.
---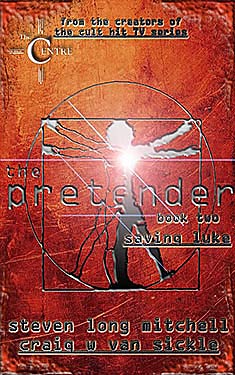 The Pretender: Saving Luke
by Steven Long Mitchell & Craig W. Van Sickle
Now comes the exciting climax to the first fully original, mystery thriller novel, The Pretender: Rebirth – the return of Jarod, Miss Parker, Sydney and the nefarious, clandestine activities of The Centre, in The Pretender: Saving Luke.
Jarod uses his dazzling mind and unequaled abilities to save a kidnapped boy and thwart a deadly plot threatening the innocent lives of hundreds while he continues his search for the truth about his identity and hides from those who want to recapture him.
Leading the Centre hunt for Jarod is the sexy, complex, bitch-on-wheels, Miss Parker. Theirs is a pursuer/pursued relationship bound together by emotional ties, mutual scars and an unspoken passion for each other.
Alongside Miss P. is Sydney, Jarod's surrogate father figure and Centre psychologist who nurtured his genius for the Centre's disreputable purposes. But Jarod's patience with Sydney roils with anger over lack of answers to Jarod's past and the identity of his natural birth parents.
Authors Steven Long Mitchell and Craig W. Van Sickle, have encored with a return tome sure to please not only returning fans of the original TV series but also new readers unfamiliar with the world of The Pretender.
There are Pretenders among us…
---
Our thanks to Steven and Craig and everyone at The Centre Universe for the opportunity to bring this new chapter to our fans!  Best of luck to everyone.