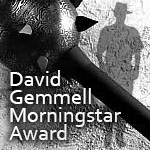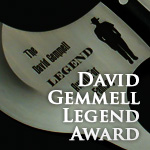 Today we're happy to announce the addition of the David Gemmell Awards to the Worlds Without End database! The two awards, established in memory of fantasy author David Gemmell, consist of the Legend Award for Best Fantasy Novel in the traditional, heroic, epic or high fantasy genres, and the Morningstar Award for best such first novel by a new author.
This is one of our first attempts at adding lesser known awards that nevertheless highlight very good talent.  The Gemmell Awards are only eight years old, but have already added novel material to our database.  As one perusal of the lists will show you, their list includes novels that have not received recognition from the major awards, and may take you down a path you never knew existed.
It's been a while since we added some new awards to our database.  To be honest, we had a few that were higher up on our list (and they are still coming!), but, when we realized that many of our members had already added the novels that this list requires, we realized we had a quick win on our hands.  Let us know what you think of this new addition and don't forget to check your reading stats page to see how you fare for this award.  We just got the last dozen or so books for the award added to the site so you may have some tagging to do.  Get to reading!