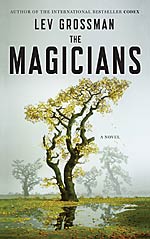 So a few days ago I posted the trailer for Childhood's End from Syfy at which time I commented that it looked like Syfy was trying to up their game. Today I saw this trailer for The Magicians over on SF Signal and it just further solidified that notion.
You have to appreciate the effort they're displaying and I love that they're going old school with Clarke and also very new school with Grossman at the same time.  It's like they're actually listening to genre fans now and I, for one, am starting to feel some love for Syfy again.  Who'd have thunk it?
I've not read the Fillory series yet, they're in my stack somewhere, so I don't know if this looks like a faithful adaptation but I have to say I think it looks promising.  It has certainly made me want to move The Magicians closer to the top of the pile so I can read the original before the show comes out next year.
Any Grossman fans out there want to chime in?  Has this show been on your radar or is this the first you've heard of it like me?  Are you feeling any more sanguine about Syfy or are you still trying to get over Sharknado I, II, and III?