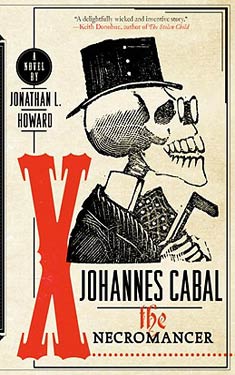 The Necromancer
Johannes Cabal: Book 1
by Jonathan L. Howard
Headline Publishing Group, 2010
---
Chapter 1
* in which a scientist visits hell and a deal is struck
Walpurgisnacht, the Hexennacht. The last night of April. The night of witches, when evil walks abroad.
He stood at a desolate and lonely place where there would be no interruption, no prying eyes. The air smelled metallic with freshly spilt blood; the body of a decapitated virgin kid goat lay nearby. He had no alloyed metal about him but for a thin-bladed sword of fine steel he held in his right hand; that arm was naked, his shirt sleeve rolled up to the biceps. A silver coin wrapped in paper nestled in his waistcoat pocket. Before him burned a fire of white wood.
His name was Johannes Cabal, and he was summoning a demon.
"…Oarios! Almoazin! Arios! Membrot!" The chanted names faded into the unusually still night air. Only the crackling of the fire accompanied him. "Janna! Etitnamus! Zariatnatmix… and so on." He drew a deep breath and sighed, bored with the ritual. "A. E. A. J. A. T. M. O…."
There was hidden meaning in the names he must call, the letters he must chant. That didn't mean he had to approve or even be impressed by them. As he recited the Grand Conjuration, he thought that some magicians might have better served the world by writing crossword puzzles.
Then space distorted, and he was no longer alone.
The demon's name was Lucifuge Rofocale. He stood a little taller than Cabal's six feet, but the bizarre fool's cap he wore–three flopping horns, or perhaps tentacles, ending with arrowheads–made his height vary from moment to moment. In one hand he held a bag containing, at least symbolically, the riches of the world. In the other, a golden hoop. He wore a segmented, studded leather skirt rather like a Roman soldier's. Beneath it, _fur-_covered legs ended in hooves. He had a fat anteater's tail, and a silly little Hercule Poirot moustache. As is often the case with demons, Lucifuge looked like an anatomical game of Consequences.
"Lo!" cried the demon. "I am here! What dost thou seek of me? Why dost thou disturb my repose? Smite me no more with that dread rod!" He looked at Cabal. "Where's your dread rod?"
"I left it at home," replied Cabal. "Didn't think I really needed it."
"You can't summon me without a dread rod!" said Lucifuge, appalled.
"You're here, aren't you?"
"Well, yes, but under false pretences. You haven't got a goatskin or two vervain crowns or two candles of virgin wax made by a virgin girl and duly blessed. Have you got the stone called Ematille?"
"I don't even know what Ematille is."
Neither did the demon. He dropped the subject and moved on. "Four nails from the coffin of a dead child?"
"Don't be fatuous."
"Half a bottle of brandy?"
"I don't drink brandy."
"It's not for you."
"I have a hip flask," said Cabal, and threw it to him. The demon caught it and took a dram.
"Cheers," said Lucifuge, and threw it back. They regarded each other for a long moment. "This really is a shambles," the demon added finally. "What did you summon me for, anyway?"