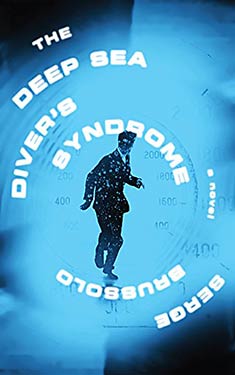 We begin in media heist.
David Sarella works with a trusted crew. His accomplice Nadia is a gorgeous redhead dressed in black leather. Jorgo may be a bit simple-headed, but he is an excellent driver. They plan to break into an upscale jewelry store in an exclusive shopping district and empty the safe. Their immediate problem is that the sleek, black automobile they have chosen for this escapade is transforming into a shark. The metal frame has become slimy and the fish smell is unbearable. These are "stability issues," and Nadia's job is to monitor David, to see that he takes the proper maintenance drugs. The team is operating at a depth of 3300 feet, but they are already rising. David must complete the theft before he is forced to surface.
David is a master thief but a professional dreamer. In Serge Brussolo's near-future Paris, mediums like David enter their dream worlds, perpetrate their crimes, and bring back their takes to the waking world. David's dreams are informed by the pulp fiction he's read since childhood, and the dreaming process is, as for most mediums, experienced as a plunge into ocean depths. He absconds with jewels that on the surface manifest themselves as mounds of ectoplasm, that white sticky stuff nineteenth century mediums supposedly exuded from their mouths, noses, and other orifices during séances.
But David and his fellow dreamers are not fakes. Their ectoplasmic creations, delicate a newborns, get whisked away for quarantine and testing. Once they are stable they go onto the art market, a market they have destroyed and transformed. Museums have sold off their collections of old art to junk dealers and replaced paintings and sculptures with ectolplasmic abstractions, the most accomplished of which sell in auction for millions. Our hero is not in that league. He makes a living as a minor artist whose works end up in museum gift shops. He's more or less made his peace with that, but he is facing a crisis. Recently he's come up empty handed after his dives, and some of what he has brought back is too feeble to make it past quarantine. His is the uncertain future of a failed artist.
Readers are left wondering for the first half of the story just what is the deal with this new art form? The descriptions of the objects are vague and not particularly appealing, but we learn that these creations make people feel good. They can make them feel really good. Even David's tchotchkes lighten the spirits of those who collect them. A major work, like the monumental creations of Soler Mahus, can transform lives. David goes to revisit Soler's magnum opus in its permanent public installation.
The great dream that had stopped the war had sat enthroned on Bliss Plaza for five years…It's presence had driven up the apartment prices in the neighborhood, everyone wanting to live close to the work to benefit from its soothing emanations…residents in buildings overlooking Bliss Plaze were totally free of psychosomatic complaints. Better still: incurable diseases had completely vanished in a three hundred yard radius of the oneiric object. The lucky few lived with their windows open, naked most of the time…Those without the means to rent apartments nearby made pilgrimages to Bliss Plaza…a silent, naked crowd sprawled on the steps and grass.
As a practicing dreamer, David also knows the downside of ectoplasmic art. The objects have a shorter shelf life that of the old art. When they begin to decompose they not only stink, they become sticky and toxic. Art disposal is a growth industry, but there is a "finger in the dike" element to its struggle against a growing mountain of fetid art. And then there are the health problems faced by its creators. All that ectoplasm can never be fully expelled, and build up over time causes esophageal and pulmonary issues.
On one level, Brussolo's novel is a satire on the distinctly Parisian vision of the starving artist in his garret, the failed genius in feverish pursuit of a vision that remains beyond his grasp. Despite his lessening powers and declining health, David cannot forsake his dream world, which is admittedly more vivid than the drab life he lives between dives. He will be willing to risk all for a final plunge to a greater depth than any dreamer has either ever attempted or lived to tell about.
The publishers describe The Deep Sea Diver's Syndrome as a "visionary neo noir thriller." There is a trace of marketing legerdemain here. David may be a trapped man in a system that once supported him and that now has little use for him, but Brussolo doesn't employ the mounting tensions of David's predicament to build suspense or a sense of panic. He creates an inventive progression of scenes that illustrate aspects of this bizarre world. The novel might better be described as "entertaining and very cerebral science fiction," which admittedly doesn't have the ring of "visionary neo noir thriller."
The good news for readers who find they like Brussolo's technique and vision is that in France he has published somewhere in the neighborhood of 200 novels. The bad news is that this is his only work to have made its way into English, and there are no plans in place for future translations.