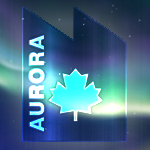 Our goal at Worlds Without End is to help you find the best genre fiction books.  To that end we present to you as many genre awards as we can find that we think are worth your time.  We are excited to announce that we have just added our 27th award!  This time we're finally showing some love for our neighbors to the north by including the Aurora Award for English-language long-form science fiction and fantasy works by Canadian authors.
The Auroras are a popularity award, nominated by and voted on by Canadian Science Fiction and Fantasy Association (CSFFA) members from across Canada. The nominees and the winners of the awards must all be Canadian, as are all the members of CSFFA.  The long-form category includes novels, collections, and anthologies and is just one of a dozen different categories they cover for works in English and French.
Take a look through the award and let us know what you think of this addition.  You'll find many familiar names and titles that have been nominated for the award over the years and you might be surprised to find out just who is Canadian.
By the way, the deadline for the 2016 Auroras is fast approaching so if you're a Canadian genre fan you have until March 19 to get in your nominations.  The CSFFA maintains Eligibility Lists to make things easy for you.