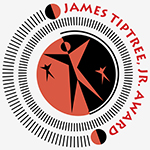 The 2015 James Tiptree, Jr. Award, for works of speculative fiction which explore and expand gender, has been announced.
Winners:
Honor List:
Our congrats to Eugene Fischer and Pat Schmatz and all the Honor List members.  You can read more details about each selection on the official Tiptree website.
What do you think of this list?  Any favorites in there?