Scott Lazerus is a Professor of Economics at Western State Colorado University in Gunnison, Colorado, and has been a science fiction fan since the 1970s. The Forays into Fantasy series is an exploration of the various threads of fantastic literature that have led to the wide variety of fantasy found today, from the perspective of an SF fan newly exploring the fantasy landscape. FiF will examine some of the most interesting landmark books of the past, along with a few of today's most acclaimed fantasies, building up an understanding of the connections between fantasy's origins, its touchstones, and its many strands of influence.
---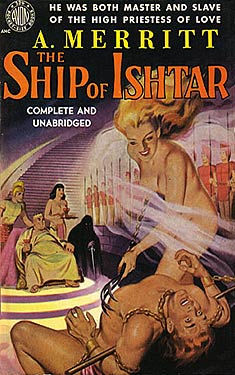 The 1920s saw a peak in interest in fantasy among "literary" writers. Modernist writers like James Joyce (Ulysses, 1922) and T. S. Eliot (The Waste Land, 1922), looking for universal themes among the technological, political, and social upheavals of the early twentieth century, increasingly incorporated mythology into their writing. Other literary writers of the decade took the further step of presenting mythological stories using all the tools of the modern novel. David Lindsay, Hope Mirrlees, Virginia Woolf, David Garnett, E. R. Eddison, Franz Kafka, Lord Dunsany, and James Branch Cabell all produced works that attempted to novelize the fantastic and the mythological.
While this literary strain of fantasy never entirely died out, it waned in subsequent years, as the second main strain of fantasy—that appearing in the pulp magazines—increased its dominance. The appeal to escapism and sensationalism associated with pulp fantasy and science fiction (as well as some atrocious writing) may have helped make the genre increasingly unacceptable to the literati, but the literary accomplishments of the 1920s are an indicator of what might have been, if the potential audience for these works had not been turned against the literary potential of fantasy by the reputation of the pulps, especially once the specialized genre pulps Weird Tales and Amazing Stories appeared with much success in the late 1920s.