Chris Uhl (chuhl) can't remember a time when he wasn't a science fiction fan. He has a B.A. in Classics from Vassar College and an M.A. in English Literature from the University of Virginia. He has worked as a teacher, a legal assistant, a college development officer, a salesman, and a film extra. Chris may be the only WWEnd reviewer who has no blog. This is his fifth GMRC review to feature in the WWEnd blog and completes his challenge!
---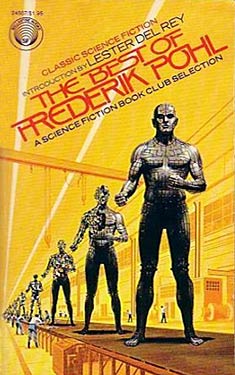 The Best of Frederik Pohl, edited by Lester Del Rey, collects nineteen stories written during the first half century of Pohl's life.
Tunnel Under the World – Why does Guy Burckhardt keep living June 15th over and over again? Pohl mixes one of his favorite themes, the use and abuse of advertising, with Cold War paranoia and keeps ratcheting up the tension until the triple-twisting climax. One of the best stories in the collection.
Punch – A quick little story about an alien who comes to earth and freely offers technological, medical, and financial secrets that propel humanity into a new golden age. But what's in it for him? Like many of the stories in this collection, the real point of the story is the shocking twist at the end. It works well here, but sometimes you get the impression that the story exists just to set up the twist, and the tale is wagging the dog.
Three Portraits and a Prayer – Pohl has a real gift for characterization, and he's not afraid to tell this and several other stories through the viewpoint of a rather unpleasant person, in this case, an arrogant doctor. The characterization of the narrator is the main attraction here, not the plot. But I do like this line: "If gravity itself grows old and thin, so that the straggling galaxies themselves weaken as they clutch each other, it seems somehow a much lesser thing that we too should grow feeble."