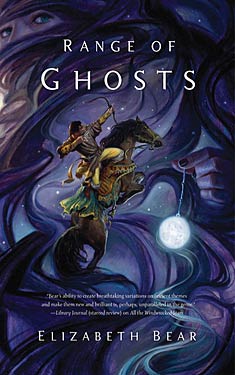 I'm voting for the Hugo Awards this year (for the first time – yay!) and, in order to make informed decisions, trying to catch up on some of the best 2013 titles. This, however, means that I sometimes have more than one volume of a series to catch up on. But Elizabeth Bear has been on my finally-read-something-by-that-author list for a while, so I gladly dove into this epic fantasy.
RANGE OF GHOSTS
by Elizabeth Bear
Published by: Tor, 2012
Ebook: 336 pages
Series: The Eternal Sky #1
My rating: 8/10
First sentence: Ragged vultures spiraled up a cherry sky.
Temur, grandson of the Great Khan, is walking away from a battlefield where he was left for dead. All around lie the fallen armies of his cousin and his brother, who made war to rule the Khaganate. Temur is now the legitimate heir by blood to his grandfather's throne, but he is not the strongest. Going into exile is the only way to survive his ruthless cousin.
Once-Princess Samarkar is climbing the thousand steps of the Citadel of the Wizards of Tsarepheth. She was heir to the Rasan Empire until her father got a son on a new wife. Then she was sent to be the wife of a Prince in Song, but that marriage ended in battle and blood. Now she has renounced her worldly power to seek the magical power of the wizards. These two will come together to stand against the hidden cult that has so carefully brought all the empires of the Celadon Highway to strife and civil war through guile and deceit and sorcerous power.
Nadine Gemeinböck (Linguana) has been reading fantasy for as long as she can remember. She started blogging about books on SFF Book Review in 2012, hoping to keep track of what she read and how she liked it. The book blogging community has since helped her open her literary horizons and thanks to WWEnd, she is currently working her way through NPR's Top 100. Her blogging resolution is to review more foreign language books and finally take the plunge into a big, swooping space opera.