Harry Harrison, author of such series as The Stainless Steel Rat and Bill, the Galactic Hero, and 2009 Damon Knight Memorial Grand Master Award inductee, passed away today.
See the author's site for the official notice.
Harrison's author page on WWEnd. Notable works: Make Room! Make Room!, The Stainless Steel Rat, Bill, the Galactic Hero.
See also io9′s tribute article.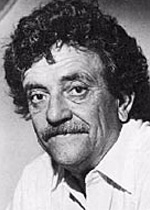 Members of Ball State University's Immersive Learning  Group have digitized his life:
The group's completed projects include a digitization of Vonnegut's physical manuscripts; creation of a film archive and oral history of the author, a traveling exhibit and new products for its gift shop; and development of a marketing plan to help KVML become self-sustaining.
What is immersive learning?  Ball State explains the reason for the new pedagogical philosophy:
The end product of immersive learning is that our graduates move into careers with skills beyond textbook learning. Not only do they have a strong intellectual knowledge base, they know how to work with others and how to drive projects to completion. They've been engaged in real-world problems with real budgets and deadlines. They know how to develop priorities in a team, how to lead a team, and how to collaborate as a team member.
Hey, if it means I get to read the original manuscript of Slaughterhouse-Five, I'm all for it.
Octavia E. Butler (1947–2006) was a bestselling and award-winning author, considered one of the best science fiction writers of her generation. Among her many awards she recieved the 1985 Hugo Award for Best Novelette for "Bloodchild" and the 1999 Nebula Award for Parable of the Talents.
Open Road Integrated Media has created the above video to celebrate their newly launched ebook series of the works of Octavia E. Butler. (More scenes from the documentary are forthcoming.) The 12 volume series covers the bulk of Butler's books including her Xenogenesis and Patternist series which you can read singly or in their omnibus editions Lilith's Brood and Seed to Harvest respectively.
From the Open Road site: "Butler was the first African-American woman to come to prominence as a science fiction writer. Published early in her career in small print runs and without much attention, she evolved into a major force in both science fiction and mainstream literature as audiences came to appreciate how her work dealt boldly with such topics as race, religion, gender and social structure."
This is the first time her works have been made available in ebook format and each includes an illustrated biography featuring never before seen photos.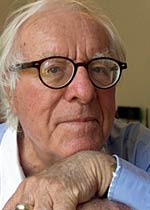 Sad news today. Author Ray Bradbury died last night at the age of 91. Ray Bradbury is among the most celebrated, and perhaps even under-celebrated, science fiction authors. On the one hand, his masterpiece, Fahrenheit 451, appears on eight different "best of" lists, and the epic The Martian Chronicles is on seven. On the other hand, his novels never won a major science fiction award. His books have been alternately banned and required high school reading. Like many geniuses, many of his works have appreciated in value over time. Mr. Bradbury will write no more, but we are left with a body of work that I believe has only begun to show its relevance. Since I lack the eloquence to bid a proper farewell to such a great writer, I'll let another great writer, Robert Louis Stephenson, do it for me:
Virgil of prose! far distant is the day
When at the mention of your heartfelt name
Shall shake the head, and men, oblivious, say:
'We know him not, this master, nor his fame.'
Not for so swift forgetfulness you wrought,
Day upon day, with rapt fastidious pen,
Turning, like precious stones, with anxious thought,
This word and that again and yet again,
Seeking to match its meaning with the world;
Nor to the morning stars gave ears attent,
That you, indeed, might ever dare to be
With other praise than immortality
Unworthily content.
Thank you, Mr. Bradbury. You will be missed.
What more needs to be said?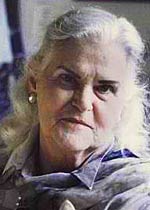 Anne McCaffrey, one of the most prolific writers in science fiction and fantasy, has died at age 85. She was one of the most celebrated and influential authors of her generation and has left behind an expansive body of work that amply demonstrates her mastery of her craft. Ms. McCaffrey was truly a master, garnering many awards and nominations for her short fiction and her novels. Her books have appeared on the ISFDB and NPR 100 Best SF/F lists, and were also recognized as Masterpieces by the Easton Press collection. Her early success in a male-dominated field earned her a spot on Ian Sales' SF Mistressworks list, and David Brin included two of her books in his list of recommended young adult books.
Here's what other early eulogizers have said about her:
io9 highlights her personal favorite story:
"Besides the Pern books, McCaffrey wrote the classic space-faring novel The Ship Who Sang, in which a severely disabled girl becomes the core of a starship, or Brainship, with her mind controlling all its major functions. McCaffrey's novel provided a startling new way to think about personhood and the nature of the mind/body connection, but also helped pave the way for a whole subgenre of posthuman space opera, in which heavily modified humans explore space."

From Wired:
"McCaffrey helped pave the way for women writers in fantasy and science fiction, and was both the first woman awarded a Hugo Award and the first awarded a Nebula Award. Even in her 80s she continued to write, and over her lifetime produced a prodigious number of books and short stories. She was still answering readers' mail on her website as of a few weeks ago."

From Publisher's Weekly:
"She introduced a generation of readers to both fantasy and science fiction, and was known for being gracious to her legions of fans. She will be greatly missed."
To my knowledge, there may be two books in her famous Pern series that have yet to be released. We are not yet done with Anne McCaffrey's rich universe.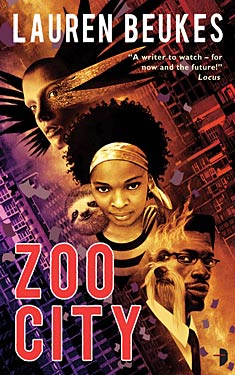 Lauren Beukes is the author of Zoo City, a pseudo-fantastical, hardboiled and gritty thriller about crime, magic, the music industry, refugees and redemption set in a re-imagined Johannesburg. It has been nominated for both the 2011 Arthur C. Clarke Award and the 2010 BSFA. The novel already won the Kitchies Red Tentacle for the 2010 book that "best elevates the tone of geek culture." Moxyland, her first novel, set in a not-so-distant futuristic Cape Town (where she lives), is a haunting vision of what corporatocracy can be. Her non-fiction Maverick: Extraordinary Women From South Africa's Past (Oshun 2005) was long-listed for the 2006 Sunday Times Alan Paton Award, and tell the real-life stories of raconteurs and renegades, writers, poets, provocateurs and pop stars, artists and activists and a cross-dressing doctor.
Ms Beukes was kind enough to answer a few questions about her novels.
EJ: First, let me congratulate you on the Red Tentacle, and the nominations for the Clarke and BSFA awards. Both your novels have received wide acclaim and rave reviews. Was this anything like you expected when you wrote them?
LB: You always hope, nervously, that your books are going to be able to hold their own when you send the scrappy little darlings out on their own into the big bad world. But it's tremendously gratifying – and humbling – when the reception is so overwhelmingly positive. (And grounding when it's not – as was the case at my mother-in-law's 75th birthday when one of her very nice elderly friends turned to me and said, "I did try to read your book, but it was really just impossible.")
EJ: Which authors and what books have most influenced your writing, structurally and stylistically?
LB: David Mitchell's Cloud Atlas, William Gibson's Pattern Recognition, Margaret Atwood's The Handmaid's Tale and Oryx & Crake, Alan Moore's Ballad of Halo Jones, Watchmen and V for Vendetta, Philip K Dick's A Scanner Darkly, Lorrie Moore's short stories, TC Boyle's Tortilla Curtain, Jonathan Franzen's The Corrections, Paul Hoffmann's The Wisdom of Crocodiles, Joyce Carol Oates's anything, William Boyd, Haruki Murakami.
I think what those things have in common is gorgeous writing serving smart, inventive and ultimately surprising stories.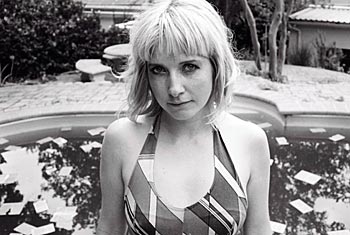 EJ: Both Moxyland and Zoo City are first-person narratives – in fact Moxyland has 4 different first-person perspectives. How did you decide you were going to write in first-person? Do you have a preference for first-person narratives in your own reading?
LB: It just happened that way. I like the immediacy and presence of first person fiction. It's not something I actively seek out in my reading or my writing. I think the new book is going to be third person, but we'll see.
EJ: Moxyland was your debut novel, but not your first book. In 2005 you published Maverick: Extraordinary Women From South Africa's Past. What inspired you to switch gears from history to science fiction? Do any of your fictional characters borrow from the historical figures you've written about? Zinzi is most assuredly an extraordinary woman.
LB: I was commissioned to write Maverick by the publisher based on what she'd read of my journalism. But I've always loved history and it was great teasing out the narrative of these extraordinary women's lives, particularly as I got to choose the line-up, which ranges from a street-fighting jazz chanteuse to a serial poisoner to a glam commie journo revolutionary.
I'm sure those histories have seeped into my subconscious, but I haven't knowingly whipped them out.
Zinzi's a mash-up of people I know and some parts of me and wholly herself.
EJ: Moxyland is a dystopian cyberpunk novel whereas Zoo City would be considered an urban fantasy. Both are novels that many would consider a hard sell in South Africa where much of the literature is dominated by the apartheid experience. How has apartheid affected or informed your fiction? Where does your brand of science fiction fit into the broader South African context? Is there a future for a uniquely South African brand of science fiction?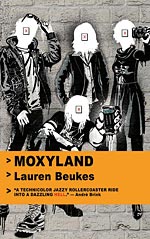 LB: Phew. I think traditionally they probably would have been a hard-sell. To generalize horribly; South African literature was very focused, necessarily on apartheid and it's aftermath for a long time. I think we've got most of that out of our system, but that's not to say it's not still relevant. I think of both Moxyland and Zoo City as apartheid novels. Moxyland is a neo-apartheid state, a what-if about how easy it would be to slip back into that space. Zoo City deals with artificially imposed segregation of the animalled versus ordinary people, refugees and rich vs. poor, which is very much the state we're in at the moment – economic apartheid between rich and poor with the divides growing bigger every day.
I don't know where it fits in or even if it is a particular brand of science fiction. I hate labeling because it wedges books into boxes that immediately cuts off part of your potential audience who get freaked out by the shape of those boxes. Can I come up with my own labels? Zoo City is muti noir and Moxyland is future urban thriller.
I do think there is more space to play and I'm very excited by some of the new releases coming out of SA like Lily Herne's slyly political YA zombie apocalypse novel, Deadlands or Adeline Radloff's time-travelling superhero romp, Side-Kick or SL Grey's horror, The Mall – all of which have a smart, subversive, socially-aware edge. It's a necessary reflection of where we're writing about, I think, that we're all keenly aware of it.
EJ: Zoo City is a hardboiled stranger-than-fiction story with many layers and some proverbial "monkey on your back" symbolism. What is Zoo City really about? What do you want your readers to take away from your story?
LB: It's about guilt and the possibility of redemption, how we're burdened by the past and how that affects our future. It's very much about crime, but again, also about apartheid. The thing at the end (no spoilers here) is that thing for a very particular reason and it ties in to our recent history.
EJ: What were the particular influences for Zoo City? I'm thinking in particular of the belief in mashavi, which not many international readers would be familiar with. Where did your research take you?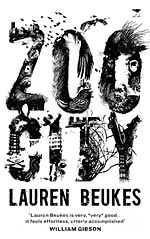 LB: Sjoe. I'm inspired by everything. I'm a pop culture sponge. I was very interested in the idea of crime and punishment, guilt and redemption, the music industry and pop factories that churn out wholesome teen pop stars and what that does to them (and here I raided some of Brenda Fassie's history – one of the women of Maverick) and how different belief systems play out, especially muti (African magic – which can be benign herbalism or gruesome rituals performed with human body parts) and how South Africans would interpret a new global phenomenon in a uniquely South African way.
The idea of magical animals crops up in a lot of different cultures, from the ancient Israelites scape goats to the totem animals of some Native American tribes to Jiminy Cricket, the idea of the monkey on your back. I was reading a lot of South African mythology and I found the idea of mashavi. Ancestor-worship is a big part of traditional black South African beliefs and the mashavi are spirits that have become lost who manifest themselves as an animal that sometimes attaches itself to a person to good or ill effect.
In the book, everyone has a different theory about the animalled (as we have different theories in the real world about what happens after you die) but no real answers. Mashavi was an authentically South African take on that.
The research took me to some very interesting places, from visiting the Central Methodist Church to meet refugees sheltering there to walking round Hillbrow talking to people to interviewing music producers and having a consultation with a sangoma (or traditional healer) at the Mai Mai traditional healers market. She said I had a dark shadow over my life and prescribed the ritual sacrifice of a black chicken to get rid of it. I politely declined.
EJ: Your characters are very well developed. Zinzi December, in particular, is extremely well-written, with palpable conflicting desires and motivations. She's often dishonest and she certainly doesn't always make the best decisions. She gets run through the wringer on quite a few occasions – as do the characters in Moxyland. How attached do you get to your characters and do you ever feel bad about what you put them through? Did you know Zinzi's fate when you started to write Zoo City?
LB: Thank you. I try to create complex, interesting, flawed characters. Sometimes the flaws make them frustrating – there were times I wanted to shake Tendeka in Moxyland, for example, for being so blinded by his self-righteous anger, but it's true to the character.
And yeah, I do terrible things to my characters. I've had readers write me angry emails about Moxyland in particular, saying "how could you!" But I knew from the moment I started writing it which way it was going to go and what was going to happen to that character. It's not my fault. The story demands it.
EJ: Your publisher, Angry Robot, is an up and coming genre specialist and Moxyland was one of their very first publications. Tell us a little about this history and your reasons for going with, what was then, a startup publishing house.
LB: I spent a year tentatively shopping Moxyland around to international agents and getting my soul crushed in the process. Then I took it to Jacana, South Africa's most provocative and interesting and forward-thinking publisher who snapped it up right away, literally. The publisher, Maggie Davey read the manuscript on the plane on the way to the Frankfurt Book Fair and by the time she landed I had a book deal.
The book did well in South Africa and got some rave reviews, so I cowgirled up and started sending it out again. It was rejected by a slew of literary publishers who generally had very encouraging things to say and then it landed with Angry Robot who were then Harper Collins' brand new edgy-as-fuck SF imprint who came back fast and hard with a two book deal.
I really liked the way they handled themselves in emails. There was no bullshit, no run-around and they really got the book. They've done wonders with it. I'm so impressed with their list generally and the way they've built an outspoken and loyal community through clever use of the Interwebs.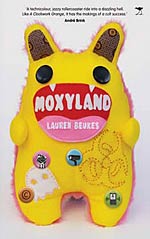 EJ: Moxyland and Zoo City each feature different covers for their South African and international editions. Did you have any say in their design? Are you satisfied that they relay the proper feeling and context of your stories?
LB: I was lucky to hand-pick my cover designers and I think they both did an amazing job in their very distinctive styles and really respected the spirit of the work and worked closely with me to get the right tone and feel. They were amazing to work with and gave me lots of opportunity to provide feedback. Interestingly, both were working from the same set of reference pictures – photographs I'd taken of Hillbrow on my cell phone camera and images of people I'd found online that I felt evoked a sense of the characters I'd written. Joey Hi-Fi's black and white cover is evocatively beautiful and incredibly detailed with lots of Easter eggs about the plot within. John Picacio did an amazing job of portraying a kick-ass black female protagonist and he got Zinzi's sass exactly right.
EJ: What can you tell us about any current projects you're working on? What can we look forward to from here? Will you continue to set your fiction in South Africa?
LB: I'm working on a new novel – an apartheid thriller tied in to the real-life Occult Crimes Unit, with several other novels sitting on the backburner and practically boiling over already (really need to finish this one so I can get to them).
I just directed a documentary called Glitterboys & Ganglands about the biggest female impersonation pageant in South Africa, Miss Gay Western Cape, which will hopefully be debuting at the Encounters Festival in Cape Town.
And I've written my first comic (so excited), a nine pager for Vertigo's Strange Adventures anthology due out May 25th.
EJ: I really appreciate your time in what I can only assume to be generally quite a hectic schedule. Thank you for participating in this interview and giving us further insights into your work. I for one am eagerly anticipating your next book and hold thumbs for a Hugo nomination in the near future. Judging by the laudable responses to Zoo City, I'm certain that possibility is not too presumptuous. The book is positively one of my favorite novels of all time and Moxyland a very close second.
LB: Thanks so much. I always get very shy around praise and my kneejerk response is to self-deprecate like crazy. But it's the people who connect with your work who make it mean something. So thank you.
You can follow Lauren on twitter @laurenbeukes and stay up to date with her comings and goings by visiting http://laurenbeukes.book.co.za/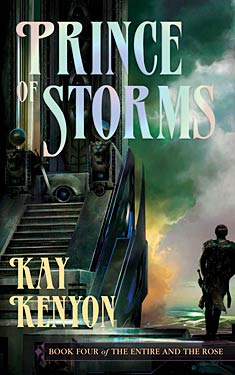 Kay Kenyon has written 10 books to date including 2004 Campbell Award finalist The Braided World, and 2002 Philip K. Dick Award nominated Maximum Ice. Most recently she completed The Prince of Storms, the final volume of her critically acclaimed quartet, The Entire and the Rose.

Miss Kenyon was kind enough to answer some questions about her work for Worlds Without End.
DP: First off, thank you for the interview and congratulations on the completion of The Entire and the Rose quartet. I really enjoyed the series. I stumbled upon the free Bright of the Sky eBook on Pyr's blog and I was hooked. How did the idea of offering it up for free come about? What did you think of the idea at the time and how has it worked out for you?
KK: The Idea came from my editor at Pyr, Lou Anders. He's one of those people with loads of energy, street smarts, and marketing know-how–as well as being a brilliant editor. I liked the idea at the time, since I thought it would introduce more people to the series, and to the universe I had created. The hope was that people would like book one enough to at least buy book two. Turns out, the downloads of all four books have soared since that free offering in August, 2010. Not only that: I've experienced a jump in people following my blog, buying my back list and joining my newsletter list. So, yes, very pleased.
DP: The Entire and the Rose is your first big series. Was the story arc something you planned to be four books long from the start or was it something that grew in the writing?
KK: It was always going to be four books, but for rather superficial reasons. My agent said, "Everybody does trilogies, how about four volumes?" The idea was to signal, hey, this story is too big for a trilogy! It backfired a little, however. We should have made clear on the covers of the books that it was a "quartet." Many people thought the story was over at the end of Book Three, and were disappointed that all of the plot lines didn't tie off. I still worry that people didn't find their way to Book Four, Prince of Storms.
DP: Did you enjoy having the larger canvas to tell your story? Is it something you want to try again?
KK: It had its pleasures, but I doubt I'll do it again. I might write a series, but not one with a continuing story arc. Turns out (and I guess this was predictable) a four-book story is very complicated, not just from the standpoint of size of the story, but the time frame involved to write it. Over the five years of writing, I was in danger of forgetting what I had done, or intended to do–and all this despite a detailed outline (quickly out of date) notebooks, charts and scene lists. I felt like I was managing a hurricane.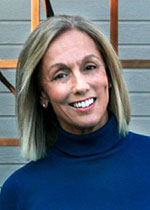 DP: The Entire and the Rose can be classified as science-fantasy which seems to be a bit of a departure from your previous books. Was that a conscious decision to write something different?
KK: No, it just happened. Much of the Entire, the setting for the series, has its technologies hidden. The builders of the Entire wish to keep technology to themselves, to freeze civilization in a changeless state of wonder and harsh beauty. I kept pushing the limits of what the Entire was, what it could let you do–and in the end these things were fabulous enough to appear magical.
DP: The fantasy elements expose your talent in that genre. Have you ever wanted to try your hand at fantasy?
KK: Yes, definitely. I have in mind a story steeped in magic and the culture of 15th century Italy; and one with a twisted 19th century colonialism. So I seem to be on a magical history tour, here.
DP: Your characters are very well developed with often-times conflicting desires and motivations. Do they ever break out of your character outlines or otherwise surprise you as you're writing them? When a character starts to change do you run with it or do you try to make them conform to the expectations of your narrative?
KK: My central characters only rarely present a face I haven't planned. They have a core essence that is not likely to change. Characters that have small parts in the story are more likely to surprise me, since I haven't thought much about them. I allow it only if it adds to the story rather than pulling it in some dead-end direction, no matter how interesting. Part of novel writing is knowing what to leave out. I don't invest characters with their own authorial power, following them as though they had a mission. I make them up. I am rather a despot!
DP: Some of your characters, especially your heroes like Titus Quinn and his family, get run through the wringer. How attached do you get to your characters and do you ever feel bad about what you put them through?
KK: No, I am thrilled with suffering, actually. The more I can believably, meaningfully put them through, the better. But, to soften my image, I will confess that I have been known to cry at a character's death. (It didn't stop me from killing them, though!)
DP: Do you get the same satisfaction writing the scenes where the bad guys get their comeuppance as we get from reading those scenes? I'm thinking of two characters in particular that I couldn't wait to see fall.
KK: I believe I know whom you mean! But after thinking about this question a bit more, I realize that I don't get that kind of pleasure from "justice served" in the plot. Oddly, as an author I find I am at one remove from my characters. I am actively plotting, deepening motives, considering dramatic ways to present things… and this sort of conscious manipulation of people and events separates me from ordinary reactions. When a character falls deservedly far, I am just hoping it is as interesting as it can be.
DP: The parallel universes in The Entire and the Rose seem ripe for further exploration. Do you have any plans to return there for future books and if so what shape might those books take? Do you feel any compulsion to write more stories in that world to satisfy your fans?
KK: At first I needed a long rest from the quartet, but now I am considering whether fans might like more. It may not be a novel, but it might be short stories offered on my website.
Q: What can we expect to see from you in the future? What have you got in the works now?
KK: See above! Question 5. I am very into fantasy at the present time. And I actively teach the craft of writing fiction at my blog, Writing the World, www.kaykenyon.com.
My thanks to Miss Kenyon for answering our questions. If you've not read her before you should definitely take advantage of the free offer from Pyr and give her a try. You'll be glad you did. I'm certainly looking forward to more tales from the Entire.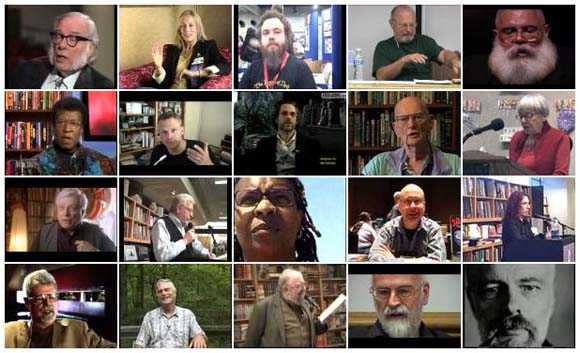 Have you seen our Author Videos page lately? We've been plugging away, adding new vids as we find them, for some time now and we've now got over 400 vids for your viewing pleasure. You can watch interviews, readings, lectures and documentaries for many of the 700+ authors in the WWEnd database. Check it out and let us know what you think.
Do you recognize anyone in the picture? How many of these authors have you read?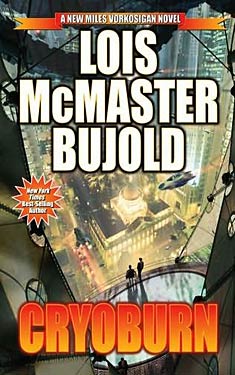 One of my favorite SF writers is Lois McMaster Bujold. She has written dozens of works of fiction and non-fiction since her first three novels, Shards of Honour, The Warrior's Apprentice and Ethan of Athos were all published in 1986. Lois has remarked that her plots are often predicated on "the worst possible thing you could do" to a character.
Lois won the Nebula Award for Falling Free and The Mountains of Mourning and the Hugo Award for The Vor Game, Barrayar, Mirror Dance and The Mountains of Mourning. She was nominated for the John W Campbell Award in 1987.
I had an opportunity for a brief interview regarding the latest book from the Vorkosigan universe, CryoBurn.
MJ: It's been quite a while since you wrote a Vorkosigan book. Is it hard for you to return to a character or series after a period of time? What preparation do you have to do?
LMB: I can't say that it was any harder than starting any other book, no. I didn't do a lot of prep — it was the new, older Miles, not his former, younger versions, who I had to get my head around, after all. His voice came back to me readily. I do a certain amount of setting-and-plot development in advance, in notes, but the bulk of it is assembled on the fly once the characters are set in motion. It's like laying tracks in front of a moving train, which are built of materials the train is carrying.
MJ: I love how many of the Vorkosigan books seem to feature different medical technologies. Uterine replicators, the various treatments Miles has gone through, the technology in Beta Colony and Jackson Whole. In a parallel universe would you have pursued an advanced research or medical degree?
LMB: Possibly. I was a biology major in college and worked in medical technology in my youth — as a pharmacy company lab tech, a drug information office clerk, and most importantly for my store of human observation, as a drug administration technician on nursing units (a sort of nurses' aide who gave all medication except IVs) for upwards of a decade. I have also been a science fan all my life, enjoying pop-sci non-fiction reading. And I was interested in nature photography, at one point.
All signs point to my psyche being built to be a writer, though. I'm still not entirely sure if the enjoyment of fiction isn't really just a clever dissociative disorder, and once we all have the right meds, we'll have no need for art to make our brains feel better. Now, there's a SF plot…
MJ: CryoBurn brings us an interesting look at the moral and political aspects of life and death when cryonics is a reality. Where did this come from?
LMB: Well, of course cryonics has been an SF staple for decades, worked over by various writers in various ways. It has appeared as background, and sometimes foreground, technology in the Vorkosigan series right along. But my particular interest in the subject stemmed from some conversations with a reader of mine, well over 15 years back, who was involved in one of the real-world companies who are attempting to start freezing people today, in the here-and-now, in the hope of future revivals. He was very sincere, and pitched me his materials. When not hand-waved in an SF story, this stuff is really medically, ethically, emotionally and financially complicated.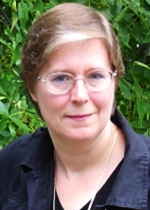 In many tales, of course, cryonics is simply used as a method to get characters into a future that we-the-readers can then experience over their shoulders. (See: Futurama for the ultimate devolution of this lone-hero trope.) But I got to thinking — what if everybody wanted to get in on the game? What would a society look like if everyone was trying to emigrate into their own future that way — and how would the residents of that future feel about this wave of interlopers, double-dipping on life when the current people hadn't even had one turn yet? What, in short, would the demographic conflicts be like if a whole society dedicated itself to this?
These SFnal issues, plus the thematic issues of Miles's next life-stage, dovetailed neatly.
Also, any number of readers had bitched and moaned mightily about the presence of romance in some of my recent work, so I threw them a book with all politics (and techno-politics) and no romance. We'll see if they like that any better.
MJ: Many of the worlds in your Vorkosigan universe are based in various cultures on Earth. The Vorkosigan Empire is born out of Russian stock, it appears. Do the books (and Miles) have a large international following as well?
LMB: The Barrayaran Firsters were mainly Russian, British, French, and Greek, all thrown into a very lumpy melting pot. My books have been translated into about twenty languages, so far. Some of these SF markets are really tiny, but it's always cool to see the translations (Shards of Honor in Hebrew, good grief!), and wonder what I wrote. My most successful translations seem to be in Russian — there's an active Russian fan base which has hit the internet, now — French, and Japanese.
MJ: Your books cross genres regularly. Many mix elements of fantasy, mystery, humor and romance into the central storylines. Are they planned or do they develop organically as you write?
LMB: They develop organically. (With lots of planning tucked in where needed.) Characters generate plots.
MJ: One cross-genre aspect of your books that I like is that the relationships you develop between characters are complex and well done. Is it a strength of yours to write romance well?
LMB: I don't think that's a judgment for me to make. You'll have to ask the readers (who, if they run true to form, will disagree vociferously and bafflingly with one another.)
MJ: Miles is one of the most memorable characters I have read. You write the male "it seemed like a good idea at the time" thought processes scarily well. Does he have any real-life influences on his character creation? How did you come up with the character?
LMB: Every once in a while — a couple of times a year — I still get nonplussed notes from male readers, sometimes quite long-time ones, who've just found out I'm a woman. I have not, to my knowledge, ever had a female reader make that mistake. Make of that what you can.
Like most characters, Miles is an amalgam who is forged by the events of his books into an alloy, and becomes himself through his actions (and he's exceptionally active.)
He actually began as a thing to do to Aral and Cordelia — I first envisioned him back when I was still writing Shards of Honor. I knew their first son and heir would be born damaged, and be smart, short, and difficult. I knew that before I knew his name or that he would be an only child. With that for a magnetic core, he began to attract other elements. Direct inspirations include T.E. Lawrence, another ambitious soldier who was brilliant, squirrelly, and short, and a physical template from a hospital pharmacist I used to work with back in my 20s, from whom I stole the height, physique, chin tic and leg braces. Miles's "Great Man's Son" syndrome comes from my relationship with my own father, who was a professor of engineering of international repute.
MJ: What's next? Do you have anything underway?
LMB: I'm working on a series prequel, a sort of bon-bon for series fans (and me) starring Miles's feckless cousin Ivan. The mode so far is comedy/romantic-suspense or something like that. It ran well last winter, stalled in the summer, was totally derailed by the extended CryoBurn promotional push, and has just undergone corrective surgery in an effort to get it to walk upright once more. We'll see. No contract or deadline at present, to my immense relief. Some fans recorded the readings I did from Chapter One on the recent book tour, which are up on-line somewhere. No title or pub date yet, either.