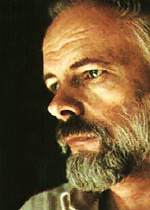 Ever since 2002, I've been buying classic science fiction at Audible.com. I love listening to all the great science fiction stories I first discovered in the 1960s and 1970s. I now prefer to hear a book over reading it. I'm not much of a reader — my inner voice is so dull compared to professional audio book narrators. Listening makes a story come alive in a way that reading with my eyes never did. And it's a special pleasure to "reread" all my favorites this way because it makes them feel new again.
On April 28th Audible.com released 11 Philip K. Dick novels, a 5-volume collection of his complete short stories, and one novella to their already extensive collection of PKD on audio. I assume the 5-volume audio collection contains the same stories that old print edition I own, The Collected Stories of Philip K. Dick published by Citadel Twilight back in the 1990s. Each audio volume has been re-titled from the Subterranean Press edition. Audible, as it often does with short story collections, doesn't list the stories, and that's annoying. Each volume is around 20 hours long. Check out the sample recordings. This is a huge dose of PKD – almost 100 hours – maybe an overdose. But I'm going to eventually buy them all.
What's really exciting for me, is they have published six of the nine literary novels on audio that haven't been produced before. These include (with date written and date first published):
Voices from the Street (1952/2007)
Mary and the Giant (1956/1987)
Puttering About in a Small Land (1957/1985)
In Milton Lumky Territory (1958/1986)
Humpty Dumpty in Oakland (1960/1987)
The Man Whose Teeth Were All Exactly Alike (1960/1975)
Previously published on audio were the other three mainstream novels.
Gather Yourselves Together (1952/1994)
The Broken Bubble (1956/1988)
Confessions of a Crap Artist (1959/1975)
I wrote about PKD's literary novels at SF Signal. Confessions of a Crap Artist is my all-time favorite Dick novel. He might have put more work into his literary novels, because at one time he wanted to break out of writing science fiction and go mainstream. It would have meant more money, and he would have proved himself as a "real" writer. Now he's probably the most famous SF novelist on the planet.
Audible also came out on the 28th with (some are books with new narrators, and some are new to audio):
Ubik
Martian Time-Slip
Flow My Tears, the Policeman Said
Dr. Bloodmoney
The Cosmic Puppets
"Nick and the Glimmung" – novella
Here are PKD's novels – red means there's no audio edition at Audible.
Thank you Audible, and all the publishers. I can listen to practically everything PKD wrote.