Last month Pyr sent us a hand full of books including the first three books in their new Young Adult line: Lightbringer by K. D. McEntire, Planesrunner by Ian McDonald and Thief's Covenant by Ari Marmell. Pyr expects YA books to make up a full third of their annual lineup so we can expect to see many more YA books to follow.
---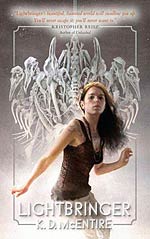 Lightbringer
K. D. McEntire
Wendy has the ability to see souls that have not moved on-but she does not seek them out. They seek her. They yearn for her . . . or what she can do for them. Without Wendy's powers, the Lost, the souls that have died unnaturally young, are doomed to wander in the never forever, and Wendy knows she is the only one who can set them free by sending them into the light.
Each soul costs Wendy, delivering too many souls would be deadly, and yet she is driven to patrol, dropping everyone in her life but her best friend, Eddie-who wants to be more than friends-until she meets Piotr.
Piotr, the first Rider and guardian of the Lost, whose memory of his decades in the never, a world that the living never see, has faded away. With his old-fashioned charms, and haunted kindness, he understands Wendy in ways no one living ever could, yet Wendy is hiding that she can do more than exist in the never. Wendy is falling for a boy who she may have to send into the light.
But there are darker forces looking for the Lost. Trying to regain the youth and power that the Lost possess, the dark ones feed on the Lost and only Wendy and Piotr can save them-but at what cost?
---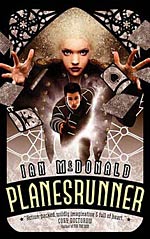 Planesrunner
Ian McDonald
There is not one you. There are many yous. There is not one world. There are many worlds. Ours is one of billions of parallel earths.
When Everett Singh's scientist father is kidnapped from the streets of London, he leaves young Everett a mysterious app on his computer. Suddenly, this teenager has become the owner of the most valuable object in the multiverse-the Infundibulum-the map of all the parallel earths, and there are dark forces in the Ten Known Worlds who will stop at nothing to get it. They've got power, authority, and the might of ten planets-some of them more technologically advanced than our Earth-at their fingertips. He's got wits, intelligence, and a knack for Indian cooking.
To keep the Infundibulum safe, Everett must trick his way through the Heisenberg Gate his dad helped build and go on the run in a parallel Earth. But to rescue his Dad from Charlotte Villiers and the sinister Order, this Planesrunner's going to need friends. Friends like Captain Anastasia Sixsmyth, her adopted daughter Sen, and the crew of the airship Everness.
Can they rescue Everett's father and get the Infundibulum to safety? The game is afoot!
---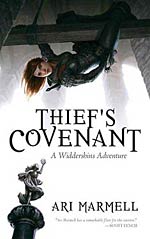 Thief's Covenant
Ari Marmell
Once she was Adrienne Satti. An orphan of Davillon, she had somehow escaped destitution and climbed to the ranks of the city's aristocracy in a rags-to-riches story straight from an ancient fairy tale. Until one horrid night, when a conspiracy of forces-human and other-stole it all away in a flurry of blood and murder.
Today she is Widdershins, a thief making her way through Davillon's underbelly with a sharp blade, a sharper wit, and the mystical aid of Olgun, a foreign god with no other worshippers but Widdershins herself. It's not a great life, certainly nothing compared to the one she once had, but it's hers.
But now, in the midst of Davillon's political turmoil, an array of hands are once again rising up against her, prepared to tear down all that she's built. The City Guard wants her in prison. Members of her own Guild want her dead. And something horrid, something dark, something ancient is reaching out for her, a past that refuses to let her go. Widdershins and Olgun are going to find answers, and justice, for what happened to her-but only if those who almost destroyed her in those years gone by don't finish the job first.
---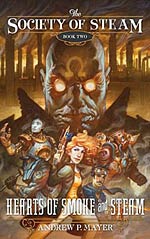 Hearts of Smoke and Steam
The Society of Steam: Book 2
Andrew P. Mayer
Sir Dennis Darby has been murdered, the Automaton has been destroyed, and Sarah Stanton has turned her back on a life of privilege and comfort to try and find her way in the unforgiving streets of New York. But Lord Eschaton, the villain behind all these events, isn't finished with her yet. His plans to bring his apocalyptic vision of the future to the world are moving forward, but to complete his scheme he needs the clockwork heart that Sarah still holds.
But she has her own plans for the Automaton's clockwork heart-Sarah is trying rebuild her mechanical friend, and when she is attacked by The Children of Eschaton, the man comes to her rescue may be the one to make her dreams come true. Emelio Armando is a genius inventor who had hoped to leave his troubles behind when he and his sister left Italy for a life of anonymity in the New World. Now he finds himself falling in love with the fallen society girl, but he is rapidly discovering just how powerful the forces of villainy aligned against her are, and that fulfilling her desires means opening the door to a world of danger that could destroy everything he has built.
THE SOCIETY OF STEAM takes place in a Victorian New York powered by the discovery of Fortified Steam, a substance that allows ordinary men to wield extraordinary abilities, and grant powers that can corrupt gentlemen of great moral strength. The secret behind this amazing substance is something that wicked brutes will gladly kill for, and one that Sarah must try and protect, no matter what the cost.
---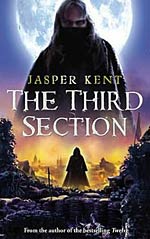 The Third Section
The Danilov Quintet: Book 3
Jasper Kent
The third novel in Jasper Kent's enthralling, chilling and acclaimed historical vampire sequence — The Danilov Quintet.
Russia 1855. After forty years of peace in Europe, war rages. In the Crimea, the city of Sevastopol is besieged. In the north, Saint Petersburg is blockaded. But in Moscow there is one who needs only to sit and wait — wait for the death of an aging tsar, and for the curse upon his blood to be passed to a new generation.
As their country grows weaker, a brother and sister — each unaware of the other's existence — must come to terms with the legacy left them by their father. In Moscow, Tamara Valentinovna Lavrova uncovers a brutal murder and discovers that it is not the first in a sequence of similar crimes, merely the latest, carried out by a killer who has stalked the city since 1812.
And in Sevastopol, Dmitry Alekseevich Danilov faces not only the guns of the combined armies of Britain and France, but must also make a stand against creatures that his father had thought buried beneath the earth, thirty years before.