Based on the 2010 Stoker nominated book, Horns, by Joe Hill.  Looks like the film will have more action than the book, which has been described to me as "a bit of a slog."  I like the trailer and Harry Potter looks pretty good in it.
I had no idea they were making another Mad Max movie but I can't say I'm surprised. I will say that I'm surprised it's taken this long. Looks like the action and stunts are going to be spectacular at the very least. What do you think?
So there's this cool project called Futurestates that I've never heard of and I'm trying to figure out why.  It's a series of short SF films about the near future that has been around for years and I'm just now grokking to it.  From the source:
What will our society look like 10, 20, or 50 years from today? For four epic seasons, FUTURESTATES has taken us on a journey to explore possible futures through the prism of today's global realities. Written and directed by veteran and emerging indie filmmakers, and developed and produced by the Independent Television Service (ITVS) with funding provided by the Corporation for Public Broadcasting, this groundbreaking series of science fiction shorts invites the public to envision the future.
So far, I've watched As You Were by filmaker Trevin Matcek.  The story is about a soldier who, after losing an arm and leg in a futuristic drone battle, is fitted with advanced robotic limbs. Returning home for the first time in years, he struggles to reconnect with his family and a society suspicious of robotics.  Matcek covers a lot of ground in 22 minutes and I could have gone for twice that length to really let him flesh out his story.  Definitely worth the short time investment and a fine intro to the series.
The other shorts in the series look really good too.  I've started in on Code Academy already and dipped a toe into a few others just to get a feel for the series.  There's a lot of variety in these films and the quality looks good across the board.  I'm excited that I can go back and catch all the films I missed from previous seasons on their You Tube channel.  If you're tired of the mindless action SF movies we usually get out of Hollywood you should check out this series.
I like Wil Wheaton's brand of snark and so I find myself in the awkward position of promoting a show on the SyFy channel.  Has Hell indeed frozen over?  The Wil Wheaton Project premiers tonight at 10/9 central and he's gonna riff on sci-fi and nerd culture and generally geek out about our favorite things.  It could be a train wreck like most things SyFy but it could be fun too.  I'm betting on Wil to make it work.  What do you think?
This is the best trailer yet but it does seem to give the whole movie away. I feel like I've seen it already.
Hey, remember that first trailer for Jupiter Ascending? Yeah, me neither, but THIS one looks pretty cool, no?
This just looks better and better! Love the dragon at the end.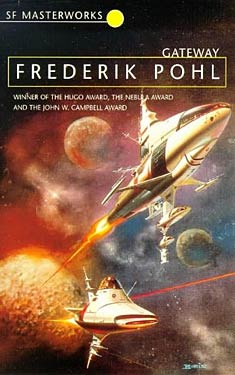 The late great Frederik Pohl's most famous novel may be coming to the small screen soon.  The film rights to Gateway have been purchased at auction by Entertainment One Television in collaboration with De Laurentiis Co. who plan to develop and produce a TV drama series adapted from the book.  Details seem to be a bit sketchy at this point but you can read a bit more about it on Pohl's site: The Way the Future Blogs.  Hopefully we'll get more info soon to whet our appetites.
I think Gateway lends itself pretty easily to an episodic television show.  It's pure adventure and there's plenty of room to build stories around desperate crews risking their lives on the HeeChee ships.  You could even frame the show around Robinette Broadhead recounting his adventures to his holographic shrink!
I think it will be interesting to see what they can do with a Hugo, Nebula, Locus SF and Campbell award winning novel that's also a SF Masterwork and shows on seven other best of lists!  Of course, there's a huge downside to attempting to make a show based on a fan favorite like Gateway but, like Bob, the show runners think it's worth a roll of the dice.
Michael Straczynski (World War Z, Thor, Babylon 5) has acquired the rights to Harlan Ellison's now classic short story, "Repent, Harlequin!" Said the Ticktockman (originally published in a 1965 issue of Galaxy Science Fiction, and more recently in this Kindle compendium of classic science fiction). Meredith Woerner, at io9, summarizes the plot:
The beautiful and complex story, "'Repent Harlequin!' Said the Ticktockman" is set in a dystopian future where time is a highly regulated. Being late is a serious crime. If you abuse your time the Ticktockman will find you, "turn you off," and you die. The short story itself starts in the middle and leaps from the beginning and end throughout the plot. It's really a wonderful bit of work that has been widely praised as an astounding work of science fiction. And now, Straczynski has acquired the rights to this story from Ellison.
Because Ellison has been famously reticent to work with Hollywood, after all of his run ins with the industry, the optioning of this script comes as quite a surprise.  Deadline's Mike Fleming unravels the mystery:
How did Straczynski do it? He had to deliver a finished screenplay to Ellison, whose credits range from The Outer Limits and Star Trek to being acknowledged in many sci-fi works including James Cameron's The Terminator, and serving as a Babylon 5 consultant. Only then did Ellison grant the option.
Given the fantastical nature of the short story, it's unsurprising that Peter Jackson and Guillermo Del Toro are being courted for the director's chair.  Tor's Ryan Britt is not amused:
Now, JMS certainly knows what he's doing (I mean, he's written tons of screenplays for successful films) but I do wonder about the lack of tension in this story translating to the big screen. To me, a story like "Repent," has what I think of a 1984 problem. The concept is amazing and transformative, but the stuff that actually happens in the story is less memorable than the premise. To put it another way: I think of this (and many of Ellison's stories) as brief little jaunts into worlds, and once the point has been made, the story ends. This is the strength of short fiction, and also the reason why movie-length versions of Twilight Zone-esque plot-twisters can get a little trying. (Repent, Shyamalan!)
I have to say, how this story makes it to the silver screen is beyond me, as well.  If Jackson gets the nod, will he stretch this short story out the way he did The Hobbit?  Will Mr. Ellison allow that?
Oh, and whatever you do with this story, Mr. Straczynski, don't call it science fiction!