I'm not at all familiar with Cloud Atlas, by David Mitchell, but this trailer looks amazing and makes me want to read the book. I love a sweeping story across time and the visuals and cast are hitting all the right buttons for me. What do you think? Have you read the book?
The film's website provides a wealth of information concerning the different characters throughout the timelines in the film.  It will premiere at the Toronto International Film Festival in AMC Theatres on October 26th.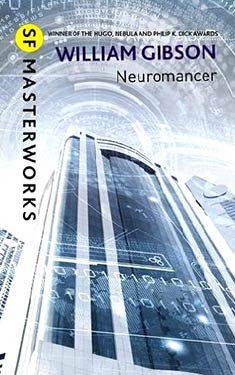 This is a little embarrassing to admit.  I didn't totally understand Neuromancer.  It's a great novel.  It garners 4 out of 5 stars by the 300 WWEnders who have read it, which I assume means they grasped it better than I did.  Don't get me wrong, though.  I did enjoy reading it (Gibson has a beautifully poetic writing style), but I think I may have read it too quickly.  Life in cyberspace, after all, is inherently esoteric.  He's describing techology that didn't exist yet, so his names for everything are different from we might call them now.
That is why I'm more interested in the upcoming movie than I usually would be.  I don't just want to see a great book recreated on the silver screen….I want to see what the hell it was all about!  Recently, it's been revealed that Mark Wahlberg and Liam Neeson have been tapped to help explain this novel to me.
Yes, we know.  This remake is slap in the face to the Ahnold.  Even director Len Wiseman seems a little sheepish about it in his latest interview.  Just remember, even the "original" Schwarzenegger engine wasn't an original, either.  It was an adaptation, of course, of Philip K. Dick's classic short story, We Can Remember It for You Wholesale.  Before you see the movie, read it!  To commemorate the release of the new film, Amazon has released the story under the latter day title, Total Recall.
I saw this over on Topless Robot and had to share it here. This is a hip hop remix of the Game of Thrones theme from Dominik Omega and The Arcitype. Its just about the coolest nerdiest thing I've ever heard. I particularly like the line "instead of spitting lies i use my imp-like mind and never back down i am The Mountain That Rhymes".
So… this. You know, I'm not sure this movie really needed to be made but part of me is kinda' glad they did. You see, I really loved the first one when it came out in 1990. Total Recall had a lot going for it: great special effects (for the time), cool story, Ahhnuld was still a complete bad ass, there was a cat fight with a couple hot chicks and who could forget the Martian woman with 3 boobs? What more could you want? Well, a lot actually.
Time as not been kind to the original Total Recall. After more than 20 years it's damn near unwatchable now that we're all grown up. Not that it would stop me from watching it anyway. Nostalgia has a way of making even bad movies into favorites over time. You recognize all the failings of plot, production values and, oh my God!, acting but you can still enjoy it by reaching back to the time you saw it with your buddies on opening day and you were all blown away.
You remember that scene where Quaid is fighting Richter on the open elevator? The whole movie he's been chased and shot at by that guy and you knew the big fight scene was going to be epic when he finally caught up to Quaid. Well, the fight was pretty damn good, what with Richter getting his arms chopped off and all, but what made that scene was Quaid's one-liner at the end. He's still holding on to Richter's severed arms and he says "See you at za paarty, Rischta!" then tosses his arms after him as Richter plunges to his death. Classic Ahhnuld! My friends and I still quote that line more than 20 years later!
Despite my love of the original I'd still like to see what can be done with that story today – better special affects, a tighter story, better acting and a higher level of realism. I want all that and the hot chicks and kick ass fight scenes and explosions too. The trailer makes it look like they'll be able to deliver on most of those. The world looks gritty and gnarly like a Bladerunner/Fifth Element mash up and they seem to have replaced Johnny Cab with flying cars which is all to the good. The chicks are a huge improvement in the hot department, if not the acting, and Collin Farrell's got some Jason Bourne type moves in his repertoire and he's only got to be a better actor than 90′s Ahhnuld so I feel pretty good about that. Over all I think the trailer looks pretty good – just not awesome – so I'm feeling a bit optimistic right now.
The big questions in my mind are story and directing. The story should be simple enough if they just tweak the original a bit. I've never read the original short story, We Can Remember It for You Wholesale by Philip K. Dick, but if they've gone back to that for material I'll count that as a plus.
The director, Len Wiseman, is unknown to me and his resume seems a bit light. Based on his director credits I have to hope that Total Recall is his break-out movie. Of course, if you like the Underworld saga you may feel differently. At the very least he's not Michael Bay.
It's a long way 'till August and we'll have tons more trailers and behind the scenes footage before then to make a better judgment but for now I'm in. There are still a dozen ways that this movie could suck, and frankly, I suspect it will suck, but I'm still going to see it if only for the special effects and the hope that they manage one scene as great as Quaid vs. Richter. Oh, and the 3 boobs. Some things are sacred. See you at za moovie, Rischta!
Game of Thrones season 2 starts tonight! Watch it and come back here and let us know what you think.
So this is supposed to be the first 10 minutes of the movie. It feels more like a montage of scenes than 10 contiguous minutes to me but I like it pretty well. The production values are really good at least but it's just a bit disjointed for my tastes. It's like they're trying to squeeze in too much back story into too little screen time so they can get on to Mars quicker. Guess I can't blame them for that. I hope it evens out after the cave. Can't wait for Saturday!
So far I've liked the John Carter trailers but the news surrounding this movie does not seem to be very positive. It has dampened my enthusiasm quite a bit. This extended scene trailer has brought me hope again. I desperately want this movie to be good. What do you think? Am I asking too much?
Now THIS is a proper trailer! Can't wait for the new season.