This is the best trailer yet but it does seem to give the whole movie away. I feel like I've seen it already.
Hey, remember that first trailer for Jupiter Ascending? Yeah, me neither, but THIS one looks pretty cool, no?
This just looks better and better! Love the dragon at the end.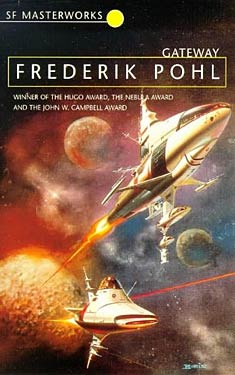 The late great Frederik Pohl's most famous novel may be coming to the small screen soon.  The film rights to Gateway have been purchased at auction by Entertainment One Television in collaboration with De Laurentiis Co. who plan to develop and produce a TV drama series adapted from the book.  Details seem to be a bit sketchy at this point but you can read a bit more about it on Pohl's site: The Way the Future Blogs.  Hopefully we'll get more info soon to whet our appetites.
I think Gateway lends itself pretty easily to an episodic television show.  It's pure adventure and there's plenty of room to build stories around desperate crews risking their lives on the HeeChee ships.  You could even frame the show around Robinette Broadhead recounting his adventures to his holographic shrink!
I think it will be interesting to see what they can do with a Hugo, Nebula, Locus SF and Campbell award winning novel that's also a SF Masterwork and shows on seven other best of lists!  Of course, there's a huge downside to attempting to make a show based on a fan favorite like Gateway but, like Bob, the show runners think it's worth a roll of the dice.
Michael Straczynski (World War Z, Thor, Babylon 5) has acquired the rights to Harlan Ellison's now classic short story, "Repent, Harlequin!" Said the Ticktockman (originally published in a 1965 issue of Galaxy Science Fiction, and more recently in this Kindle compendium of classic science fiction). Meredith Woerner, at io9, summarizes the plot:
The beautiful and complex story, "'Repent Harlequin!' Said the Ticktockman" is set in a dystopian future where time is a highly regulated. Being late is a serious crime. If you abuse your time the Ticktockman will find you, "turn you off," and you die. The short story itself starts in the middle and leaps from the beginning and end throughout the plot. It's really a wonderful bit of work that has been widely praised as an astounding work of science fiction. And now, Straczynski has acquired the rights to this story from Ellison.
Because Ellison has been famously reticent to work with Hollywood, after all of his run ins with the industry, the optioning of this script comes as quite a surprise.  Deadline's Mike Fleming unravels the mystery:
How did Straczynski do it? He had to deliver a finished screenplay to Ellison, whose credits range from The Outer Limits and Star Trek to being acknowledged in many sci-fi works including James Cameron's The Terminator, and serving as a Babylon 5 consultant. Only then did Ellison grant the option.
Given the fantastical nature of the short story, it's unsurprising that Peter Jackson and Guillermo Del Toro are being courted for the director's chair.  Tor's Ryan Britt is not amused:
Now, JMS certainly knows what he's doing (I mean, he's written tons of screenplays for successful films) but I do wonder about the lack of tension in this story translating to the big screen. To me, a story like "Repent," has what I think of a 1984 problem. The concept is amazing and transformative, but the stuff that actually happens in the story is less memorable than the premise. To put it another way: I think of this (and many of Ellison's stories) as brief little jaunts into worlds, and once the point has been made, the story ends. This is the strength of short fiction, and also the reason why movie-length versions of Twilight Zone-esque plot-twisters can get a little trying. (Repent, Shyamalan!)
I have to say, how this story makes it to the silver screen is beyond me, as well.  If Jackson gets the nod, will he stretch this short story out the way he did The Hobbit?  Will Mr. Ellison allow that?
Oh, and whatever you do with this story, Mr. Straczynski, don't call it science fiction!
I know absolutely nothing about Guardians of the Galaxy but this looks like it could be fun. What say you?
Don't think there's much to say except I can't wait for April!
This puts me in mind of Howard Curzer's argument that the current climate crisis bears striking similarities to the beleaguered hero of Genesis:
"Noah is told by a highly creditable source (God) that climate change (40 days and nights of rain) will cause a dramatic rise in sea level (the Flood) which will, in turn, cause enormous loss of life. Noah's response may provide guidance for us."
Can't wait to see it?  We recommend prepping with Margaret Atwood's excellent environmental dystopia, The Year of the Flood:
"The times and species have been changing at a rapid rate, and the social compact is wearing as thin as environmental stability. Adam One, the kindly leader of the God's Gardeners–a religion devoted to the melding of science and religion, as well as the preservation of all plant and animal life–has long predicted a natural disaster that will alter Earth as we know it. Now it has occurred, obliterating most human life. Two women have survived: Ren, a young trapeze dancer locked inside the high-end sex club Scales and Tails, and Toby, a God's Gardener barricaded inside a luxurious spa where many of the treatments are edible."
So this look pretty good. I'm actually really excited by this season since they're getting into parts of the story that I have not read. Which means I won't have to patiently explain everything to my wife before it happens. She's the kind of person who reads the synopsis and reviews of the episode before watching so she'll know what to expect. Sorry, Honey, I don't know this part at all. Bliss.
Jupiter Jones (Mila Kunis) was born under a night sky, with signs predicting that she was destined for great things. Now grown, Jupiter dreams of the stars but wakes up to the cold reality of a job cleaning toilets and an endless run of bad breaks. Only when Caine (Channing Tatum), a genetically engineered ex-military hunter, arrives on Earth to track her down does Jupiter begin to glimpse the fate that has been waiting for her all along – her genetic signature marks her as next in line for an extraordinary inheritance that could alter the balance of the cosmos.
Well, I like Mila Kunis a lot and Sean Bean is always good, until he dies, and the special effects look pretty, and the Wachowskis are cool and all but the toilet-cleaning-galactic-princess story line seems a bit lame and I just don't think an elvish Channing Tatum is good for anything. Meh, I could be wrong. What do you think?