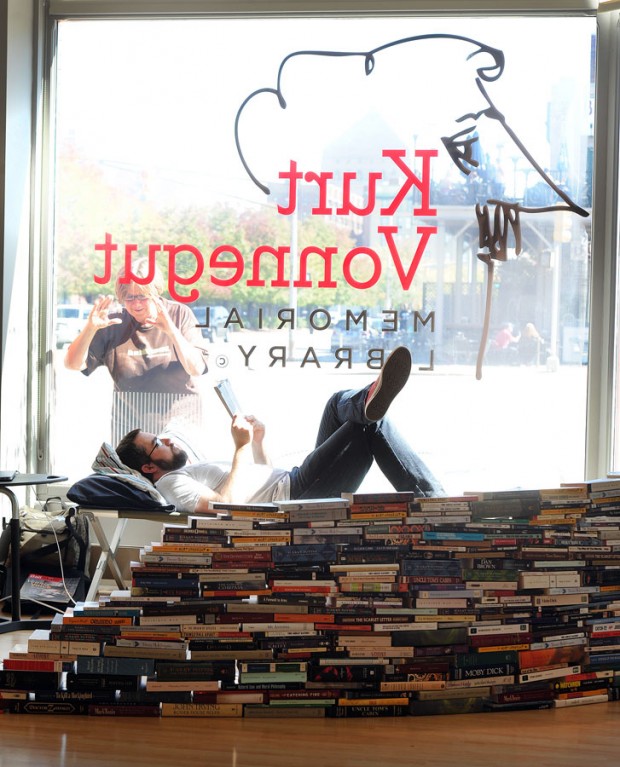 Every year, the Freedom to Read Foundation awards several grants from the Judith F. Krug Memorial Fund in order to recognize outstanding work in raising "banned book awareness." One of this year's winners was…
The Kurt Vonnegut Memorial Library, in the historic Emelie Building in downtown Indianapolis, was one of seven organizations nationwide to receive this award. It's the first institution devoted to an individual to receive the grant.
The grant is in response to Corey Michael Dalton's stunt, which involved living a week in a cell made of books.  Here's how the event was described at the time:
Dalton will find himself, beginning Sept. 30 at noon, living 24 hours a day in a makeshift cell abutting the library's front window, surrounded on two or three sides by walls made of banned books. The week-long stunt is tied to both Banned Books Week, a national venture celebrating its 30th anniversary this year, and to the Vonnegut Library's efforts to bring attention to a partial ban of Vonnegut's Slaughterhouse-Five by a Missouri school district.
We reported on the Vonnegut ban at the time it happened, and again when it was partially rolled back.  Like most bans, this one created a lot of energy in support of the banned author.  Such is the irony censorship.