It's been a while since we created our suggestion list for Fantasy, and the Month of Horrors seemed like the perfect time to cobble together a list for Horror. Been looking for some good genre book recommendations you can pass along to non-genre or genre-beginner readers? Here are some works of fiction that will blow their minds and make them addicts just like you.
Today's list contains half a dozen Horror books to knock the socks off the people who don't have good genre taste… yet.
---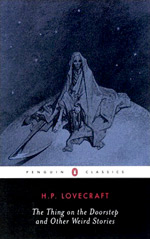 The Thing on the Doorstep and Other Weird Stories, by H. P. Lovecraft
Arguably, you could hand a reader any collection of Lovecraft stories, and the effect would be just about the same. The master of weird fiction rotated regularly through just a few variations on his theme of supernatural terror: from intrusions out of the dream world to beautiful symbolic visions, from unnatural resurrections to polar-dwelling Elder Things, you can be sure that at least somebody will be losing his sanity, if not his lunch. Many of the stories in this volume also tie in to Lovecraft's popular Cthulhu Mythos, so there's plenty of temptation here to find more to read.
Perfect For: People who like old-timey scares and wish their steampunk novels had more unnatural geometry.
---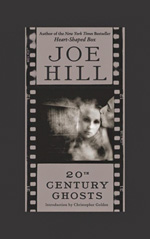 20th Century Ghosts, by Joe Hill
One might shy away from Hill's collection of short stories in favor of his more popular novels, but 20th Century Ghosts has something for everybody to enjoy. As I wrote in my longer review last year, the stories that especially stand out are "20th Century Ghost" (about a dead girl who loves the movies too much to leave the theatre), "The Black Phone" (a terrifying tale of kidnapping and phone calls from the dead), "The Cape" (a spooky story of a… different kind of superhero), and "Voluntary Committal" (wherein one might easily be lost amidst the cardboard maze in the basement). Don't miss out on Hill's sequel to Dracula and his personal take on Kafka's Metamorphosis, either.
Perfect For: Anyone who likes disturbingly surreal tales.
---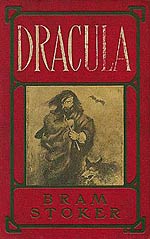 Dracula, by Bram Stoker
By far the most obvious recommendation on this list, you might be surprised how many people have never read the novel that sparked the popularity of the "romantic vampire" subgenre. Told entirely as an epistolary novel, Dracula follows the ever-shifting fortunes of a small group of English aristocrats as an ancient Transylvanian vampire decides to hitch a ride to their homeland from the old country. It's both a look at the fragility of Victorian mores, and awe at the power of the mysterious foreign "other." Arguably also a yearning for a spiritually-enriched world that the Enlightenment cast aside, Stoker's novel offers a great deal even for a jaded, modern audience.
Perfect For: That friend who's watched every Dracula movie.
---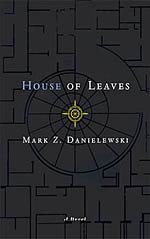 House of Leaves, by Mark Z. Danielewski
Danielewski isn't well known for his fiction outside of this novel, partly because he hasn't written much else, but mostly because his other work is so rarified and abstract that it only appeals to a niche audience. However, House of Leaves was his first and most popular work, despite some aspects that a popular audience might find pretentious. This is a story told from the perspective of a young tattoo artist Johnny Truant, writing about a found manuscript detailing a documentary that does not seem to officially exist, The Navidson Record. It's a narrative within a narrative within a narrative, copiously (and often erroneously) footnoted. The documentary concerns a preternaturally-shaped house, which may or may not be haunted, and which frequently changes its inner layout and dimensions. It's hard to be both scary and erudite, but Danielewski manages.
Perfect For: Someone who's ready to make the leap into metafiction.
---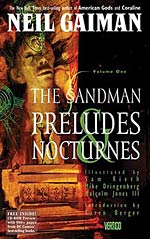 The Sandman: Preludes and Nocturnes, by Neil Gaiman
Although Neil Gaiman has long had a reputation as a Horror writer, much of his fiction is simply Fantasy with a slight twist of Horror. Even most of his run on the Sandman comic series was more about Fantasy than Horror. But the first volume of this popular set definitely shows off Gaiman's talent at writing Horror, albeit the sort influenced more by old Horror comics than novels. As he introduces the character of Morpheus, the King of Dreams, he is at great pains to remind us that Morpheus is also the King of Nightmares. The series found a larger audience after this first storyline, but I will always have a soft spot for this mash-up of Gothic and old-school comic book scares.
Perfect For: Wannabe goths and people wondering how Neil Gaiman got his start.
---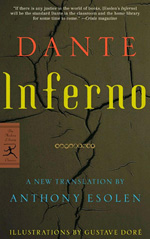 Inferno, by Dante Alighieri
Ok, this one might be pushing it a little. There's no doubt that much of today's Horror fiction simply could not exist without Dante, but his medieval epic poem does not easily fit into the genre as we know it today. It also does not provide the thrills-n-chills normally associated with Horror. It is rather a more intellectual look at the horrors of the human spirit, and a sober acknowledgement of where they lead us. That being said, I would stack up the story told by Count Ugolino in the ninth circle of Hell about his betrayal by an archbishop to a slow and very cruel death against anything written by Stephen King or Clive Barker. You can also learn how Hell actually froze over a very, very long time ago.
Perfect For: Poetry lovers and those curious about ancient cosmologies.
---
Have anything you'd like to add to the list? Let us know in the comments!