To say that Hannibal Rising is the worst of the Hannibal Lecter films is not necessarily a derogatory statement. After all, the Lecter films range from surreal and thrilling (Manhunter), to profound yet action-packed (The Silence of the Lambs), to baroque and experimental (Hannibal), and finally to popular yet solid (Red Dragon). While Hannibal Rising seems like the least necessary film in the series, it's easy to forget how much call there was for this story to be told. After the hints of Lecter's past in Hannibal the novel, there was suddenly a market for a Lecter prequel of some sort, but especially one that fleshed out the horrific experiences of the doctor's early childhood.
For those who haven't read the novel, Hannibal delves deeply into the cannibal's psyche, showing us that he makes use of a classical-medieval mental technique known as the Memory Palace. First explained by Cicero, the Memory Palace is a mnemonic device that associates facts and memories with a physical structure that one creates within his mind. (The BBC series Sherlock makes use of this device, as well.) This is to help explain Lecter's superior intellect and mental capacity, but also to give the reader hints of his formative years. While walking through his palace in search of a memory, Lecter has to be careful to avoid certain places that contain memories that can harm him, especially memories of his young sister Mischa, who died under grotesque circumstances during World War II. These come to a head at the climax of the novel, when he attempts to brainwash Clarice Starling into becoming his sister, and he can't help but remember that Mischa was eaten by Nazi deserters trying to survive a harsh winter while avoiding Soviet forces.
Considered at the time to be the black sheep of the Hannibal Lecter cinematic family, Red Dragon retells the story of Thomas Harris' first Lecter novel. That's not quite fair though, because Dragon wasn't Lecter's story, but Will Graham's. It's an important point to make, because even though Lecter would quickly take over as the most interesting character in this shared fictional universe, Red Dragon the novel is the story of Will Graham, an FBI agent and profiler who excels because of his ability to empathize with just about anyone, even serial killers.
Unfortunately, his special abilities are put to use in solving the Chesapeake Ripper case, where the killer has apparently been removing random organs from his victims. Except that these organs were actually being chosen with great care to prepare various dishes. And when the trail leads Graham to Dr. Lecter's office, he is nearly disemboweled before managing to shoot Lecter and call for help.
After establishing a solid crime thriller formula with Red Dragon and The Silence of the Lambs, novelist Thomas Harris took a chance and tried something entirely different with his wildly popular Hannibal Lecter character: he set him free. Harris' fans had been wondering for some time what the cannibal psychiatrist would be like in the wild, as it were, out of captivity and free to roam as he pleased. Written eleven years after Silence the novel and eight years after the film, Hannibal is the gory, violent, and disturbing followup to his increasingly popular series. Did it live up to its promise?
It's hard to say. The next Lecter novel had two very difficult tasks: to tell a story centered for the first time around Dr. Lecter that did justice to everything his readers had learned about him in Dragon and Silence, and to write something that would please the many fans of the film. Even the choice to write a novel with Lecter as a main protagonist must have been a difficult one. It would have been much easier to keep him as a secondary character with Clarice Starling or another FBI agent in the foreground. Harris had built up the mystery and abilities of Dr. Lecter so greatly that it would seem impossible to actually write a story that lived up to what it was claimed he could do when not imprisoned.
Glenn Hough (gallyangel) is a nonpracticing futurist, an anime and manga otaku, and is almost obsessive about finishing several of the lists tracked on WWEnd. This is the first in Glenn's new series on Vampire Manga, a companion piece to his excellent SF Manga series, which will be accompanied by separate series for Horror and Fantasy.

---
The Japanese love, love, love, the supernatural. Their folklore and native religion of Shintoism foster a worldview that is positively bursting with gods, demons, and beings of all shapes and sizes living alongside Humanity. When Stoker unleashed his Count Dracula upon the English speaking world, Vampires and European Vampire lore found especially fertile soil in Japan. Like a sponge.
It's not a surprise then, that Vampire related Manga is prolific enough for it's own category blog. So we start.
One of the best – number one as far as I'm concerned – is a relative newcomer to the manga scene. It debuted in 2006. What gives it top of the heap status for me? Two words: Mina Tepes.
Princess of the Vampire Clans and Ruler of the Night: Mina Tepes.
Anyone who knows Stoker and the saga of Vlad the impaler should appreciate how deeply entwined her name is in all the Vampire lore which has gone before. How deeply right that name sounds for a Vampire: Mina Tepes.
"Memory, Agent Starling, is what I have instead of a view."
It's easy to understand how Manhunter and its source material Red Dragon lost much of its staying power after the release of The Silence of the Lambs in 1991. This is the film that made many people ridiculously famous: Anthony Hopkins, Jodie Foster, Ted Levine, Jonathan Demme, and Thomas Harris, among others. It won five Academy Awards in one swoop, beating out The Prince of Tides (for Best Picture), JFK (Best Director), Cape Fear (Best Actor), Thelma & Louise (Best Actress), and Fried Green Tomatoes (Best Adapted Screenplay).
Unlike Harris' novel, Silence the film is a standalone piece that makes no reference to the earlier story, ignoring the novel's many reference's to Red Dragon's protagonist Will Graham, now living as a disfigured drunk somewhere in Florida, and inferring that Graham's boss Jack Crawford was the one who caught the notorious cannibal psychiatrist Dr. Hannibal Lecter. For the purposes of adaptation to a new medium, it's understandable that many changes would need to be made, but it's actually fascinating how well the finished product works both as a standalone piece of art and as an adaptation.
It's been a while since we created our suggestion list for Fantasy, and the Month of Horrors seemed like the perfect time to cobble together a list for Horror. Been looking for some good genre book recommendations you can pass along to non-genre or genre-beginner readers? Here are some works of fiction that will blow their minds and make them addicts just like you.
Today's list contains half a dozen Horror books to knock the socks off the people who don't have good genre taste… yet.
---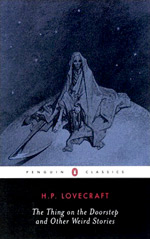 The Thing on the Doorstep and Other Weird Stories, by H. P. Lovecraft
Arguably, you could hand a reader any collection of Lovecraft stories, and the effect would be just about the same. The master of weird fiction rotated regularly through just a few variations on his theme of supernatural terror: from intrusions out of the dream world to beautiful symbolic visions, from unnatural resurrections to polar-dwelling Elder Things, you can be sure that at least somebody will be losing his sanity, if not his lunch. Many of the stories in this volume also tie in to Lovecraft's popular Cthulhu Mythos, so there's plenty of temptation here to find more to read.
Perfect For: People who like old-timey scares and wish their steampunk novels had more unnatural geometry.
---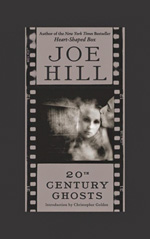 20th Century Ghosts, by Joe Hill
One might shy away from Hill's collection of short stories in favor of his more popular novels, but 20th Century Ghosts has something for everybody to enjoy. As I wrote in my longer review last year, the stories that especially stand out are "20th Century Ghost" (about a dead girl who loves the movies too much to leave the theatre), "The Black Phone" (a terrifying tale of kidnapping and phone calls from the dead), "The Cape" (a spooky story of a… different kind of superhero), and "Voluntary Committal" (wherein one might easily be lost amidst the cardboard maze in the basement). Don't miss out on Hill's sequel to Dracula and his personal take on Kafka's Metamorphosis, either.
Perfect For: Anyone who likes disturbingly surreal tales.
---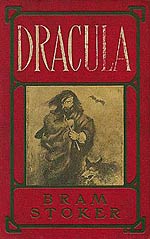 Dracula, by Bram Stoker
By far the most obvious recommendation on this list, you might be surprised how many people have never read the novel that sparked the popularity of the "romantic vampire" subgenre. Told entirely as an epistolary novel, Dracula follows the ever-shifting fortunes of a small group of English aristocrats as an ancient Transylvanian vampire decides to hitch a ride to their homeland from the old country. It's both a look at the fragility of Victorian mores, and awe at the power of the mysterious foreign "other." Arguably also a yearning for a spiritually-enriched world that the Enlightenment cast aside, Stoker's novel offers a great deal even for a jaded, modern audience.
Perfect For: That friend who's watched every Dracula movie.
---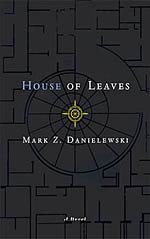 House of Leaves, by Mark Z. Danielewski
Danielewski isn't well known for his fiction outside of this novel, partly because he hasn't written much else, but mostly because his other work is so rarified and abstract that it only appeals to a niche audience. However, House of Leaves was his first and most popular work, despite some aspects that a popular audience might find pretentious. This is a story told from the perspective of a young tattoo artist Johnny Truant, writing about a found manuscript detailing a documentary that does not seem to officially exist, The Navidson Record. It's a narrative within a narrative within a narrative, copiously (and often erroneously) footnoted. The documentary concerns a preternaturally-shaped house, which may or may not be haunted, and which frequently changes its inner layout and dimensions. It's hard to be both scary and erudite, but Danielewski manages.
Perfect For: Someone who's ready to make the leap into metafiction.
---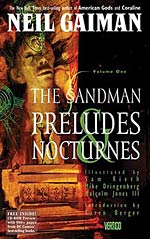 The Sandman: Preludes and Nocturnes, by Neil Gaiman
Although Neil Gaiman has long had a reputation as a Horror writer, much of his fiction is simply Fantasy with a slight twist of Horror. Even most of his run on the Sandman comic series was more about Fantasy than Horror. But the first volume of this popular set definitely shows off Gaiman's talent at writing Horror, albeit the sort influenced more by old Horror comics than novels. As he introduces the character of Morpheus, the King of Dreams, he is at great pains to remind us that Morpheus is also the King of Nightmares. The series found a larger audience after this first storyline, but I will always have a soft spot for this mash-up of Gothic and old-school comic book scares.
Perfect For: Wannabe goths and people wondering how Neil Gaiman got his start.
---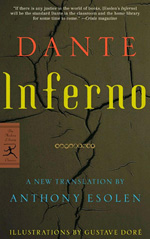 Inferno, by Dante Alighieri
Ok, this one might be pushing it a little. There's no doubt that much of today's Horror fiction simply could not exist without Dante, but his medieval epic poem does not easily fit into the genre as we know it today. It also does not provide the thrills-n-chills normally associated with Horror. It is rather a more intellectual look at the horrors of the human spirit, and a sober acknowledgement of where they lead us. That being said, I would stack up the story told by Count Ugolino in the ninth circle of Hell about his betrayal by an archbishop to a slow and very cruel death against anything written by Stephen King or Clive Barker. You can also learn how Hell actually froze over a very, very long time ago.
Perfect For: Poetry lovers and those curious about ancient cosmologies.
---
Have anything you'd like to add to the list? Let us know in the comments!
Watching Michael Mann's Manhunter is something like watching a now-famous actor in a commercial filmed at the beginning of his career; except that here the actor is a character, and the character is Dr. Hannibal Lecter. Yes, this year's Month of Horrors will feature a crossover with our Hell is Adaptations series in an overview of all the films adapting the Hannibal Lecter novels.
What is especially noticeable to fans of later Lecter films is the scarcity of the popular cannibal in this 1986 crime thriller. It seems a little silly to assume that anybody would need an introduction to the character of "Hannibal the Cannibal," but perhaps a quick overview is in order for the few newcomers. Originally created for Thomas Harris' 1981 crime novel Red Dragon, Dr. Hannibal Lecter is an extremely intelligent serial killer from Eastern Europe who ate his victims and avoided detection and arrest for many years before being caught almost by chance by FBI agent William Graham, a man who has the ability to empathize with killers and figure them out from the inside. Dr. Lecter worked both in an emergency room and later as a psychiatrist, and used his medical knowledge to commit and hide his violent crimes. In many of the media adaptations of the Lecter novels, the cannibal doctor often serves as a guide to help the FBI apprehend other serial killers, though usually with the intention of playing both sides of the game.

Well, it's Halloween and our second annual WWEnd Month of Horrors has come to an end. I think it's been a pretty good month for horror on the site with many great reviews and some huge updates. Since this is our last post of the month, I thought I'd sum up how things went.
Jonathan kicked things off with a nice Month of Horrors 2012 introduction where he talked about the human need to explore fear through fiction, and mentioned some of our goals for the MoH.  We followed that up with our first big enhancement: inclusion of The Shirley Jackson Award which was "established for outstanding achievement in the literature of psychological suspense, horror, and the dark fantastic."  This is our second horror award after The Bram Stoker Award which we added during last year's MoH.
This year we posted  a bunch of horror book reviews from many of the WWEnd regulars:
Add to those reviews excellent posts on the origins of some seminal horror works:
I did a post about some of the Horror Magazines that are out there for your spine tingling pleasure including a brand new one that launched on October 1st called Nightmare Magazine.  Speaking of which, we contacted the publishers at Nightmare and talked them into helping us develop a new horror list for the site which resulted in the Nightmare Magazine's Top 100 Horror Books list.
And finally, we end the month with another new award for the site.  We've been having a great time with the Grand Master Reading Challenge all year, and when we realized there was a Grand Master award for horror we knew we had to add that as well.
The World Horror Convention Grand Master Award is a yearly distinction given to an author who has contributed greatly to the field of horror literature.  Nominees must be alive at the time of voting, and cannot have previously won the award. The award is given at the annual World Horror Convention.  Even though the MoH is over, we'll still be adding new books by these authors as well as others, so you can keep finding all the thrills you crave right here on WWEnd.
Well, that's it.  I hope you've enjoyed the series and the improvements to the site.  I'd like to thank everyone for pitching in to help us pull this off so handsomely.  It was a lot of fun.  The Month of Horrors will be back again next year, same bat-time, same bat-channel!

"The doorway was even now opening to pleasures no more than a handful of humans had ever known existed, much less tasted—pleasures which would redefine the parameters of sensation, which would release him from the dull round of desire, seduction and disappointment that had dogged him from late adolescence."
It's not often one picks up a modern splatterpunk book and finds within it a morality tale, especially a tale so opposed to the moral atmosphere of the day. At least, I assume this doesn't happen often, since The Hellbound Heart is the only splatterpunk story I can ever remember reading. The quote above is about the novella's antagonist Frank, a hedonist who has spent all of his adult life in search of the most extreme pleasures. One can only enjoy so many drugs and prostitutes before the pleasure becomes dull and repetitive, so Frank seeks out new avenues through the occult. He hears of the Lament Configuration, a puzzle box which, if opened, will open a door to the world of the Cenobites, a perverse religious order dedicated to unworldly pleasure. After performing numerous favors for unsavory individuals, he finally gains possession of the box, and brings it home to England to open it. Unfortunately for Frank, when the Cenobites finally appear, their mutilated bodies indicate that their "pleasure" is actually found in pain, that they are demonic sadomasochists who intend to subject Frank to an eternity of flesh-destroying fun. The rest of the story follows his brother's family and social circle as Frank attempts to return to Earth by corrupting those he left behind.

Guest Blogger, Allie McCarn, reviews science fiction and fantasy books on her blog Tethyan Books. She has contributed many great book reviews to WWEnd and has generously volunteered to write some periodic reviews for our blog.
---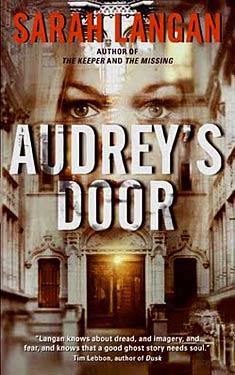 Audrey's Door by Sarah Langan
Published: Harper & Row, 2009
Awards Won: 2009 Stoker Award
The Book:
"Built on the Upper West Side, the elegant Breviary claims a regal history. But despite 14B's astonishingly low rental price, the recent tragedy within its walls has frightened away all potential tenants . . . except for Audrey Lucas.
No stranger to tragedy at thirty-two-a survivor of a fatherless childhood and a mother's hopeless dementia, Audrey is obsessively determined to make her own way in a city that often strangles the weak. But is it something otherworldly or Audrey's own increasing instability that's to blame for the dark visions that haunt her . . . and for the voice that demands that she build a door? A door it would be true madness to open . . ." ~WWEnd.com
It's October again, and that means I'm branching out, once again, to horror!  Audrey's Door is the October reading selection for Calico Reaction's Theme Park book club, so it seemed like a good choice for a Halloween-themed review.