A few months back Craig Hanks sent me a link to his podcast The Legendarium to add to our ever growing podcasts page.  I've just now gotten around to updating the list and, while it took me months to finally do so, I have been greatly enjoying the podcast since I first got the link.
The Legendarium Podcast is a book club style cast, where Craig, Ryan, Todd, and Kenn, a smart and funny quartet of geeks, discuss fantasy and sci-fi books, movies, TV and everything else in between.  The "Brain Trust" here have great chemistry and the geeky references fly fast and furious and they definitely know their stuff.
These guys are huge Tolkien fans and there is an excellent series of Lord of the Rings and Silmarillion episodes mixed in with other series like The Belgariad and Mistborn.  Other episodes cover movie reviews, D&D, Zelda, conventions, Daredevil, and of course, Star Wars.  With almost 80 episodes to date there are plenty of shows for you to dip into by way of catching up.  This is one hell of a good podcast and since you're reading this on WWEnd I have a feeling you'll agree with me.  Go listen now and thank me later.
We just added a new show to our list of 58 genre fiction podcasts.  The Tao of Otaku (the way of the geek) podcast is a brand new podcast with only a couple episodes but you can already tell it's going to be a good one.  The show features Ziki, Obito, Demi and Tolu, 4 school friends from Nigeria now living in different countries who get together over Skype every week to talk about all things geek culture from an Afro-Caribbean perspective.
The first episode features a discussion of the Afro Super Hero focusing on Black Panther and touching on many stories and legends that may not be familiar to most westerners along with others that are very familiar like Tolkien's Silmarilion.  Episode 2 includes and interesting conversation about genre conventions in Africa like Lagos Comic Con, rAge Johannesburg 2015, and WAGE 2015.  The guys also touch on African artist Siku as well as Anansi Boys and Judge Dredd.
Episode 3 has just posted so go and check out The Tao of Otaku!
I love podcasts. I just can't get enough of them. From sports to history to movies and television to beer to science fiction and fantasy – there's a podcast to match everything I'm interested in – especially science fiction and fantasy. There are hundreds of SF/F podcasts out there and they cover every aspect of genre entertainment. We've compiled a list of over 50 of those podcasts for you to explore but I wanted to highligt a few of my favorites to get you started.
---
SF Signal Podcast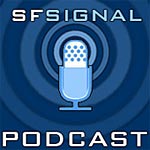 The mp3 audio companion to sfsignal.com, where we interview notables in the field of speculative fiction and say incredibly intelligent things. Mostly. Usually. OK, accidentally.
Why is it awesome?
The SF Signal Podcast is one of the most consistently interesting and entertaining shows around. Blogmeister Patrick Hester conducts some top notch interviews with some of the biggest names in SF/F like Lou Anders, Holly Black, Jonathan Strahan and Vonda McIntyre to name just a few. Between interviews the cast of irregulars discuss a wide range of SF/F topics from cover art to eBooks to conventions. You should click play right now and listen in while you read the rest of this post.
---
The Fantastic Worlds of Edgar Rice Burroughs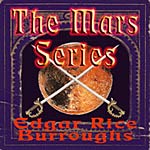 Actor David Stifel narrates serialized readings of Edgar Rice Burroughs novels, currently concentrating on the Mars Series. The first novel, A Princess of Mars, is complete with new episodes released every Wednesday and Saturday night.
Why is it awesome?
First, it's the Edgar Rice Burroughs Mars Series! One of the greatest pulp SF stories ever written. If you disagree I don't think we can be friends anymore. There. I said it. Secondly, as if ERB was not enough to get you to tune in, David Stifel, "That Burroughs Guy," delivers an excellent performance that you have to hear. His voice just seems tailor-made for Barsoomian adventure and his entusiasm and love for the material come across throughout. If you're at all familiar with Burroughs' work you know every chapter ends with a cliff-hanger. You just have to turn the page to see what happens next and so too with this podcast. I flew through A Princess of Mars in just a few sittings. With the John Carter movie coming out next year now is a perfect time to get to know the source material before Disney botches it. (For the record, I think the trailer looks very promising but how many times have we been burned by a great trailer?) Until next time, Mr. Stifel, stay fantastic!
---
The Tolkien Professor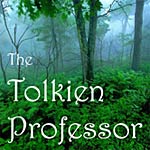 Founded in order to connect with other people who are eager to be included in a thoughtful literary conversation about the works of J.R.R. Tolkien. Since July 2009, listeners have downloaded more than 1,200,000 lectures.
Why is it awesome?
This podcast is simply a must for any Tolkien fan! I'm talking books here, not movies. I promise, even if you've read The Lord of the Rings a dozen times, like I have, you probably don't know half of what The Tolkien Professor, Corey Olsen, knows about Tolkien's world. This guy is amazing. He breaks down the books chapter by chapter and shows you things that you you never knew were there. Who knew there was so much going on in The Hobbit? Your appreciation for Tolkien will reach new heights with each episode. And don't let the word "lecture" scare you off, either. This is no dull Freshman requirement lecture we're talking about. Professor Olsen has an easy way about him and a passion for all things Middle Earth that makes each episode pass before you know it. This road goes ever on and on and you'll love every step of the way.
---
Escape Pod: The Science Fiction Podcast Magazine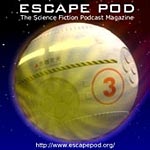 Escape Pod is the premier science fiction podcast magazine. Every week we bring you short stories from some of today's best science fiction authors, in convenient audio format for your computer or MP3 player.
Why is it awesome?
If you're looking for some great short science fiction, look no further than Escape Pod. This show has been around for a long long time and just seems to get better with age. This is probably the first podcast you thought of when you saw the title of this post – it's that good. Escape is the operative word here. These stories will take you away to wonderful places for a little while and, like any good story should, this podcast will leave you wanting more. It's like SF crack for your ears. Give it a listen – everybody's doing it….
---
The Coode Street Podcast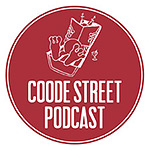 The Coode Street Podcast is the British Science Fiction Award-nominated science fiction and fantasy podcast hosted by noted critic Gary K. Wolfe and anthologist/editor Jonathan Strahan. It features discussion and digression on topics related to science fiction and fantasy.
Why is it awesome?
The Coode Street Podcast is one of the smartest SF/F podcasts you're likely to come across. These guys are industry veterans who really know their stuff and they're letting us listen in as they discuss, in depth, the hot topics in genre fiction like the state of the publishing industry, the Science Fiction Encyclopedia and genre awards etc. It's very much like listening in on a party line where the particpants are unaware we're even there. You'll get the distinct feeling that they would have these very same conversations even if there were no microphone around.
---
Have a listen to these shows – or any of the others on our list. There is something for everyone when it comes to science fiction and fantasy podcasts so you're sure to find some you can't pass up. If you know of any good SF/F podcasts that focus on the literature side of genre fiction that we should have on our list let us know. Enjoy!