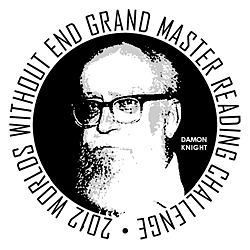 The December GMRC Review Poll is over and our winner is Scott Lazerus (Scott Laz) who actually tied himself in the voting for the 2 reviews he submitted: The End of Eternity by Isaac Asimov and Always Coming Home by Ursula K. Le Guin. Congrats to Scott for exiting the GMRC in style!
For his efforts, Scott has won a GMRC T-shirt, a GMRC button and a set of commemorative WWEnd Hugo Award bookmarks as well as his choice of book from the WWEnd bookshelf. All runners-up will receive a button and a set of bookmarks.
2012 GMRC Finishers:
Some Final GMRC Numbers
So, how did it all turn out? Fantastic! We had really great participation throughout the whole year and learned a lot about running a challenge – info that has already helped us improve on this year's challenge. Here are the final stats and some thoughts on each:
Participants: 174
When we started the challenge we had no idea how many people would sign up. Our expectations ranged from 10 on the low end to 100 in our dreams. We would have been quite happy to hit somewhere in the middle so 174 was a nice surprise. Of the 174 readers 28 read the full 12 books with 17 members who completed the whole challenge by submitting the required 6 reviews (names in bold). Congrats to all our finishers!
Books Read: 737
Taking out the 46 people who signed up but didn't read any books we end up with and average of 5.76 books read per challenge participant. The folks who did not finish the challenge accounted for 401 of the books read while those who did managed the other 336.  Not too bad, I'd say!
Books Reviewed: 230
This is my favorite stat of the bunch! WWEnd members really came through on this count and out of 230 reviews we featured 90 of the best in the WWEnd blog. Well done everyone!
So that's the end of the 2012 WWEnd Grand Master Reading Challenge! I hope you all enjoyed the experience and the great books and we want to thank all our readers for making it such a success. We had a lot of fun, brought in a ton of great new members into our little community and far exceeded our expectations on every level. The success of the GMRC has put us in a really great position for the Women of Genre Fiction challenge this year too. Many of the same readers are back for a second go and early indications are good that we'll blow past last year's numbers across the board.
Happy reading everyone and thanks again for being on the ride with us!
With the Grand Master Reading Challenge coming to a massively successful close we've been racking our brains trying to come up with something great for 2013 and we think we've done just that. Introducing the 2013 Worlds Without End Women of Genre Fiction Reading Challenge! The challenge is to read 12 women authors you haven't read before (including one completely random author pick) in 12 months and to write 12 reviews.  We'll be using BookTrackr again to help you keep up with your books and so you can follow along with the other challenge participants.
I've been thinking about doing a reading challenge here on WWEnd for some time but just never got around to it. I was just planning to start one for the New Year when I found Mind Voyages. Mind Voyages is a yearlong reading challenge and blog set up by Robin of My Two Blessings that focuses on the Hugo and Nebula award winners and noms. A perfect fit for me and WWEnd members as well, methinks.
The challenge is divided up into several "voyages" of differing lengths and themes. You choose the books you want to read within the loosely defined parameters of each voyage rather than having to read from a pre-determined list. You can set yourself a modest goal like the Moon Voyage, which is to read 6 Hugo winners, or you can go for a bigger challenge like Jupiter which is all the 1990′s winners. Of course you can go for as many voyages as you like throughout the year if you want a bigger challenge.
The savvy reader will find lots of ways to get max value out of the books they choose. Look for the books that overlap voyages like dual Hugo and Nebula winners (two birds, one stone) or pick 2 Philip K. Dick books for your Moon Voyage and knock out the Venus Voyage at the same time. Someone will eventually figure out the least number of books you would have to read to complete all voyages. I'm going for the Moon and will try for Mars as well. Along the way I'll knock out Venus, Mercury and the Slingshot Back to Earth by reading 12 books. Here's my list as it stands:
There are shorter ways to get there I think but many of those books I've already read so I had to dance around a bit to get to this list. The best thing about this challenge is that almost all these books were on my list anyway and I'm still trying to read all the Hugo and Nebula winners so this will bring me closer to that goal as well.
So who's in and what does your list look like?