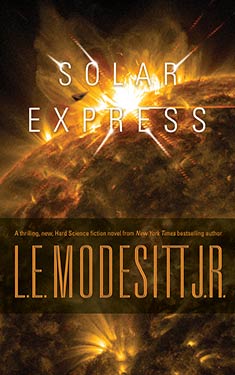 A Futurist, a UFO researcher and a SF guy all walk into a bar carrying read copies of Solar Express. They sit down and get their drinks.
SF: Well, what do you think?
They look at each other. No one says a thing for a few moments.
SF: That bad?
F: Well… I'm trying to think of something nice to say.
UFO: Don't bother.
F: The man knows hard science but he knows jack about Futures.
SF: Is he supposed to? Would it help the story?
F: It would be nice if a major SF author knew a little bit of Future Studies. Just the basics, mind. I don't think that's to much to ask. But this, hell, this is the worse kind of SF. The stuff I can't stand.
UFO: Here, here.
F: He simply runs a few of today's trends out, establishes his baseline and then that's it. A few trends do not a future make. What about all the other trends and how they interact with the trends he's using? Nothing. Besides, it's never the baseline.
SF: Is that a Futures' secret?
F: No it isn't. It's what they teach first day. When you run today's trends out, you get the baseline, but the answer you're looking for is never the baseline. I'd be shocked if it was.
SF: So you don't like his world construction.
UFO: Pathetic.
F: Exactly. There's no change. His politicians are jackasses, the politics are so brazenly normal it's shocking. Post-docs as wage slaves, on the back side of the moon. (Disgust noise.) At least the background glimpses of the society we got in Clarke's Rama were different.
SF: That's hardly being fair.
UFO: That's life.
F: Let's just say you were reading something from a hundred years ago or so, something Victorian. And they made a big deal about a woman not being a virgin….
SF: Isn't that a plot point in Tess… something…
UFO: D'Urbervilles. Yeah, it was.
F: Fast forward a hundred years or so to us, and that doesn't mean a thing. Victorian lit' is quaint. Human, certainly, but quaint, and concerned with things we don't care about. And we're supposed to believe that there's been no changes like that in the hundred years out to the time of the novel? I think it makes for very uneven reading.
SF: But that really wasn't the point.
F: Point or not, the fact it's not there, not even really considered, is important. The society in which this novel is set, is an important point, but he is either not interested in talking about it or does not have the talent to talk about it. What we get is a blasé "they're just like us" and he moves on to com' chatter between a shuttle and station control.
SF: That did get a little repetitive, didn't it? That and the intricacies of station repair. Life and science in space can be quit tedious. So… what else?
UFO: From my perspective, the whole thing was based on a faulty premise. They're here. The best minds in the field think they've always been here. And it's only Human arrogance, stupidity and lies that we believe otherwise.
F: Now who's being harsh?
UFO: He's in a cul-de-sac. Especially a technological one. The way he talks about space travel is quaint.
SF: Quaint?
F: His expression of space travel is a projection forward from the Now, but if the Now is based on a lie or faulty data, then the projection forward is useless. It can't be a useful baseline if it's based on faulty data. It's gibberish.
SF: What's the lie you mentioned?
UFO: We've known since the 50's that you can go into a lab and break all three of the so-called Newtonian laws. Period. This mean they're not laws of any sort just approximations of reality under certain conditions. Change those conditions enough and these so called laws stop working.
SF: Ouch.
UFO: Since the government has know that for close to 70 years, space travel as we know it from NASA is a dog 'n pony show for the rubes. The lie is, that's the way it has to be.
SF: And we're the rubes.
UFO: Exactly. The lie covers the existence of what can be called the technology of the gods. We barely survived the nuclear era with that level of technology. Do you really think we could survive "the death star has cleared the planet" levels of technology?
F: The lie is a good thing then?
UFO: Hell no.
SF: So, we've got faulty premises and a background society that's just like us…
F: And M.A.D. too.
SF: Mutual Assured Destruction. Tediousness at times. What else? I'll add that there were passages that I got bogged down in with all the science and techno babble.
UFO: I thought the arc of the story itself was really obvious. I kept waiting for something to pop up that wasn't what I expected. I wasn't expecting monsters or any dribble like that but… you know… observation, mission, solve some problems, get back safely, win the girl and a medal. No surprises.
F: I thought the relationship between those two was… quaint. Almost like something out of the 19th century. They wrote long letters of encouragement to each other. How nice and romantic. That just strikes me as unrealistic. We're a hundred years out. Moore's law for computation power seems to have stalled or slowed precipitously. Hell, IBM's Watson is practically on the level of the COFAR M.I. today. And everyone seemed to have skimped on bandwidth for reasons which seemed either lame or nonexistent.
SF: We're back to world construction from the trends.
UFO: And those Hotnews! summaries. They reminded me of Ruby Rhod from The Fifth Element.
F: Yeah. Him. If that's where Humanity gets it's news, no wonder that society was M.A.D.
SF: That's scarcely a criticism since the same can be said of our own.
F: I actually thought that stuff was quite tame. Compared to what one might get if you ran today's crap that passes for news forward by a century.
SF: I liked the quotes.
F: But they're so applicable to our own society as well.
UFO: That can't be much of a criticism since one can read the political musing of Cicero and they're equally valid.
SF: Do we know if he made those quotes up, like Herbert did all the time, or did he get them from somewhere? I assumed he did the Herbert thing. It's a writing technique I've always liked.
F: No idea.
UFO: I assumed it was the author speaking to us through the quotes.
The conversation stalls for a moment as another round of drinks is brought over.
SF: I think we're being a bit harsh. Isn't there anything to like in this book?
F: That, I think, is the real problem. It's solid work, if you just read it and that's it.
SF: In the moment, it's fine.  But once you start picking at what he's doing and why, it comes apart.
UFO: You'd have to discount fundamental scientific advancement being in a cul-de-sac since Einstein.
F: And discount the inconsistent use of the trends in your world building…
SF: Nothing memorable about the characters either…
UFO and F glance at each other, knowingly.
F: You're not going to bring Gally into this are you?
SF: I was not. That's really not fair. But a fairer comparison would be there's no Paul Maud'Dib, no Sylia Stingray, no Hal 9000, no Major Motoko Kusanagi, no Deckard. There's no one here I'm going to remember beyond next Tuesday. No one unforgettable.
F: What's the name of the captain who leads the team onto the ship in Clarke's original Rama book? Don't…
F points at UFO who was about to answer.
SF: I don't remember.
F: What's the plot for that book?
SF: Space ship comes cruising in to use the Sun for a gravitational turn. An Earth ship can intercept, so it does, dead silence and alien stuff. Happy endings for first contact; no fatalities. Ship leaves them in the stellar dust.
UFO: The humans in that story seemed saner? more intelligent? less fracked up? than this story.
F: Less petty. But the point was, you don't remember the fine details of Rama, so you won't remember the fine details of this either. But a one sentence summery in 20 years? Probably. Like I said, it's solid work, if you don't think about it.
UFO: Safe too.
F: Very safe. It's works on the assumption that we're just going to teeter along, creating and solving our problems, just getting by, muddling through like we've always done. That is a highly dubious assumption.
UFO: And there's that bullheaded drum beat about how far away other civilizations are, and not going faster than light speed, and why would aliens bother with this backwater. Hideously stupid.
F: Those three things are all assumptions.
SF: And if all three are wrong…can one write great SF?
F: I don't think so. You can write solid and safe but not great.
SF: Because greatness usually breaks molds, upsets apple carts, and goes places never gone before.
UFO: Can't accuse this book of that. (Laughs.)
They grow quiet for a moment, finishing the current round of drinks.
SF: We've not even skirted around the big lie which sets the book in motion.
UFO: You cannot militarize space. Bull.
SF: The minute I read that statement, which was right after the back cover of the book, I thought we were already in trouble. Another quaint idea.
F: Another assumption about how the world works which, unfortunately, isn't true.
SF: We're all adults here. We know N.A.S.A. was incorporated under the D.O.D. which mean anything they do…
UFO: Or find…
SF: …can be classified under national security concerns. That's how it always starts.
UFO: The Snowdons of the world aside…
F: The exceptions which prove the rule…
UFO: …you can keep secrets. And there are many many secrets in this country.
SF: It seems to me you can militarize space all you want, you just can't tell anyone, publicly acknowledge that you're doing it.
UFO: Plausible deniability. Exactly. You need secrets being kept, black projects up and running, with compartmentalization of those projects.
F: Oh my, none of that around here.
UFO: And boatloads of money.
SF: How many times has a D.O.D. head made the trek up the hill in the last 30 years and said…(In a passable Goofy voice) Garsh, hyuk, we seem to have misplaced several trillion dollars. Hyuk.
UFO: More than once.
F: If we have secret space stations…
UFO: Or bases on the moon…
F: Who's going to know it in the civilian population…? And spill the beans…? And be believed…?
SF: Still, it's a nice idea.
UFO: I'm too old for nice ideas. Democracy is a nice idea too.
SF: Let's definitely not go there. That certainly wasn't part of the novel. I'm really bothered by a feeling that for all our harping, I think you're right. It's a solid novel.
F: Except for…
SF: Except for everything which we don't like about it. I finished. Does that count?
UFO: Do you want a reward? Milk and cookies, perhaps?
F: I see no contradiction in the idea that a solid work can also be complete B.S. Yes, it is forgettable, isn't it?
SF: Only a handful of books published each year, or maybe each decade, have any staying power at all as the generations pass.
UFO: This isn't one of them.
SF: So, are we agreed? Solid, Safe and Forgettable.
After a pause, they all nod. They get up to leave.
SF: I'm off to sell my copy.
F: I'm just going to donate mine to the YWCA's used book sale.
UFO: I have a plant stand that needs a support under one leg….
SF: I thought you'd give it to one of your friends upstairs.
UFO: That's were I got mine originally. Some of them read a lot.
They all laugh before dispersing into the night…