Last week we reached a new milestone on WWEnd:  2,500 book reviews!    You may remember we just celebrated our 2,000th review in September.  Since that time we've been bringing in well over 100 reviews a month which is just amazing!
A good many of these reviews are the result of our reading challenges and our new Roll-Your-Own Reading Challenge promises to bring in more reviews than the 2013 Women of Genre Fiction did.  After only 1 month we already have 55 reviews!  The challenges have also been a driving force in bringing in new members who often bring with them a back catalog of reviews to share with us.  We've got 88 new WWEnders for 2014, mostly for the RYO, and we expect that number to keep growing.
This is a great achievement for our community and we have to say thanks to all our members who have been contributing their time and talents to WWEnd.  This is also a good time to recognize our top 10 reviewers.  You can see by their numbers just how far above and beyond these folks have gone in supporting our community.
Oh, and the 2,500th review?  That was submitted by none other than Charles Dee Mitchell, our number one reviewer by a long way, for Conscience of the Beagle by Patricia Anthony.
Thank you all again and here's to the next 2,500!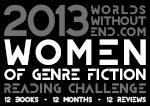 For Lynn Williams (lynnsbooks) books are much more than a hobby or a pastime they're really an obsession. If she's not reading a book, she's talking about books on her blog, Lynn's Book Blog, or deciding which books to buy next. Lynn reads all sorts of books, sometimes straying into YA, but her first love is fantasy. Recently she started to cross into science fiction thanks to the suggestions of some very excellent bloggers.
Editor's Note: This review counts for December.
---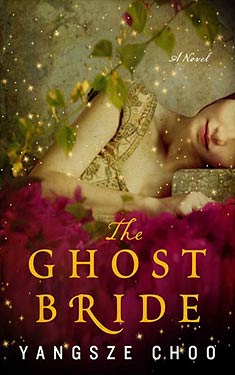 Just finished reading The Ghost Bride by Yangsze Choo – talk about getting your last challenges in right on the last minute – this book is both my 100th book of the year and also my December read for Worlds Without End, Women of Genre Fiction reading challenge – can I just say what a great challenge the WoGF has been – sincerely I hope they hold this next year, I will be all over it if they do!
Anyway, moving swiftly on and away from my gloaty back patting self (the book review being the actual purpose of the post!) I do have mixed feelings about this book – which would probably resolve themselves if I had the chance to mull it over a little longer and really establish how I feel, but – deadlines are pressing – so, mixed feelings are what I'm going with on this occasion. Although, for clarity's sake I certainly didn't dislike this, just not quite sure about exactly what my emotions are at this point (did I love it, maybe not. Did I hate it – definitely not.)
The story is about a young girl, Li Lan, living in Malaya. Her mother has died and her father has retreated into the world of opium. As a result, and although she certainly doesn't seem to have suffered any hardship having been raised mainly by her very loving Amah, her future does not seem to have been taken care of in the traditional sense leaving her with no future marriage prospects. Her father's business has deteriorated, as you would likely imagine as he spends most of his time with cloudy eyes chasing the dragon, and, on top of that, he also seems to have run up considerable debts. Then along comes a marriage proposal of a most unusual nature. A very well to do family would like Li Lan to marry their son. Yes, it's the old 'attractive young girl marries into a wealthy family to save her own family honour' chestnut. Or is it? Before we all start jumping to those conclusions – there's a snag with this marriage proposal, just a tiny one, maybe not insurmountable to some – although I think I might object – the would-be groom has already passed away. Now, tell me that you're not intrigued!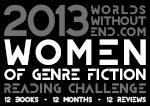 Allie McCarn (Allie), reviews science fiction and fantasy books on her blog Tethyan Books. She has contributed many great book reviews to WWEnd including several Grand Master reviews featured in our blog. Allie has just kicked off a new blog series for WWEnd called New Voices where she'll be reviewing the debut novels of relatively new authors in the field.
---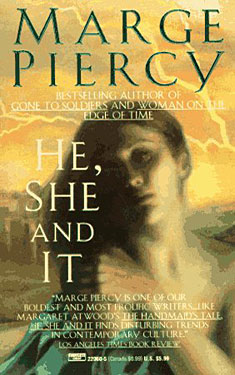 He, She and It by Marge Piercy
Published: Random House Publishing Group (1993)
Awards Won: 1993 Arthur C. Clarke Award
The Book:
"In the 21st century, the Earth is very nearly ruined. People live within domes or wraps, and most wear protective clothing to brave the toxic wasteland that the world has become. Most power resides with massive corporations, "multis," who expect the indentured employees within their domes to shape their bodies, minds, and cultures to the company ideal. A small fraction of the Earth's population are able to live in independent "free towns", through selling their skills and products to multis, instead of themselves. The unlucky rest of humanity lives in the violent, poisonous "Glop".
Shira Shipman has never embodied the physical or cultural ideal of her multi, and when custody of her young son is given to her ex-husband, she decides her future lies elsewhere. She returns to her childhood home of Tikva, a Jewish free town, where she has a new job aiding in the development of an illegal cyborg protector, Yod. As Yod struggles to understand his role in the world, he finds insight in a story of Prague's Jewish ghetto in 1600, about a famous kabbalist who once created a golem protector." ~Allie
Marge Piercy's He, She and It is my final novel for WWEnd's Women of Genre Fiction Reading Challenge. Marge Piercy is a poet and a novelist, and her works range from science fiction to other genres. I have read that her novels tend to focus on women's lives, and He, She and It (also published as Body of Glass) is no exception.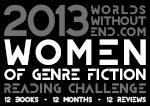 Sue Bricknell (SueCCCP) is an ex-pat Brit living in Maine. She has no real memory of learning to read and has always had a great love of fantasy. She blames this on her early introduction to the Tales of Beatrix Potter, which she had memorized by the age of four. From an early obsession with Fantasy she has expanded her interests into the Science Fiction, Mystery, Horror and Crime genres. Joining a local book group made her realize that she really likes talking about books, so she began her blog, Coffee, Cookies and Chili Peppers. She has recently had the good fortune to be hired as an assistant librarian, so now she can think about books even more!
---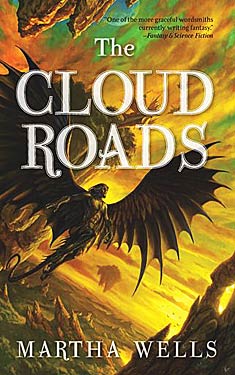 Martha Wells was an author that I had not come across until I read her Guest Post for Women in SF&F Month at Fantasy Cafe. Since then I have had her on my TBR list, but it finally took the Women of Genre Fiction Reading Challenge at Worlds Without End to put this book on my coffee table. I am only sorry that I ignored it for so long because it was a great read and I look forward to reading the other volumes in this series as well as more of Ms Wells' titles when I can fit them in.
One thing I always appreciate in Fantasy writing is a world that is well drawn, whether it is loosely based upon Earth at some point in its history or is totally alien. Ms Wells creates a pleasantly unique world, inhabited by a wide variety of interesting creatures and races inhabiting the three realms. Although we do not explore the sea at all, we see several examples of the groundling races, which show adaptations to various habitats and climates. They also display a variety or temperaments, beliefs and cultures, which were sketched out with sufficient detail without a heavy-handed need for exposition. By making Moon an outsider in almost all situations, Ms Wells was able to let us explore this world through his experiences and so the world building did not feel forced or boring.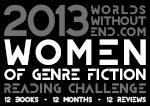 Steff S. (MMOGC), is an avid reader with an eclectic taste in books. While just about anything can catch her eye, she has a particular soft spot for fantasy and science fiction, and especially loves space operas and stories with interesting magic systems. Besides reading, she enjoys adventuring in the virtual words of MMORPGs, and first started blogging about games before branching out to contribute her book reviews at The BiblioSanctum with her friends.
---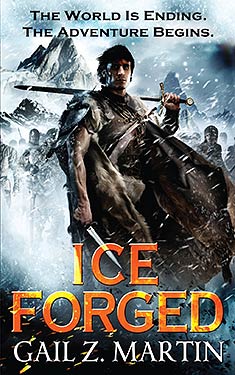 I've long been curious about Ice Forged. Though I also own The Summoner from her Chronicles of the Necromancer series, for some reason I just knew I wanted this one to be my first Gail Z. Martin book. They're both stories set in high fantasy worlds, but lands of ice and snow have always fascinated me, I don't know why. Maybe because I think these harsh settings are often fertile ground for exceptional protagonists, driven to be harder in an environment marked by extreme temperatures and scarcity. I love to read about characters becoming shaped by those experiences and overcoming those challenges.
So it was a pleasant surprise when the book began by throwing its main protagonist into a situation that was even more harrowing than I'd expected. Blaine McFadden is convicted of murder, and though his reasons for the killing were honorable, the young nobleman is sentenced to live out the rest of his days in a penal colony on Velant, an icy wasteland at the edge of the world. Six years later, Blaine (now known as "Mick") is a new man, emerging as a natural leader in the eyes of the other convicts and colonists. Still, they are kept under the thumb of an oppressive governor, and are at the mercy of the mages who are always too keen to administer their swift and often cruel discipline.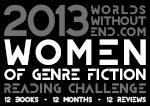 Nadine Gemeinböck (Linguana) has been reading fantasy for as long as she can remember. She started blogging about books on SFF Book Review in 2012, hoping to keep track of what she read and how she liked it. The book blogging community has since helped her open her literary horizons and thanks to WWEnd, she is currently working her way through NPR's Top 100. Her blogging resolution is to review more foreign language books and finally take the plunge into a big, swooping space opera.
---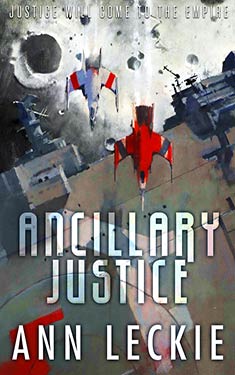 This debut novel is making waves on the internet like none I've ever seen before. It's difficult to find a single negative review of this title, and – if you ask me – Ann Leckie is doing that whole promotion thing rather well. I came across her on many of my favorite online hangouts, doing interviews, guest blogs, tweeting and giving away signed books. But she always has interesting things to say, so buying the book was a no-brainer.
Boring as it may seem, I join the legions of new Ann Leckie fans. What a remarkable, memorable, thought-provoking novel.
ANCILLARY JUSTICE
by Ann Leckie

Published by: Orbit, October 2013
ISBN: 0356502406
Paperback: 432 pages
Series: Imperial Radch #1
My rating: 9/10

First sentence: The body lay naked and face down, a deathly gray, spatters of blood staining the snow around it.

On a remote, icy planet, the soldier known as Breq is drawing closer to completing her quest.  Breq is both more than she seems and less than she was. Years ago, she was the Justice of Toren – a colossal starship with an artificial intelligence linking thousands of corpse soldiers in the service of the Radch, the empire that conquered the galaxy.

An act of treachery has ripped it all away, leaving her with only one fragile human body. And only one purpose–to revenge herself on Anaander Mianaai, many-bodied, near-immortal Lord of the Radch.
Ancillary Justice is a fantastic book for many reasons, and these reasons change throughout the reading experience. I can only tell you how it was for me, although what I've seen on the internet so far, other people are intrigued by the same ideas.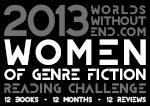 Megan AM (couchtomoon) first discovered she was a SF nerd when a group of nerd boys sat near her friends in the school cafeteria and she overheard them talking about her favorite books and movies.  Her friends noticed, too.  Nowadays, when she is not managing crises at work, or hanging out with her gorgeous husband, you can find her curled up on the couch reading SF novels.  She posts her reviews of these novels on her blog From couch to moon.
---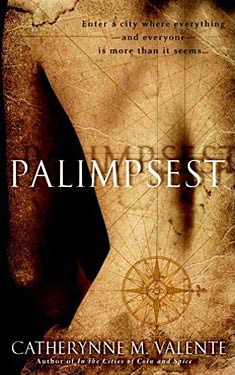 Lewis Carroll meets Anne Rice (the erotica years) in this surreal urban fantasy about four individuals who travel to the city of Palimpsest via a sex portal. Yes, you read that correctly: In order to visit the city, instead of going down the rabbit hole, you need to go down someone else's hole.
Sorry.
Palimpsest by Catherynne M. Valente is an adult fairy tale in every sense, and not for the pearl-clutchers who may accidentally pick up this book expecting a story about medieval manuscripts. But, that's not to say that this is a one-handed read either. Fans of the recent boon in erotic fiction probably won't be satisfied, either. The sex happens in the real world, among ugly, destitute characters who view sex as an mere gateway, and sometimes obstruction, to their dream city. There may be a few titillating phrases here and there, but this is not erotica. Sometimes, the sex seems incidental, as if all the good portals have already been taken.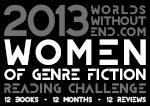 Alix Heintzman (alixheintzman) recently earned herself a graduate degree in history from the University of Vermont, and has circled back to her Old Kentucky Home with her partner Nick Stiner. She spends her time semi-desperately repairing the abandoned house they just bought, writing history high school curriculum, and reading fantasy books. She reviews books on her blog, The Other Side of the Rain, and is a staff reviewer at Fantasy Literature.
---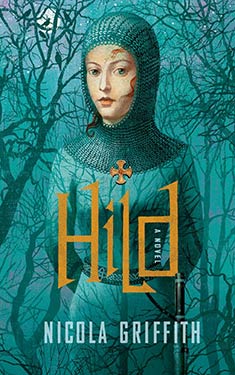 Nicola Griffith's Hild: A Novel is something rare. It's a historical fantasy, but it's not a magical adventure, a bodice-ripper, a military drama, or even a political thriller. It's not the kind of book you dive into and finish a day later and forget almost immediately. Hild is a whole world with a taste and texture of its own. It lingers.
The story is a fictionalized (but not fantasized) vision of the early life of Hilda of Whitby, a slightly obscure 7th century English saint. The plot clings to the trailing skirts of a young girl who becomes the seer to a medieval King. Amid a sea of old English names and places (Ǽthelfrith, Ealdwulf, Caer Loid, Hwicce), Hild uses her influence and intelligence to navigate the choppy waters of politics and war. It's a slow, beautiful story full of winter evenings by the hearth and long rides through the countryside and sudden spurts of violence. It's simultaneously about the huge, grinding ways that cultures change, the depth and complexity of the past, and a young girl making her own way.
In the spirit of full confession, Hild is not technically fantasy. There's no magic performed in the story. Merlin doesn't stroll in halfway through and have a magical showdown with Morgan le Fay, and there aren't any dragon sightings or wood sprites or Faeries spelled with an 'e.' Hild's own magic as a seer is a combination of artifice, mystery, and her own fierce observational intelligence. But it does feel like fantasy, and not just because we've been hardwired to expect sorcery whenever we see a sword.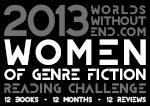 Stephen Poltz (spoltz)'s love of anything SF and Fantasy was inspired by his childhood heroes Carl Sagan and JRR Tolkien. Oh yeah, and by watching cheesy '50s sci-fi movies on a black and white TV. He got a book-reading-reboot when he met his partner, Jacob, a voracious reader from a family of hard-core, genre fiction enthusiasts. After seeing a display of Hugo Award winning books at his local bookstore, Steve became obsessed with reading all the winners. Now, when not QAing software, learning Polish, or finding new books to read on WWEnd, he writes reviews on his blog It Started With The Hugos…
---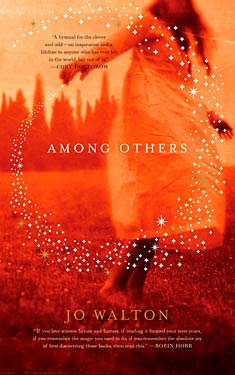 It's great that a Hugo winner is a book about a science fiction fan. The attraction to science fiction, for many of us, begins when we're young, feeling outcast, different, or otherwise disenfranchised from the mainstream. We find it a solace, a place where we can believe that there's something else out there, something better, something more real than our cruel reality. The main character of this story is one of these fans, a teenage girl whose turns to SF to escape from the cruelty and craziness in her life.
Morwenna has a crazy, abusive mother from whom she's escaped, an alcoholic father who she's just met, and goes to a private boarding school where, of course, she doesn't fit in. She is also the surviving twin of a car crash caused by her mother. However, she finds her peace in SF, and has read an unbelievable amount of SF and fantasy, mostly by some of the most esteemed and prolific authors. To her joy, she also finds an SF book club at her local library. She gets to do a little growing up through new relationships she forms with the members of the club as well as with other book lovers.
One other thing, Mori can do magic and can talk to the faeries. She spends most of her time protecting herself against the bad magic of her mother. She is originally from Wales where she often spoke with faeries. Now living with her father in England, she can see them, but doesn't have much interaction with them.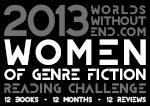 Guest Blogger and WWEnd member, Rob Weber (valashain), reviews science fiction and fantasy books on his blog Val's Random Comments which we featured in a previous post: Five SF/F Book Blogs Worth Reading. Be sure to visit his site and let him know you found him here.
---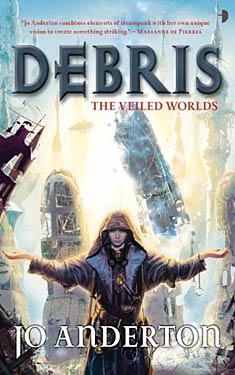 For my twelfth and final read for the Women of Genre Fiction reading challenge I selected Debris (2011) by Jo Anderton. It is a first part in the Veiled Worlds trilogy. The second part, Suited, has been published last year while the third part Unbound is scheduled for sometime next year. I got a whole bunch of Angry Robot titles last year for a bargain price and this was one of them. It has been lingering on the electronic to read stack for quite a while now. I even meant to read it earlier in the year for the reading challenge but every time some other book managed to sneak in first. Fortunately for Anderton I ran out of books by women I haven't read anything of before last month so the last slot is hers. As usual with Angry Robot publications, Debris is a book that is hard to put into a specific genre. Their strategy to look for books that are different has given us a number of very good novels but also some that don't work that well. Debris works for the most part but it is not the most challenging read I've come across this year.
Tanyana is one of Varsnia's most important architects. Her supreme tallent in handing the pions, the force that drives most of Varsnia's society, has placed her at the very pinnacle of her field, in control of one of the most talented circle of pion manipulators. When working on another magnificent construction, two inspectors show up to monitor the work. Promptly, something goes awfully wrong. Tanyana and her circle are attacked by a type of pions she has never encountered before and the whole collapses around her. She is seriously wounded in the accident and when she regains consciousness she is discredited, in debt and has lost her talent to see pions. Tanyana has lost everything that defined her life.