Guest Blogger, Allie McCarn, reviews science fiction and fantasy books on her blog Tethyan Books. She has contributed many great book reviews to WWEnd and has generously volunteered to write some periodic reviews for our blog.
Editor's note: This review was submitted in July but there was a mix-up and we missed posting it in the blog for the GMRC.
---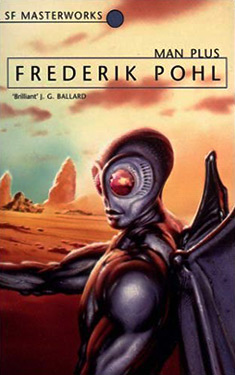 Man Plus by Frederik Pohl
Published : Random House, 1976
Awards Won : 1976 Nebula Award
Awards Nominated: Hugo, John W. Campbell, and Locus SF Awards
The Book:
"In the not-too-distant future, a desperate war for natural resources threatens to bring civilization to a crashing halt. Nuclear warships from around the globe begin positioning themselves as the American government works feverishly to complete a massive project to colonize Mars.
Former astronaut Roger Torraway has agreed to be transformed by the latest advances in biological and cybernetic science into something new, a being that can survive the rigors of Mars before it is terraformed. Becoming Man Plus will allow him to be the linchpin in opening the new Martian frontier…but not without challenging his humanity as no man has ever been challenged before." ~barnesandnoble.com
Man Plus  is my July book for WWEnd's Grand MasterReading Challenge.  Frederik Pohl is not a completely new author to me, as I have read and loved his novel Gateway. Man Plus has some interesting ideas, but it did not replace Gateway as my favorite Pohl novel to date.

Jeremy Frantz (jfrantz) reviews SF/F books on his blog The Hugo Endurance Project where he has given himself just 64 weeks to read every Hugo Award winner. This is his eighth GMRC review to feature in the blog and the second one this month.
---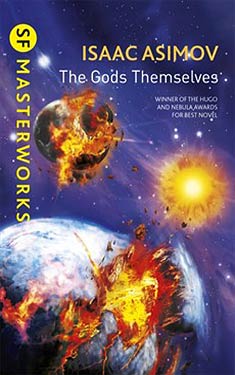 Separated into three different but parallel stories, The Gods Themselves begins when scientists have discovered a way to exchange energy with another universe, the para-universe.  Things get dicey when what is at first possibly the single greatest scientific achievement in history, threatens to become a horror story as it is understood that not only the two universes exchanging energy, but also physical laws which could result in our sun going nova.
Eternal contemporaneity
Published in '72, winner in '73, this is another title that it seems difficult to separate from the public scientific discourse of its time.  The early 70's marked the passage of some of the most monumental environmental protection regulations in American history.  I saw The Gods Themselves very clearly drawing on the experience of environmental and consumer protection messages being hashed out on the national political stage.  But before I've got you thinking this is a book about vast conspiracies and coordinated cover-ups, rest assured Asimov elevates his discussion to broader epistemological concerns and again draws on the sentiment of the times as he pulls in questions that, given the 1962 publishing of Thomas Kuhn's, The Structure of Scientific Revolutions, spoke to the very heart of the philosophy of science in his day.

Guest Blogger, Allie McCarn, reviews science fiction and fantasy books on her blog Tethyan Books. She has contributed many great book reviews to WWEnd and has generously volunteered to write some periodic reviews for our blog.
---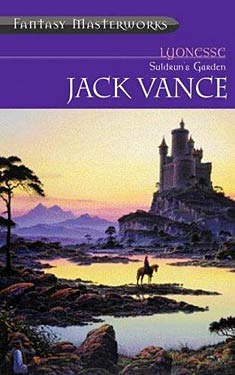 Lyonesse: Suldrun's Garden by Jack Vance
Published: Berkeley Publishing Group, 1983
Series: Book 1 of the Lyonesse Trilogy
Awards Nominated: Nebula Award, Locus Fantasy Award, and World Fantasy Award
The Book:
"The Elder Isles, located in the modern-day Bay of Biscay, contain a number of independent, often contentious, kingdoms. Some of kingdom's monarchs have an eye towards unifying the entire region under a single rule. One of these ambitious rulers is King Casmir of Lyonesse, who is determined to use anyone and anything he can to conquer the other islands. For the most part, his ambition gains him only powerful enemies and war.
It is Casmir's pretty, powerless, neglected daughter Suldrun, however, whose sad life sets a wide-reaching tale in motion Though most of the excitement and magic is experienced by others, the start of it all can be traced back to Suldrun's peaceful, isolated garden. In these kingdoms full of violence, war, magic, ogres and fairies, there are plenty of adventures—good and bad—to be had by young princes, cruel rulers, and powerful sorcerers." ~Allie

Guest Blogger and WWEnd Member, Charles Dee Mitchell, has contributed a great many book reviews to WWEnd including his blog series Philip K. Dickathon and The Horror! The Horror! He can also be found on his own blog www.potatoweather.blogspot.com. This is Dee's sixth GMRC review to feature in our blog.
---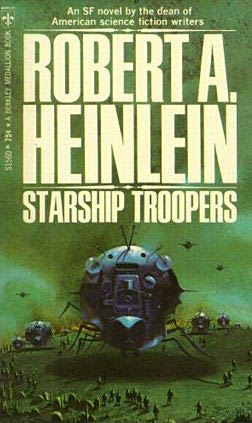 My Junior high school library had a copy of Starship Troopers on the shelf. I never read it. I had read some of the Robert Heinlein juveniles, and I think I assumed Troopers was another. I had also read a paperback copy of The Puppet Masters, which was one of my first forays into genuinely adult SF and of course I loved it. But I loved monsters more than military, and so Troopers never caught my attention although I loved that first quote, "Come on, you apes. You want to live forever?"
Soon I quit reading science fiction in general and I got the word that Heinlein was the bully pulpit for the military establishment. Boo. Hiss. So I was was surprised that the novel was not nearly so jingoistic as I expected. I think it would have defeated me, however, in seventh grade. Despite the good action and cool bugs, that middle section of officer training school would have done me in.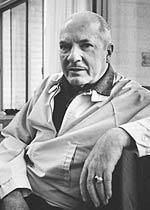 A couple of reviews I read emphasized that the novel should not be confused with what the reviewers obviously considered the vastly inferior Paul Verhoeven 1997 film version. These reviewers must be the true believers. I loved the movie when I first saw it and thoroughly enjoyed it watching it again after reading the novel the other day. Verhoeven passes Heinlein's text through the deconstructionist mill. (Did Michel Foucault get a consulting credit?) I've already said the novel did not strike me as the jingoistic broadside I anticipated, but what fun to see these minor celebrities giving their severely limited all to this high-gloss parody of everything Heinlein must have held dear. There is a rumor that the actors, few of whom were the sharpest pencils in the studio box, had no idea they were being made fun of. I think that like most young actors with few credits to their names they were more interested in their paychecks than in the socio-political implications of their characters.
Book and film should absolutely be absorbed as a single experience. Probably the book should be read first, just so you do not have to picture Casper Van Diehm in the leading role until the last possible moment.

Long time WWEnd member and Uber User, Emil Jung, is an obsessive SF/F reader and as such he's become a huge supporter of WWEnd. (We often refer to him as our "South African Bureau.") Besides hanging out here, Emil writes poetry on his blog emiljung.posterous.com. This is the sixth of Emil's GMRC reviews to feature in our blog.
---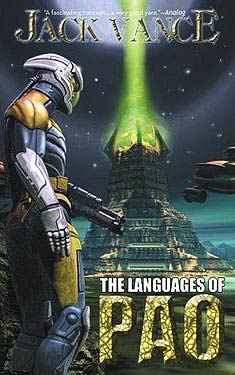 First, a confession. I have not before this book read any of Jack Vance's novels. Even so I'm well aware of the fact that he has long been regarded as a very accomplished creator of planetary romances and "dying Earth" fantasies, of which many fine reviews have been submitted for the GMRC. Most reviewers laud his genius for coining memorable and believable nouns for unearthly beings and artefacts, all the more solidying successful attempts to create memorable, spellbinding worlds impregnated with Damon Knight's sense of wonder. In The Languages of Pao Vance has created another clever, original adventure story, radiating with verbal and world-building skills. As this is the only Vance I've read, I can't compare its magniloquence and style with other work, but can state that it certainly has enticed me to read more from his corpus.
The focus of the novel is on linguistics, built around a plot structure powered by the idea of vocabulary as humankind's means of progress, but despite the seemingly high concept nature of the story, it's far from an academic read. It starts off with an assassination of Panarch Panasper, apparently by his son Beran. It's all a clandestine conspiracy by Beran's uncle Bustamonte, who becomes the Regent while Beran himself is spirited away to Breakness, a world dominated by the Wizards of the Institute, males with cunning intellects that are only matched by their cybernetic augmentations, which bestow them with superpowers. Beran's benefactor Palofax is the most augmented man on Breakness, and under his tutelage Beran grows to manhood while studying linguistics. From the outset Bustamonte's reign is beset with difficulties, and Pao is easily conquered by raiders from the planet Batmarsh and forced to pay substantial annual tributes. Bustamonte travels to Breakness to secure help from Palofax, who has his own designs on Pao. They agree that a new breed of Paonese is required, because until then Pao has largely been a rural population that was culturally, linguistically and politically identical. Even in their language the Paonese were conspicuously docile and dispassionate and devoid of a fighting spirit. It's inexplicable how a planet with 15 billion souls could be so easily overcome by a mere 10,000! Palofax is intent on changing the psychological foundation of Pao, which begins with the Paonese language:

Guest Blogger and WWEnd member, valashain, reviews science fiction and fantasy books on his blog Val's Random Comments which we featured in a previous post: Five SF/F Book Blogs Worth Reading. Val has posted many great reviews to WWEnd and this is his eighth for the GMRC. Be sure to visit his site and let him know you found him here.
---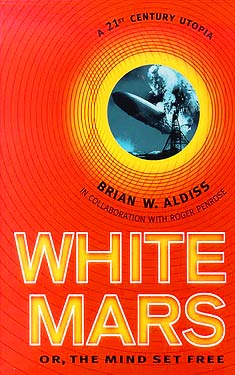 While rereading Kim Stanley Robinson's Mars Trilogy, books I consider to be among the very best in science fiction, I came across various references to White Mars Or, The Mind Set Free by Brian W. Aldiss, written in collaboration with prominent physicists Roger Penrose. Robinson's utopian vision of a terraformed Red Planet is not something everybody would see as ideal or even morally acceptable. In the Mars Trilogy Robinson pays a lot of attention to the discussion between what he calls the Reds, a faction opposed to terraforming the planet and convinced of its intrinsic value, and the Green faction who would exploit the planet and make it more hospitable to human life. Aldiss (and Penrose) wrote this novel as a reply to Robinson's vision of utopia portrayed in his Mars novels. The debate about how to set up a utopian society on Mars is the single most important topic in this book. As a nod to his source of inspiration, Robinson even had a street named after him. As far as I can tell White Mars is out of print, I had a hard time tracking down a useful copy without resorting to the countless torrents out there. After having read it, I can't say I am terribly surprised by the relative obscurity of this book. The philosophical argument may be sound, as a work of literature Robinson's novels are far superior.
Since this novel is a reply to Robinson's work I find it very difficult not to see it in the light of the Mars Trilogy. In fact, when I first heard about the novel I questioned the wisdom of trying to cover ground Robinson had already so thoroughly explored. No matter how unfair it may be to compare books of different authors to each other, this novel practically begs for it. I'm not sure how much sense this review will make if you have not read Robinson's novels. You have been warned.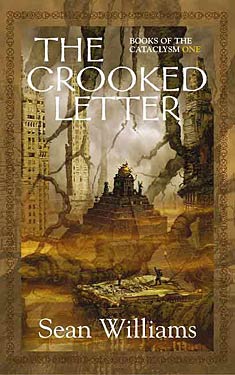 The first novel in a rather extensive fantasy series, Sean Williams' The Crooked Letter is half kabbalistic text, half apocalyptic literature, and all around general mind twist. The plot is deceptively simple: one of a pair of twins is murdered while vacationing in Europe, which triggers the apocalypse, and both twins have to do what they can from their respective sides of death to prevent it from destroying all the worlds. In an interview about this novel, Williams jokes that if his attempt to build a fantasy world out of all his research into gnostic and world religions doesn't pan out, he can always use it to found a new religion. He's not far off the mark, though I doubt any of the older, self-respecting gnostic cults would have appreciated Williams publishing all of their secrets for the public.
The plot takes a hundred detours through this terrifically complex set of worlds. If the worlds that comprise the afterlife aren't complicated enough, even our physical world is re-envisioned as a scary realm of barely hidden monsters and deities. There's a reason Williams calls this book "my Silmarillion" — it's a guided tour through the worlds of magic and anti-magic, rather than being driven by a dramatic character arc. That's not necessarily a waste of time, and his world-creation is fascinating enough to hold one's attention for a while, but after the 300th page one starts yearning for some more common narrative arcs.
I will say that Williams has a talent for good character moments, even if they tend to get buried in the rubble of the end of the world. The love triangle between the twins and a fellow Australian traveler is heart-rending at times, made the more so when she is used as a pawn against them. There is also a prevailing sense of sadness amongst many inhabitants of the afterlife, who worry that their home world will also be destroyed in the wreckage of our world. Even a minor time travel conceit (which I generally hate) works well for the development of some characters.
It's hard to say how many readers will like this novel. For some, like me, it might be a curiosity that they pick up once a week, spurred on by the gradually unfolding apocalypse. Others might find it entertaining to match up Williams' characters to figures in ancient mythology (the appendix is helpful for this kind of reader). The descriptions of The Crooked Letter's sequels leads me to think that they follow a more popular style of story structure. He admits that this is probably his least successful book, but I can believe that Williams is a perfectly competent writer, and that his subject matter simply got the better of him in this novel. Worth your time if you don't mind taking your time.
Scott Lazerus is a Professor of Economics at Western State College in Gunnison, Colorado, and has been a science fiction fan since the 1970s. Recently, he began branching out into fantasy, and has been sharing his experience with his excellent blog series Forays into Fantasy.
Editor's Note: We held this review back until we finished getting the Science Fiction: The 101 Best Novels 1985–2010 list added to the site.
---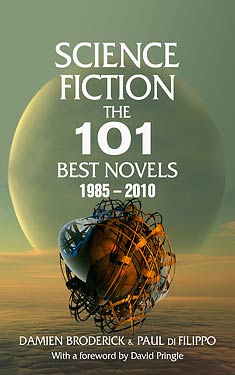 Damien Broderick and Paul Di Filippo's Science Fiction: The 101 Best Novels 1985–2010, presented as a companion to critic/editor David Pringle's 1985 Science Fiction: The 100 Best Novels: An English-Language Selection, 1949–1984, is a worthy successor to the earlier book. Pringle passes the torch in a Foreword to the new volume, admitting that, while a sequel is needed, "Having been unable to keep up with all those new sf works myself, I am delighted that Damien Broderick and Paul Di Filippo have taken it upon themselves to do the job, and I am very happy to endorse their excellent book."
Broderick and Di Filippo, for their part, certainly have kept up on the last quarter century of science fiction, and appear to have read just about everything in the earlier era as well. Each entry is laced with references to works (mostly inside, but sometimes out of) the genre, in their efforts to evoke the novel under discussion–both the experience of reading it and its place within the ongoing development of science fiction. For example, Adam Roberts's Salt is
Like reading Crowley's "In Blue" as rewritten by Barry Malzberg. It's like reading Ursula Le Guin's The Dispossessed as rewritten by Norman Spinrad, or her The Left Hand of Darkness reworked by Ken McLeod (Entry 53). Or Robinson's Red Mars (Entry 29) altered by Mark Geston. Or Eric Frank Russell's Wasp redone by Stanislaw Lem. Yes, that strange and enjoyable.
John C. Wright (The Golden Age) is
"the latest of the ambitious deep future New Space Opera boom–David Zindell, Stephen Baxter, Paul McAuley, Iain M. Banks, Peter Hamilton, Alastair Reynolds, Wil McCarthy (most of them with entries in this book)" and is "a sort of extended commentary, from the right, on Olaf Stapledon's classic, minatory, marxist Last and First Men."
Similar quotations could be taken from any of the entries, each of which, in a couple of pages, places the relevant novel within the current context, and often in relation to science fiction as a whole–either as a new treatment of a theme the field has been grappling with for decades, or as a reaction against it, or a movement tangential to it. This valuable contextualization is given alongside brief plot and character descriptions, and background about the authors. While occasionally getting bogged down by their density, most of the entries are clear, concise, and evocative, and all are informative.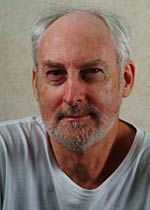 Reading the entries sequentially, then, we get an episodic history of the last quarter century of science fiction. If I were to try to come up with any general trends after reading the 101 entries, in comparison to the earlier era of Pringle's book, it would be that stories of space travel migrated into the far future (the New Space Opera mentioned in the Wright entry), while stories of posthumanity came to the fore in medium-term futures. In looking for similarities, both books have their share of alternate histories (more prominent in later years), and dystopias, which never seem to go out of style. It's also heartening to see the increasing appearance of women authors. Pringle included nine books by women (including two by Le Guin, and only one prior to 1969), compared to about one-third of the authors in the new survey.
The new list echoes the old in several ways. There is some author overlap (Aldiss, Dick, Vonnegut, Ballard, Moorcock, Poul Anderson, M. John Harrison, Priest, Varley, Stableford, Benford, Octavia Butler, Wolfe, and Gibson), with Brian Aldiss taking the prize for the two most widely-spaced entries–Non-Stop (1958) and HARM (2007)–but that still leaves the vast majority of authors confined to either the pre- or post-1985 eras. Both books begin with a dystopic novel by an author not generally identified with the genre–Orwell's 1984 for Pringle and Atwood's The Handmaid's Tale for Broderick/Di Filippo. And both end with what are presented as genre-shifting books. In retrospect, Neuromancer looks like a perfect ending point for Pringle's survey. Whether The Quantum Thief "is the equivalent, for the end of the first decade of the 21st century" remains to be seen, but a good case is made, and the attempt at symmetry must have been irresistible. (Interestingly, William Gibson came close to ending this volume as well, with Zero History being listed second-to-last.)
The opening selections indicate that these critics define the field broadly, and are interested in literary quality as well as novelty or popularity within the more insular genre world. Along with Orwell, Pringle includes books by George R. Stewart, William Golding, Kurt Vonnegut, J. G. Ballard, William S. Burroughs, and Kingsley Amis, alongside Asimov, Heinlein, Silverberg, and Benford. Broderick and Di Filippo take this tendency further, presumably because the use of SF by mainstream writers has only grown in recent decades. (According to their Introduction, readers who prefer to "stick faithfully to their accustomed diversions, preferring yet another franchised episode of Captain Kirk and Mr. Spock or Luke Skywalker and his mean dad, rather as some people eat the same breakfast cereal every day", or for whom "any attempt by sf writers to adapt [literary] techniques to broaden their canvas and elaborate their palette (or palate) is pretentious or boring or uses 'too many hard words'," should look elsewhere for guidance.) This time, we have Atwood, Vonnegut, Jonathan Lethem, Audrey Nifenegger, Philip Roth, Kazuo Ishiguro, Liz Jensen, Cormac McCarthy, and Michael Chabon, side by side with Ian MacDonald, Charles Stross, and Linda Nagata. The authors address the appropriateness of the SF label for some of these books directly, but clearly come down on the side of encouraging and celebrating inclusiveness, and a broad reading of the field, even when the authors themselves resist it. Apparently, for example, Philip Roth claimed to have "no literary models for reimagining the historical past" when writing the alternate history The Plot Against America! But that doesn't keep it from being an excellent novel, which is what Broderick and Di Filippo are concerned with. (The prize for "the best alternative novel we've seen to date", however, goes to Chabon's The Yiddish Policemen's Union.)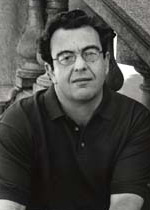 The inclusion of a few novels that hardcore SF fans might argue with should be a little easier to accept given that the authors have found a way to expand their net beyond the 101 novels of the title. Yes, there are 101 entries, each associated with a particular novel, but, unlike in the Pringle survey, no author gets more than one entry, leaving room for a much larger variety of books. Doesn't this mean that this is not really the "101 Best Novels", but rather the 101 best authors? Yes and no. A strict list of the best novels would likely contain more than one entry for some authors (Pringle, for example, was especially partial to Dick, Ballard, and Aldiss), but many of the entries in Broderick and Di Filippo's book are really about duologies, trilogies, series, or even an authors' entire output, thus providing information and commentary on many more than the 101 novels indicated in the title. For example, the Perdido Street Station entry discusses entire Bas Lag sequence, Paul Park's Soldiers of Paradise recommends the entire Starbridge Chronicles, and the Neal Stephenson entry explains first why, in choosing a representative novel, the authors' narrowed his oeuvre down to Snow Crash and The Diamond Age, and then why they ultimately settled on the latter over the former. In each case, while a single novel is focused on, the lens is often pulled back for a more wide-angle discussion of a significant chunk of an author's output, when appropriate.
I suppose the final question should be: Are these really the 101 best novels of the last quarter century? The appropriate answers could be: "of course not"; "I don't know"; or, "it doesn't matter". (For a question like this, I don't think "yes" or "no" really apply.) Answer number one: Of course not, because everyone's take on the best novels will be different. A good reviewer will find a way to give you enough of the sense of a book to decide whether you might be interested in it, and I think Broderick and Di Filippo do this very well. Answer number two: I don't know, because I haven't read the vast majority of these novels myself. I was greatly looking forward to this book because I'm a fan of Pringle's 100 Best, and because I've read very little SF from the period the new book covers, and have been looking for a guide back into the field. After reading it, I'm pretty certain their critical take on the field will match my tastes reasonably well, but I'm sure others will see a lot of their favorites missing and thus decide they have little use for it–a perfectly valid response. (The fact that they include several of my favorites from the recent period that I've been back reading the field– Zero History, Windup Girl, Zoo City, and Quantum Thief–adds to my confidence that I'll like lots of others on this list.)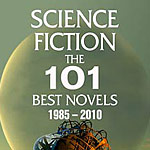 Finally, answer number three, and the one I prefer: It doesn't matter whether these are really the 101 Best Novels, because the book still succeeds as an interesting survey of what's been happening in the science fiction field during the period covered, and because, even for those whose tastes don't jibe with the authors', such lists always serve to start an interesting debate. Other "best of" lists from well-read critics, along with surveys based on the opinions of fans and general readers, will always differ (sometimes greatly), keeping the debate going. (Worlds Without End, of course, contains lots of them!) As readers, the trick is to find those that best match our tastes and inclinations. In my case, I'm looking for a wide-ranging and challenging critical survey, and this one seems a good guide to the period. Broderick and Di Filippo succeeded in getting me interested in dozens of books that I knew little about or, in some cases, hadn't even heard of. List-lovers should read it, enjoy it, and argue with it.
New WWEnd member Grace (BookWithoutPics) is a bibliophile and aspiring librarian who reads a lot of books. She reviews SF/F and other books on her excellent blog Books Without Any Pictures where this review originally appeared. She has shared it with us in honor of Juneteenth.
---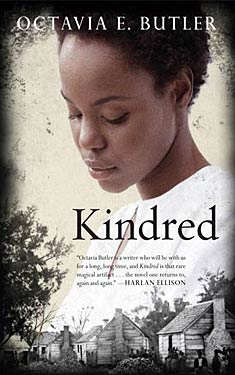 If I had to sum up the book in one phrase, I'd say that this book is Murphy's law applied to time travel. Everything that can go wrong does, and at the worst possible time.
Kindred is technically classified as sci-fi, but it is a genre-bending novel that also incorporates elements of historical fiction. It tells the story of Dana, a modern black woman from California who is pulled back in time to the early 1800s in Maryland to rescue her distant white ancestor Rufus when his life is endangered. Dana makes six visits to the past during the course of the novel and is only able to return home when she believes that her own life is threatened.
Dana is forced to confront the horrors of slavery as she spends time in the past and struggles with her own identity as she is swept into life on the plantation. Meanwhile, she finds herself in the rather awkward (and completely f'ed up) position of having to make sure that Rufus has sex with a woman named Alice so that her ancestors would be born and she wouldn't flicker out of existence a la Back to the Future.
Kindred is such a powerful story because Dana is so easy to identify with. She's intelligent, resourceful, and a very much a product of modern life. When we see slavery from the eyes of someone from our own world it makes everything seem so much more real than it would in a typical historical fiction novel. We see Dana react to the past in a multitude of different ways, ranging from her initial realization that she wasn't in 1976 anymore when kid-Rufus used a racial slur against her to the panic at realizing that medicine in the early 1800s could be downright scary (bloodletting? leeches? gross!). It's extreme culture shock on a multitude of different levels, but Dana eventually finds herself adapting and learning to understand the mindset of surviving the violence and dehumanization that her ancestors faced.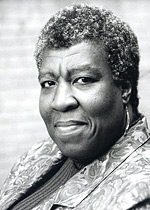 One of the things that I also enjoyed about this book was seeing Dana's relationship with her husband Kevin. She and Kevin are both writers and are very clearly soulmates. We see some of her backstory with Kevin, including the way that both of their families handled the fact that they were an interracial couple (badly, of course). However, the problems that Dana and Kevin face in the modern world pale in comparison to the harsh reality of life in the 1800s.
Dana discovers that anything she's carrying when she gets pulled into the past goes with her, so she packs herself a bag and on one occasion even takes her husband with her. Kevin tries to use his social standing to protect her, but that doesn't make Dana's experience of the past any less dangerous.
I read Kindred in one sitting and was on the edge of my seat the entire time. Octavia Butler's writing is articulate and powerful, and she is able to make readers not just see the past but also feel it. Kindred is one of the best books that I've ever read, and I'd highly recommend it.

Ben Oldham (Engelbrecht) grew up reading the Ballantine Adult Fantasy series, forever ruining his chance of enjoying bad genre writing…. While in college, he worked for a time at A Change of Hobbit bookstore, the store in which Harlan Ellison began writing stories in storefront windows. His username comes from Maurice Richardson's The Exploits of Engelbrecht, one of his favorite books. This is his first review for WWEnd.
---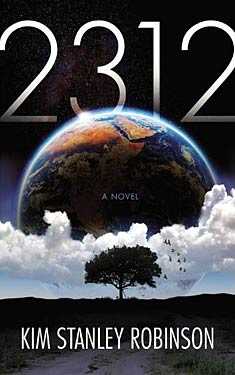 2312 is something of a post-Accelerondo space opera, pinballing back and forth between our suns various planets, moons, terrariums (terraformed asteroids) and spaceships, all the while pursuing the mystery of an attack on a city on Mercury, possibly by AIs with unfathomable motives.
On the surface, 2312 seems to invite comparisons with Corey's Leviathan Wakes. But 2312 is a far superior novel, packed with speculation: the expansion of the human race into the solar system, the many varied and ingenious ways in which asteroids and larger bodies may be modified in order to accommodate human needs, the many varied and ingenious ways in which the human body can be modified to accommodate human needs, including longevity, sexual options, and accommodations to the various environments. The political and economic consequences of this expansion are well considered, as are all the postulated extrapolations.
In contrast to Leviathan Wakes (which seemed like it might just as well have occurred in some generically seedy Earthbound archipelago), 2312 makes every community throughout the solar system authentically reflect its environment and circumstances.
The exploration of this dastardly mystery is entertaining enough, but the real story here is a fascinating and unlikely love affair between the mercurial Swan and the saturnine Wahram. The protagonist Swan is a great character, interesting and all too human. Her bickering with Pauline, her personal AI, is the source of much humor (humor which is to be found throughout the book, especially in the form of subtle shout outs to some of the sci-fi greats).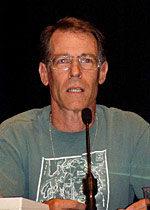 This love affair is, in a sense, the heart of the book. But in truth, the book has two hearts: KSR's love affair with the universe is the true inner heart here. The amazing complexities stemming from a few simple laws of physics are brought to life time and time again, all in vivid Technicolor™. And it's all right here in our own backyard, waiting for us to embrace it, waiting to embrace us.
KSR's joyous optimism here is sublimely irrepressible: despite the dire picture he paints of our poor, hag-ridden, raddled old Earth, he almost makes us believe that it's still possible to overcome our own perniciously destructive nature.
2312 is probably Robinson's best book to date, and should, at the least, be considered to be amongst the best of 2012.