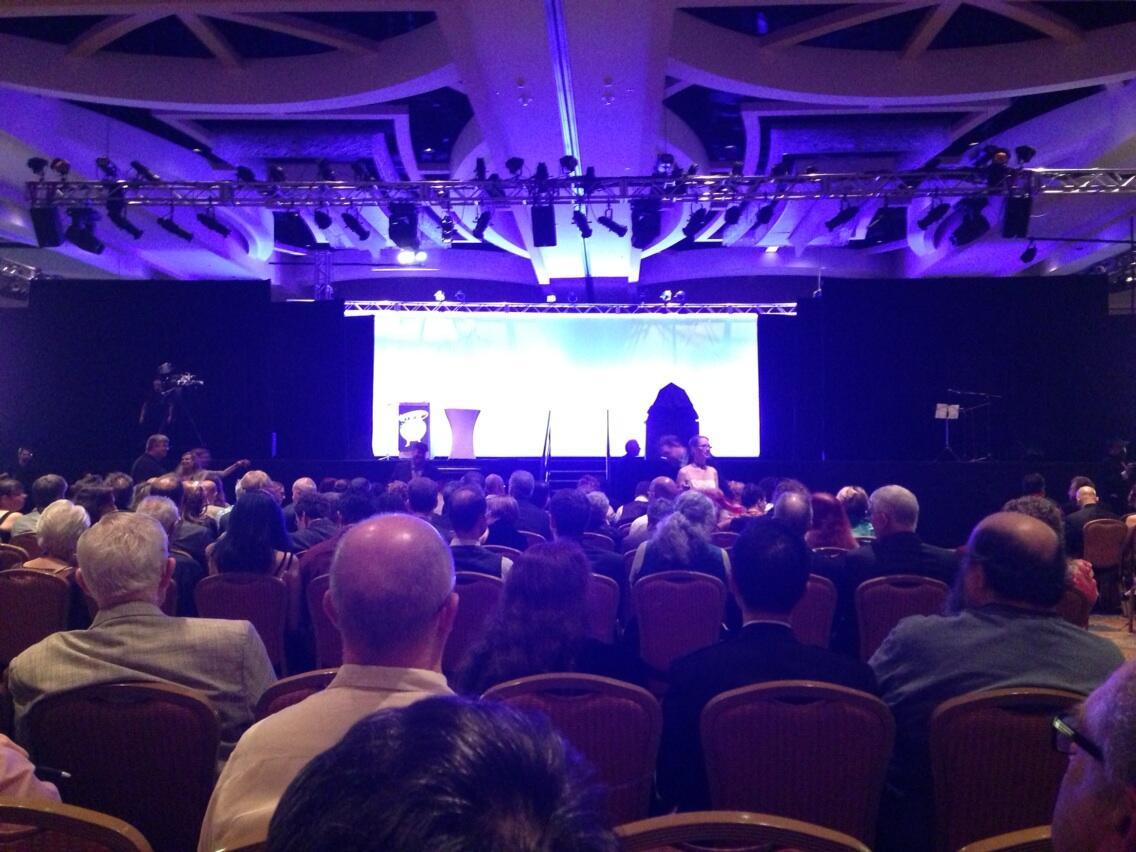 We are live at the 2013 Hugo Award ceremony, where the committee are reporting a solid ballot turnout. The Grand Ballroom here in the Rivercenter at San Antonio is so full, even nominees are being forced to <gasp> sit next to someone! We're live blogging the results, so refresh this post to get fresher and fresher results…that is, unless you decide to watch Breaking Bad and then get your results in one fell swoop, later.  I know I was torn between those options, and I'm at the con!
Better yet, watch the ceremony on U-Stream.
8:22: The Big Heart Award, presented by the impressive superfan David Kyle, went to Tom Veal, who promptly pointed out that he had been given the wrong plaque.  This, of course, proves Tom's worthiness.  Congrats to him, and thanks for all the hard work!
8:33: A rarely given Chairman's Special Award was presented by astronaut Katie Coleman is describing her time in space.  She's here to announce the rarely given special committee award, which went to Stanley Schmidt for his work on Analog Magazine.  Money quote: "He kept the science in sci-fi"
8:40: The Seiun Awards, established in 1970, is the Japanese Hugo.  It literally means "nebula".  The award for best translated short story went to Paolo Bacigalupi, for "Pocketful of Dharma".  The best translated novel award went to John Sclazi's The Android's Dream (it was his second Seiun Award).
8:46: The Hugo ceremony's tradition of listing fans, authors, publishers and artists who are no longer with us is unfortunately long.
8:54:  "I think the Campbell Award doth protest too much," says MC Paul Cornell, about how everyone points out that the Campbell is not a Hugo.  I usually find myself pointing out that it is not the same as the John W. Campbell Memorial Award.
8:58: The winner of the Campbell Award for Best New Writer goes to Mur Lafferty, who graciously pointed out that past Campbell nominees (such as George RR Martin and Lauren Beukes) went on to careers just as illustrious as the winners.
9:03:  The Hugo trophy base has been unveiled:
Vincent Villafranca, the base designer, is on stage to explain the concept.  I love this base.  I think it might be my favorite.  "It depicts an astronaut and some aliens sitting around reading some books "  They are hand-cast in bronze.
9:10: "We now come…to the Hugo Awards themselves."
9:12: The Best Fan Artist Award goes to Galen Dara.
9:15:  The Best Fan Writer Award goes to Tansy Rayner Roberts, who was unavailable ot accept in person.
9:19:  The Best Fancast Award goes to SF Squeecast, xurprising precisely nobody.  Seanan McGuire: "I attended my first Worldcon when I was fourteen," and "this is an in-your-face for all those people I went to high school with."
9:23:  SF Squeecast has officially withdrawn themselves from consideration of future awards.
9:26:  The Award for Best Fanzine goes to SF Signal.  Congrats, guys! "I'm totally tweeting this."  They, too are recusing themselves from future awards in this category.
9:32:  "There's a reason why semiprozine sounds like Semiprozine sounds like something you'd ask your doctor for"
9:34:  The award for Best Semiprozine goes to Clarkesworld.
9:40: The winner for Best Professional Artist is John Picacio. His response?  "Well, hello, Texas."  He ended his speech with with a political statement about the status of women in Texas.  I assume he means HB2.
9:48:  The Best Editor, Long Form Award goes to Patrick Nielsen Hayden.
9:50:  The Best Editor, Short Form Award goes to Stanley Schmidt, who is having an extraordinarily good night.  "Copy and paste the acknowledgements from previous speech."
9:53:  "We now come to The Best Doctor — I mean, Best Dramatic Presentation, Short Form."
9:55:  We now get to see all of the nominated clips, which, of course, is a Whofest.
9:59: And the winner is Game of Thrones, ending the Whovian monopoly!  Also, has George R. R. Martin lost weight?
10:04: Paul Cornell just confessed that he voted for Hugo last year, so that Hugo could win a Hugo, thus creating a singularity.
10:10: The winner for Best Presentation, Long Form, is The Avengers.  Stephen H. Silver is accepting for Joss Whedon.
10:11: Oh, boy, Silverberg is hitting the stage.  That means you won't be hearing new news for a few minutes, now…
10:17:  This year's stall tactic consisted of Silverberg reading a transcript of the first schtick he did in 1965.  Brilliant.
10:20: The Best Graphic Story Award goes to Saga, Volume One, written by Brian K. Vaughn, illustrated by Fiona Staples (Image Comics).
10:24: The Best Related Work Award goes to Writing Excuses Season Seven, Brandon Sanderson, Dan Wells, Mary Robinette Kowal, Howard Tayler and Jordan Sanderson.  "You're out of excuses.  Now, go write."

10:27: "Kij [Johnson], you and George R. R. Martin should really make some television together.  It'd solve the population crisis."
10:28: The Best Short Story Award goes to "Mono no Aware", by Ken Liu (The Future is Japanese, VIZ Media LLC)
10:31: The award for Best Novelette goes to "The Girl-Thing Who Went Out for Sushi", by Pat Cadigan (Edge of Infinity, Solaris).  She stood behind the podium for a while, expecting to wake up in her bed at any moment.
10:36: The Best Novella Award goes to Brandon Sanderson, for The Emperor's Soul  (Tachyon Publications).
10:42: And Best Novel goes to….John Scalzi, for Redshirts!  Congrats to him, and to all of the folks at Tor.
10:45: "I'm at the convention of misfit toys." – Scalzi
10:46: On the heft of the trophy: "It's very heavy, but also light on my heart." – Scalzi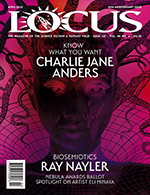 With Americans soon going to the polls in a close and pivotal election, another poll with long-lasting ramifications is taking place. Locus Magazine has launched a new "All-Centuries Poll" of the best science fiction and fantasy from 1900-2010!
Of the lists featured on Worlds Without End based on fan popularity, I see the Locus All-Time Best Poll as being the most authoritative and interesting, since the voters in the Locus poll tend toward the industry professionals, writers, and serious fans that read the magazine. The most recent all-time poll was taken in 1998, and was restricted to books published through 1990. Leaving more recent books out of such a poll helps keep the focus on those that have stood the test of time. The number one novel in the 1998 poll (as well as in a couple of previous all-time polls) was Frank Herbert's Dune, followed by The Moon Is a Harsh Mistress, The Left Hand of Darkness, The Foundation Trilogy, and Stranger in a Strange Land.
The question now is where these novels will fall in the poll now being conducted at Locus Online, fourteen years later. The ballot is now available. Unlike the annual "best of the year" polls conducted by Locus, in which the votes of Locus subscribers are weighted more strongly than non-subscribers, this will be a popular poll with no weightings. Anyone can participate, and WWEnd members have a rare opportunity to add their opinions to the creation of one of the lists featured on the site.
There are ten categories in the poll: five each covering the best of the twentieth century and the best of the twenty-first century (2001-2010). For each of the two periods, poll participants can list their top ten in five categories: science fiction novel, fantasy novel, science fiction/fantasy novella, science fiction/fantasy novelette, and science fiction/fantasy short story. For those wanting to participate in all categories, then, up to one-hundred pieces of fiction can be listed! In order to make the process a little less daunting, Locus has made available long lists of award-winning, critically-acclaimed, and popular 20th century novels, 20th century short fiction, 21st century novels, and 21st century short fiction. Poll participants can use these lists (or not) to jog memories and help put together their top tens in the various categories, but participants are welcome to vote for works that are not on these lists.
Along with other list-lovers, I'll be fascinated to see how this turns out. There is always a danger with popular internet polls that there will be organized attempts at "ballot-box stuffing," though this seems much less likely to affect the twentieth century poll than the twenty-first century poll. It will be interesting to see whether Dune and the other favorites of past generations of fans remain as popular, and which more recent books appear for the first time or move up the list. Let the speculation begin! (Listen to the October 27 Coode Street podcast for some thoughts on possible outcomes by Jonathan Strahan and Gary K. Wolfe.)  It will take some work, but I'm glad to have an excuse to make all those top-ten lists, and will post them in the forum at some point. I'd also be glad to see what other WWEnders list as their favorites, and hope you'll make your voices heard in the poll! (And if you're in the U.S., don't forget to go to the polls!)
We are live at the 2012 Hugo Award ceremony, where the committee has reported a massive ballot turnout.  As I write this, hundreds thousands of nerds are filing into the Grand Ballroom of the Hyatt Regency in balmy Chicago in breathless anticipation.  We're live blogging the results, so refresh this post to get fresher and fresher results…that is, unless you decide you'd just as soon go get something to eat and then get your results all at once!  Better yet, watch the live stream here.  We are also tweeting results to all who follow @WWend.
8:16: I wasn't sure how much I liked the 2012 trophies.  All stacked together on the stage, however, they look great.
8:17:  "We are diverse, and we are all in this together"  -  John Scalzi, this year's MC (to great applause)
8:28 Scalzi presented David Kyle, who presented the "Big Heart" award Juanita Coulson, noted author and fan.
8:32: Best fanzine A special committee award goes to Robert (Bob) Weinberg.
8:36:  A memorial for those who have died in the year since Renovation 2011, including the incomparable Ray Bradbury. Harry  Harrison, Neil Armstrong, Anne Macaffrey, Sally Ride, Maurice Sendack and many authors, artists and fans, whom will surely be missed.
8:48:  Analog Magazine editor, Stanley Schmidt (who received a standing ovation for lifelong career) is presenting the award for the John W. Campbell award for best new writer (not to be confused for the Campbell memorial award).  The award goes to E. Lily Yu.  Her reaction can be best described as shock.  Jay Lake presented the diadem.
8:53:  The base design for this year's trophy (pictured above) is being explained by its creator, Deb Kosiba, who made each one by hand.
8:55:   Scalzi's stages of being nominated for a Hugo:  elation, intimidation, bargaining, depression, nervousness.  The nominees are currently experiencing number five.  Personally, I think the story is dragging so as to intensify this stage for each of them.
9:00: The best fan artist award goes to Maureen Starkey.
9:04: The best fan writer award goes to Jim C. Hines.  He said he isn't used to being popular, as he first learned in high school:  "It turns out that sewing a Star Trek patch onto your jean jacket isn't the best way to get in with the cool kids."
9:07: The best fancast (special category) award goes to SF Squeecast, Lynne M. Thomas, Seanan McGuire, Paul Cornell, Elizabeth Bear, and Catherynne M. Valente.  That was NOT a surprise to me.  Yes, there was much squeeing.
9:13 The best fanzine award goes to SF Signal edited by John DeNardo.  We are spared the histrionics of Christopher J. Garcia.  (Just kidding — I loved it last year)
9:20:  The best semiprozine award goes to Locus edited by Liza Groen Trombi, Kirsten Gong-Wong, et al.
9:23: The best professional artist award goes to John Picacio (the crowd roars).
9:28:  The best editor award (long form) goes to Betsy Wollheim.
9:33: The best editor award (short form) goes to Sheila Williams.
9:40:  The best dramatic presentation (short form) award goes to "The Doctor's Wife" (Doctor Who), written by Neil Gaiman; directed by Richard Clark (BBC Wales).  Neal Gaiman accepted the award!  Gaiman claims that Community is a Doctor Who spinoff, due to Inspector Spacetime's presence on the show.  Ha! Also "It would be the act of a fool or a madman to try to do it [write an ep] again.  So I'm on my third draft."  (!)
9:53:  The best dramatic presentation (long form) award goes to Game of Thrones (Season 1), created by David Benioff and D. B. Weiss; written by David Benioff, D. B. Weiss, Bryan Cogman, Jane Espenson, and George R. R. Martin; directed by Brian Kirk, Daniel Minahan, Tim van Patten, and Alan Taylor (HBO).  George R. R. Martin describes his original pitchmen as "mad fools" to think they could get his book on the small screen.  He adds "sure, I wish we had two more hours every season." He and I, both.
9:55: The best graphic novel award goes to Digger by Ursula Vernon (Sofawolf Press).  Scalzi, in the process of announcing the award, declares himself a sloppy fan of Neil Gaiman's graphic work.  Heh.
10:03: The best "related work" award goes to The Encyclopedia of Science Fiction, Third Edition edited by John Clute, David Langford, Peter Nicholls, and Graham Sleight (Gollancz).  Graham Sleight, accepting the award, says he thinks he might be dreaming.  Scalzi promptly slaps him. "That," Sleight responds, "is quality toastmastering."
10:10: The best short story award, presented by Gardner Dozois, goes to "The Paper Menagerie" by Ken Liu (The Magazine of Fantasy & Science Fiction, March/April 2011).
10:12:  "The novelette is the Goldilocks form of story.  Not too short, not too long, just right" – Scalzi
10:14:  The best novelette award goes to "Six Months, Three Days" by Charlie Jane Anders (Tor.com).
10:17:  The best novella award goes to "The Man Who Bridged the Mist" by Kij Johnson (Asimov's, September/October 2011).
And now for the big one….
10:21:  The award for best novel goes to Among Others by Jo Walton (Tor).  Ta Da!
Jo Walton's story is a really great one for fans.  She made the trip from fandom to authorship, and this award, I think, completes an extraordinary transition.  I can't wait to go back and read ALL five nine of her books.
10:24:  Jo just said that she thinks the nominees are the important works (and so it doesn't matter who wins).  We agree, and this is EXACTLY why we list nominees so prominently in our tiled lists.  We're glad to see such a great author who thinks this way.
We woke up early on Friday eager to get the day started and to forget the horrible chorus of snores that ensured nobody got a good night's sleep.  There was a lot of finger pointing and the stories of snores and nocturnal emissions grew in the telling throughout our wicked expensive breakfast but by the end we were all still friends.  With our appetites' diminished we headed down to the dealer's room to set up our fan table.
The fan tables this time around were on the other side of the dealer's room but we had a corner spot, which is essential for our big monitor, and we were lucky in our neighbor's to either side.  The Heinlein Society is on our left with WindyCon on our right.  Great people at both tables which is nice.  We hooked up the big 31 inch monitor to the laptop, spread out some piles of bookmarks, the new ones for this year and some left overs from last, and settled in to hawk the site to passers-by.  The crowd was good and many folks made it past the dealer's tables to the fan section so we had a nice flow past the table.
Just like last year we had all manner of people come up to see what we were about.  Some folks just wanted to take a peek and refused all attempts at communication on our part.  You could almost hear them thinking "don't make eye contact, don't make eye contact" as a kind of mantra to ward off evil.  Others stepped up and talked our ears off about their own projects with no apparent interest in WWEnd at all.  We made a fine captive audience it seems.  For those people it was "Smile and wave, boys.  Smile and wave."  Of course the majority of our visitors were fans just like us and many took an active and keen interest in the site.  Those folks were a pleasure to talk to and it was quite fun to see how much they enjoyed our short site tour.  I hope we'll see some new signups after the con.
The table was busy with just the three of us so there was not much time to do many panels.  In fact, I was the only person to get away at all.  I got to attend "100 Years of Edgar Rice Burroughs" which was an entertaining and insightful discussion of his major works and influences from Tarzan to John Carter and beyond.  The room was packed (and much too hot), the panelists were in high spirits and the audience offered some nice questions and commentary without the usual awkward soapboxing you often see in these kinds of panels.  One thing that I noticed was that the whole crowd was a bit long in the tooth.  I believe I was the only person there under 50 which is not particularly surprising since WorldCon skews older anyway (and Burroughs is most definitely old-school) but I could not help but wonder who's going to keep reading Burroughs when this generation is gone?  It would be a shame if people only came to know his work through the movies.
The rest of the day we spent taking turns at the table and wandering the hall again getting autographs and looking for presents for the kids.  We went to the autograph session that featured Robert Silverberg and George R. R. Martin.  Strangely there was no line for Martin, despite being up for the Hugo, while the Silverberg line was rather long.  Quite a change from last year when the longest lines were for Martin.  We got Martin to sign our bookmarks and later we got sigs from Seanan McGuire too.  3 more to go!
Once we wrapped up for the day it was time to find some eats.  Since we had pizza the night before it was time for some Chicago hot dogs.  We walked about a mile or so to American Dog and ordered up some dogs.  Chicago style dogs come with relish, peppers, sliced tomatoes, onions, mustard and a wedge of pickle.  They were delicious.  We left determined to have another dog later on the trip.  Back at the hotel we decided to skip the parties and headed to the bar instead for some beers and hot wings while we waited for our pal Chris to get there.  Chris showed at last call so we bailed and went back to the room full, sleepy and 2 sheets to the wind.  The theory was that if we were too drunk to care we might all pass out before the snoring started again.  Another good day at the con.
So we made it to Chicago on the train after 22 hours.  That's the first long train trip I've been on and it was very chill and they served me a steak and a beer so I can't complain.  We arrived in good order, checked into the hotel midst a lot of chaos as everyone was looking to get their bearings.  The convention layout is a bit confusing with 2 towers and a building connecting them and an endless array of escalators and elevators not up to the task but I suppose we'll get it figured out in time to leave.
Once we located our fan table we decided to wait until the next day to set up since we only had a few hours before the concourse was going to close.  Chris and I spent the rest of the time wandering around the dealer room which is much bigger than last year with a lot more book peddlers on hand.  So many books, so little money.  I found lots of books to lust after but the prices were a mite too steep for my wallet.  I dearly love a signed first edition but I love my wife more so I had to be content to window shop.
Whilst we were busy shopping Rico went looking for a panel.  Being a teacher, "The Hunger Games in the Classroom" piqued his interest.  The argument was put forth that The Hunger Games, and indeed YA fiction in general, dwells in the gutter for all the attention paid to it by high schools and universities and that it should be considered as fodder for college curricula.  It was a WTF moment that he could not let pass without comment so he proceeded to make his contrary opinions known.  Rico correctly, and annoyingly, pointed out that it's written at a 3rd grade reading level and that no school concerned with it's reputation, i.e. all of them, would consider such a possibility.  He carried the point and consequently made no new friends that night.
We got together again and made our way by bus to "First Night at the Adler Planetarium" which was really great.  The drive over showed us our first real glimpse of Chicago and I have to say this is a gorgeous city!  The architecture is just beautiful in general with lots of old buildings mixed in with tasteful newer styles and the planetarium is no exception.  It's the oldest building of it's kind in the western hemisphere with the addition of a huge modern wing with a sweeping view of Lake Michigan on one side and truly stunning view of the city on the other.  We toured the exhibits (including a superb display of antique astronomical instruments), watched the show (where an alien entity tried to put us to sleep with it's lilting sonorous voice) and enjoyed the light snacks on hand before we headed out for some real food around 9pm.
On our list of things to do while in Chicago is a series of eats that the city is famous for.  Deep dish pizza was item number one and we found Giordarno's just a few blocks from the hotel.  The walk was pleasant with a lovely breeze and since it was 20 degrees cooler than back home we enjoyed it immensely.  The pizza was delicious and ridiculously filling which is pretty much what you want from a pizza so we went back to the hotel with full bellies and called it a night.  All in all a great first day at the con!
Enough is enough! I have had it with these motherfucking steaks on this motherfucking train!

The WWEnd crew is headed north on the Amtrak Texas eagle for WorldCon in Chicago. Chris (whargoul), Rico (icowrich) and yours truly are going to be meeting up with Charles Dee and our buddy Chris at the convention where we'll be taking in the con and showing off the site at our fan table. If you're going to be there too be sure to stop by our table and say hi. We'll be posting daily updates like we did last year so you can see what we're up to.
Those of you who are attending this year's Worldcon in Chicago probably already know about the opening night event at the Adler Planetarium.  If you don't, then maybe this news will be enough to entice you to come join us.  If you do attend, please come visit us at the fan tables section!  In the meantime, enjoy this little video I found about the attraction.  Although the Adler is stuffed with state-of-the-art shows and interactive exhibits, the main attraction to me is the history of the building itself.  It is the oldest planetarium in North America, and has an impressive collection of antique observational equipment.  Steampunk fans, rejoice!
From the Chicon 7 web site:
Chicago, Illinois, USA – Chicon 7, the 70th World Science Fiction Convention ("Worldcon"), will offer its members a spectacular opening night event at the Adler Planetarium.

On Thursday, August 30, Chicon 7 will be taking over the Adler Planetarium for an evening reception for convention members. This exclusive event will run from 6:30 to 10:30 p.m., during which time the museum will be closed to the general public.

During the reception, Chicon members can view the museum exhibits. In addition, the Grainger Sky Theater will be running the show "The Searcher" every 30 minutes. This show was written by Nick Sagan (son of astronomer Carl Sagan) and follows the story of a visitor from another galaxy as he searches for his lost civilization. It features stunning visualizations of the formation of our universe, the collision of galaxies, a spectacular supernova explosion, and a supermassive black hole. (Seating in the theater is limited, so there will be a $5 charge for admission to this performance.) Weather permitting, the museum will also host a sky-viewing session on its exterior deck, with telescopes and docents provided to members so they can see the wonders waiting in the night sky.

Museum campus parking will be available, and shuttle buses will run between the Adler Planetarium and the Hyatt Regency throughout the evening.

About the Adler Planetarium:

The Adler Planetarium was the first modern planetarium in the Western Hemisphere and first opened to the public on May 12, 1930. The museum houses extensive exhibits on space science including one of the world's most important antique astronomical instrument collections. The Adler is also a recognized leader in science education, with a focus on inspiring young minds to pursue careers in science. The museum sits on the extreme edge of Chicago's "museum campus" and is located on an artificial island.
UPDATE:  The entire Readercon board has resigned.
For those of you haven't yet heard, the otherwise excellent Readercon is at the center of a whirlwind of controversy because of a alleged harassment and the inconsistent application of a zero-tolerance policy.  The victim's (Genevieve Valentine's) description was first posted on her blog:
At the con, someone introduced himself to me and started a conversation, accompanied by elbow-and-shoulder touches that I moved away from. At one point he said I had to stop saying things that "made [him] want to say "wrong" things"; I shut him down politely, turned my back on him, and talked to someone else until he eventually left.

That night at a room party, I paused in the hall bottleneck and said to a passing friend, "Oh man, it's crowded." From behind me, the man wrapped an arm around my shoulders and said, "Well, you and I will have a good time!" at which point I spun and said loudly and clearly "You do NOT touch me," and moved inside. He stayed in the bottleneck for more than thirty minutes trying to catch my eye before he left; I recruited someone to walk me to the elevator.
Ms. Valentine goes to describe a panicked harasser continuing to harass her about accepting his apology for harassing her.  Most people expected René Walling (the alleged harasser) to be permanently banned from Readercon, per their written policy:
Readercon has always had a zero-tolerance harassment policy.

Harassment of any kind — including physical assault, battery, deliberate intimidation, stalking, or unwelcome physical attentions — will not be tolerated at Readercon and will result in permanent suspension of membership.

As always, Readercon reserves the right to strip membership at its discretion.
Chicon 7, the 70th World Science Fiction Convention, Chicago, IL – August 30 to September 3, 2012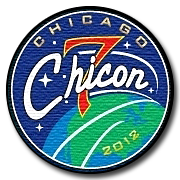 Chicago, Illinois, USA – Chicon 7, the 70th World Science Fiction Convention (Worldcon), is bringing seasonal joy to science fiction fans everywhere through "The 7 Days of Chicon." From December 20 to 26 inclusive, Chicon will be reducing its adult Attending membership rates by $15, with young adult Attending membership rates lowered by $10. Family rates will also be reduced. Full details of this special sale can be found on the convention's web site at www.chicon.org.
The first six days of the discount period will celebrate our five Guests of Honor and our Toastmaster. The seventh day, December 26, is our gift to the fans, in appreciation of everyone who has made Worldcon into a unique event since it was first held over 70 years ago.
Chicon 7 is comfortably on track to be the largest and most spectacular Worldcon since 2006, when the event was held in Los Angeles. Nearly 2500 people have already registered, and some 5000 are expected to attend the five-day event which will take place at the Hyatt Regency Hotel in downtown Chicago from August 30 – September 3, 2012.
According to Chicon 7 chair Dave McCarty, "Chicago has hosted the Worldcon more often than any other city, and we're delighted by the enthusiasm of fans who will be visiting us again next year. Over a thousand members have joined us in the last five months alone, and we expect many more to join in January when we open our hotel bookings and start accepting nominations for the 2012 Hugo awards. We have a great site, with the whole event happening under one roof. We hope many people will take advantage of this offer to sign up now and save money on their memberships."
Chicon 7 is the 2012 World Science Fiction Convention ("Worldcon"). The first Worldcon occurred in New York City in 1939 and Worldcons have been held annually since then except for 1942-45 when there was no event due to World War II. Chicon 7′s Guests of Honor are five-time Hugo winning author Mike Resnick, artist Rowena Morrill, art agent and collector Jane Frank, science fiction fan and former Worldcon chair Peggy Rae Sapienza, and astronaut Story Musgrave. Chicon 7′s Toastmaster is John Scalzi.
For more details about the convention or to purchase memberships, visit www.chicon.org.