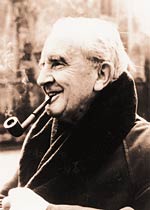 It seems a Tolkien fan in Rotterdam found an unknown to exist reel-to-reel recording of Professor Tolkien talking to fans at a huge dinner party thrown in his honor in 1958. The fan kept it hidden in his private collection for 20 years before being talked into releasing it. Now it's being re-mastered by Middle-earth Network and Legendarium Media and will be made available to us next fall. Details are sketchy at the moment but they have provided a production blog and registration so you can get up to date info as they release it.
The Huffington Post has the story of the origin and discovery of the missing audio file that will whet your appetite more than the wicked-short snippet above so be sure to check that out.
Thanks to WWEnder Stephen Poltz for letting us know about this interesting development in the Tolkien Universe.  I am eagerly awaiting more information and we'll post any major news on this project as we can.
Bloc Voting The Hugo Awards – Death of a Thousand Cuts by Steve Davidson is a new article over on Amazing Stories.  Go now and read it.  One of the best articles I've read on the recent Hugo kerfuffle and the ongoing sectarian wars within fandom.
Please leave your direct comments over there but I'd like to know if you like the article as much as I do.  And if you like the article perhaps you'll consider passing it along to others.
The 2014 Alpha alumni fundraiser is happening now! Donate any amount to receive this year's Alphanthology, a gorgeous PDF anthology of flash fiction written, edited, illustrated, designed, and produced entirely by Alpha alumni.  This is a great cause and the donor premium is pretty sweet so if you've got a few extra bucks to send their way you really can't lose.  Here's the press release with the details:
---
FOR IMMEDIATE RELEASE
January 22, 2014
WORKSHOP ALUMNI OFFER STORIES FOR DONORS, OPPORTUNITIES FOR TEENS
Graduates of the Alpha SF/F/H Workshop for Young Writers are offering an illustrated anthology of flash fiction as a donor reward during their annual scholarship fundraiser. This is the fourth edition of the annual Alphanthology, edited, written and illustrated by alumni.
Founded by Diane Turnshek, Alpha is a ten day workshop for speculative fiction writers ages 14 to 19, where each student writes an original short story and participates in peer review critiques. Tamora Pierce, author of young adult series such as Protector of the Small and The Provost's Dog, has instructed at the workshop every year since its inception. This year, additional instructors include Tobias Buckell, Bruce Coville, and SFWA Vice President Rachel Swirsky. Past instructors have included award winning authors and editors such as Ellen Kushner, Sheila Williams, Scott Westerfeld, Holly Black and John Joseph Adams.
Alpha works hard to keep costs low–every staff member is a volunteer, and the tuition is kept at the lowest possible level–but prospective students often require financial aid. The scholarship fund exists to make attendance possible for talented young writers from all walks of life.
Alphans have published in dozens of markets, including Lightspeed, Clarkesworld, Analog and Strange Horizons. Many of them have placed and won in contests such as The Dell Magazine Award, Writers of the Future, and the Scholastic Art and Writing Awards.
The Alpha scholarship fundraiser will run February 2-8. Organizers are planning a blog tour and letter writing campaign in addition to social media announcements. To learn more about the Alpha SF/F/H Young Writers' Workshop, please visit the Alpha website or follow @AlphaWorkshop on Twitter.
For more information please contact:
Fundraiser Coordinator Sarah Brand
sarah.b.brand@gmail.com
Publicity Coordinator Lara Elena Donnelly
lara.3lena@gmail.com
Well, it's that time again.  Time for WWEnd's 3rd annual trip to WorldCon!  This time it's being hosted by LoneStarCon 3 down in San Antonio, Texas – our neck of the woods.  We're making the drive from Dallas this morning and hope to be in Lockhart, Texas, Barbecue Capital Texas, in time for lunch at Black's.  (We'll hit Kreuz Market on the return leg.)  From there it's just another hour to San Antone.
As we did for the last 2 WorldCons we've got a fan table to show off the site, make new friends and give out some Hugo Award bookmarks.  If you're going to the con make sure you stop by and say hello and pick up some bookmarks.  They're great for getting autographs – especially if you're an ebook reader.  We love to meet WWEnders in person!  Oh, there will be candy too, or "nerd bait" as they say at the conventions.  How can you resist?
We'll be posting about our trip here on the blog, on Twitter and on Facebook so keep an eye out for those reports.  And, of course, we'll be live-tweeting the Hugo Awards from the ballroom so don't miss that.
One of the great things about this year's event is that our whole crew is going.  Rico, Chris and even Jonathan for his first convention.  In addition we've got WWEnder Charles Dee coming down with us.  We met Dee through the site a few years ago and lucky for us he was a local.  He's been a huge WWEnd supporter and a great friend and we're looking forward to hanging out with him this week.  He's no stranger to conventions, he was in the book industry for years, but this is his first science fiction convention.  We're going to push him and Jonathan into a Filk session and close the door so they get the entire experience.
Since we're all going to be out of pocket there won't be a lot of non-con posting on the blog until we get back.  So no Jo Fletcher Friday this week or new books added or site updates etc.  We'll catch up next week on all that stuff.  Cheers!
…of science fiction (You thought I was going to say creationist textbooks, didn't you? Admit it…):
A bill calling for science fiction to be made compulsory reading in schools has been proposed by a politician in West Virginia in order to "stimulate interest in the fields of math and science".

Ray Canterbury, a Republican delegate, is appealing to the West Virginia board of education to include science fiction novels on the middle school and high school curriculums. "The Legislature finds that promoting interest in and appreciation for the study of math and science among students is critical to preparing students to compete in the workforce and to assure the economic well being of the state and the nation," he writes in the pending bill.
On a personal note, I can't say that my own interest in the sciences had anything to do with science fiction. I much preferred reading popular science books to science fiction.
"To stimulate interest in math and science among students in the public schools of this state, the State Board of Education shall prescribe minimum standards by which samples of grade-appropriate science fiction literature are integrated into the curriculum of existing reading, literature or other required courses for middle school and high school students."
How much science fiction even deals directly with math and the various sciences, except for using a popular (and often wrong) understanding of scientific discoveries as a structure for a plot? But maybe I should avoid starting a debate about hard-vs-soft scifi. Instead, I'll incite one about scifi-vs-fantasy:
"I'm not interested in fantasy novels about dragons," Canterbury told Blastr in a recent interview. "I'm primarily interested in things where advanced technology is a key component of the storyline, both in terms of the problems that it presents and the solutions that it offers."
Nobody tell this guy about Dragonflight.
This seems like a very neat idea, but there are certainly some valid concerns about potential indoctrination, here. Science fiction authors almost always have a political or philosophical axe to grind, and public schools aren't known for teaching students how to read a book–especially a compulsory book–with a critical eye. Who decides which scifi books children should be compelled to read? The news article quotes David Brin expressing his approval of the plan, but his disapproval of reading "either gloomy dystopias or else fantasy tales wallowing in dreamy yearnings for a beastly way of life called feudalism."
What do you think? Is this a great way to force children to expand their mental horizons, or just another opportunity for indoctrination by lobbyists?
UPDATE:  The entire Readercon board has resigned.
For those of you haven't yet heard, the otherwise excellent Readercon is at the center of a whirlwind of controversy because of a alleged harassment and the inconsistent application of a zero-tolerance policy.  The victim's (Genevieve Valentine's) description was first posted on her blog:
At the con, someone introduced himself to me and started a conversation, accompanied by elbow-and-shoulder touches that I moved away from. At one point he said I had to stop saying things that "made [him] want to say "wrong" things"; I shut him down politely, turned my back on him, and talked to someone else until he eventually left.

That night at a room party, I paused in the hall bottleneck and said to a passing friend, "Oh man, it's crowded." From behind me, the man wrapped an arm around my shoulders and said, "Well, you and I will have a good time!" at which point I spun and said loudly and clearly "You do NOT touch me," and moved inside. He stayed in the bottleneck for more than thirty minutes trying to catch my eye before he left; I recruited someone to walk me to the elevator.
Ms. Valentine goes to describe a panicked harasser continuing to harass her about accepting his apology for harassing her.  Most people expected René Walling (the alleged harasser) to be permanently banned from Readercon, per their written policy:
Readercon has always had a zero-tolerance harassment policy.

Harassment of any kind — including physical assault, battery, deliberate intimidation, stalking, or unwelcome physical attentions — will not be tolerated at Readercon and will result in permanent suspension of membership.

As always, Readercon reserves the right to strip membership at its discretion.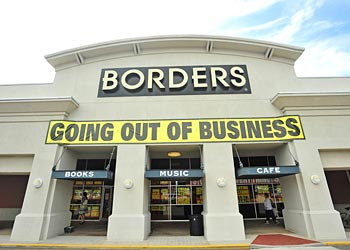 When I was a kid, looking for books was a serious enterprise. We had our mall stores and our mom-and-pop bookshops, but the selection was limited to bestsellers (in the mall) or miles and miles of Harlequin romances (in used shops). For a treat, I'd get to go 20 miles out to the only sizable bookstore in town. Taylor's Books was smaller than an average Barnes and Noble today, but back then it was enormous. They had a Dungeons and Dragons section that set my mouth watering, and the science fiction section spanned two whole rows (hey, I said it was big for THEN).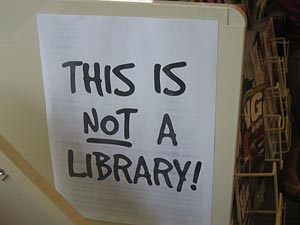 There was only one problem. I was a kid, and I couldn't buy everything I wanted. One thing a kid does have (in spades) is time. I would sneak a peek at the latest Stephen R. Donaldson book, only to get called out by an employee, who would say "this is NOT a library!" Chastened, I would put the book back, making a mental note to peruse it more briefly, later.
In the 90s, all that changed. Waves of new corporate bookstores, like Barnes and Noble and Borders, swooped in with larger inventories and new policies. People talked about how they served coffee, and gave customers places to sit. Their real advantage however was especially relevant to me:
They let you read books for as long as you wanted.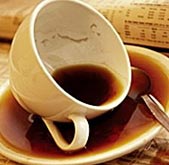 Look, before you give me the speech about poor mom and pop (how are they going to pay their mortgage), let me just say that I kept going to those places… for years. The DO NOT READ signs were still up. There was still an absence of chairs. Taylors eventually put out a single pot of (stale) coffee, almost as if to say "there's your stinking coffee, now shut up and shop with us again." Small business was not adapting to their competition. People talked about how local bookstores couldn't compete with behemoth store pricing, but it was really the customer service that wasn't competitive.
Today, the shoe is on the other foot. Last month, I walked into a Borders books with a huge "going out of business" sale. The whopping discount that generated all the crowds: 20%. Seriously. I mentioned to my buddy that Amazon had the same books at 40% with free shipping. A clerk overheard me and responded: "Yeah, but you can take this one home today. It's worth paying more." Ah, I thought, this is why you are going out of business. It isn't the price, per se. It's the expectation that I (the consumer) will behave the way he expects me to. I was supposed to adapt to them. That clerk was right about one thing: Price isn't everything. As a consumer, I am perfectly willing to pay more for something if I have a compelling reason… but it has to be my reason.
This is why mom-and-pops should celebrate the demise of Borders (and the subsequent troubles at Barnes and Noble). There is room, now, for brick and mortar competition. The little guys have a second chance, but now they have to adapt to Amazon as well as bigger (albeit struggling) stores. The good news? It can be done.
A couple of years ago, I had the good fortune to visit Borderlands Books in San Francisco. They are a small shop that specializes in SF/F books. The store is physically small, but beautiful. It has well polished hardwood floors, custom-made bookcases that leave little room for empty space, and an exhaustive selection of new and used books (many of which are rare). The real secret of its success, however, lies in its employees. I wanted to document the store's look, so I created a 2 gigapixel image to take home with me. While I waited for the gizmo to take its hundred or so pictures, I spoke with some of the employees, who had a great deal to say about virtually any book I mentioned. When was the last time I encountered real product knowledge from a clerk at a bookstore? Never. This was an entirely new experience for me, and I liked it. I also found out that Borderlands offers a monthly newsletter for their community (when have you ever heard of a Borders "community?"), and they seem to have 5-6 book signings each month. If these guys were in Dallas, I wouldn't shop anywhere else.
Here are the advantages that I see for independents:
They can be niche. There's no way a corporate store could have much depth, because they are incented to not stock slow selling books. We have a list of SF/F bookstores that are making niche work.
Higher margins. It may sound counter-intuitive, since chain bookstores get to buy new books at wholesale by buying in volume, but small shops often sell new and used books side-by-side. They can buy a $12 paperback off their customers for $3 and sell it for $6. That's a 100% markup.
The ability to browse. As good as Amazon is, it's still not ideal for browsing. Fan sites (like Worlds Without End) try to fill this niche by organizing books according to awards, best-of lists, and the recommendations of fellow fans. Nevertheless, even we can't compare to a brick and mortar store with a strong selection and knowledgeable staff.
As many shop owners may point out, there are many challenges to small bookshops that I have not addressed. Nevertheless, I believe having one fewer corporate chain in the mix can only be good for the sorts of stores I'd rather shop.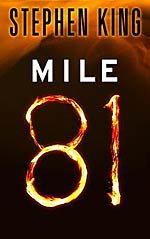 Stephen King is the third most nominated author in the WWEnd database. Like a lot of authors, he has embraced the new digital book industry with gusto. Now we find that his latest short story, Mile 81, will only be available with ebook retailers. Is this a trend? Are book anthologies and industry magazines, like Analog, Asimov's and Clarkesworld, facing new competition from individual authors? With the recent announcement of Science Fiction & Fantasy Magazine now offering a free bi-monthly digest, I'd guess yes.
The brief description that Scribner released evokes memories of Christine: "Mile 81 is the chilling story of an insatiable car and a heroic kid whose worlds collide at an abandoned rest stop on the Maine Turnpike."